In recognition of ADHD Awareness Month, it's crucial for businesses to consider how they can better support their neurodivergent employees. New research has revealed a stark reality: businesses are losing valuable neurodivergent talent due to the design of office environments.
The new study undertaken by Motionspot's inclusive design experts and OnePoll, surveyed 1,000 neurodivergent office workers and 1,000 neurotypical office workers, found that:
22% of neurodivergent applicants have declined a job offer due to certain features in offices compared to just 8% of neurotypical individuals.
15% of neurodivergent respondents have left a job due to the design of the workplace.
43% of neurodivergent respondents identified with having attention deficit hyperactivity disorder (ADHD), more than any other neurodivergence.
The study also found that the biggest challenges neurodivergent respondents face in the office are:
Frequent distractions (35%)
Anxiety in social situations (35%)
Fatigue and burnout (34%)
Brain fog (32%)
Sensory overload (31%)
These findings highlight the need for employers to consider whether their office environments are catering to a diverse workforce. To support neurodivergent employees, companies need to review the design of their offices and consider how to support staff with diverse needs and conditions.

Download our Designing Inclusive Workplaces white paper.
ADHD and work: how businesses can create a more inclusive workplace
There are several things that businesses can do to create a more inclusive workplace for neurodivergent employees. Our research found that some ADHD accommodations in workplace design could include:
A variety of workspaces to suit different tasks and sensory needs
Neurodivergent workers may need a variety of workspaces to meet their different needs throughout the day. For example, they may need a quiet space to focus on individual work, a collaborative space to work with others, and a space to take a break and recharge.
Private rooms or 'nooks' around the office to carry out private tasks
Neurodivergent workers may need a private space to carry out tasks that require concentration or focus. This could be a small room, a nook, or even a partition to create a more private space within a larger open-plan office.
Informal rooms with soft furniture for creative collaboration
Neurodivergent workers may prefer to work in informal spaces with soft furniture, which can be more comfortable and conducive to creative collaboration.
A private and quiet space to lie down and rest in the workplace
Neurodivergent workers may need to take breaks to lie down and rest, especially if they are experiencing sensory overload. Providing a quiet space for workers to rest can help them to recalibrate.
A private sensory room
Sensory rooms that include soft furnishings, adjustable lighting, video projections and ambient sounds can provide a safe and calming space for neurodivergent workers who are experiencing sensory overload.
The business case for inclusivity
Harvard Business Review has shown that organisations that actively promote inclusivity generate 19% more revenue. Yet, Motionspot's study reveals that 22% of neurodivergent applicants declined job offers because of the office design, and 15% left jobs for the same reason. This underscores the importance of creating neurodivergent-friendly workspaces.
Explore our Barclays inclusive office design case study.


Rebecca C, diagnosed with ADHD and currently employed at a leading UK university shares her experience living and working with ADHD. She said:
"At my previous workplace, the office wasn't suitable, and I had to work in an environment that negatively affected my ability to focus and concentrate on tasks. I found that the lighting and noise made me feel distracted and uncomfortable. Unfortunately, there were no private quieter spaces where I could focus on my work. This was one of the main reasons I left my last company."
"My current workplace allows me to thrive as it is designed for diversity and choice. Bookable private desk spaces, quieter doors, and less harsh lighting, allows me to be my best at work."
Ed Warner, CEO and Founder of Motionspot said:
"The results of our study demonstrate there is some way to go before neurodivergent employees are given the support they need in the workplace. The design of the built environment has such an impact on performance as well as recruitment and retention of the best talent.
"The most successful businesses will be the ones that recognise the unique strengths, creativity and innovative thinking of neurodivergent staff and design their workplaces to enable all staff to thrive at work."
As specialists in designing for neurodiversity in the workplace, the Motionspot team shared their lived experiences of neurodiversity.
Understanding neurodivergence
Neurodiversity outlines the fact that everyone's brain is unique. Neurodivergence is a term used to describe a range of neurological differences, including (but not limited to) ADHD, autism, dyslexia, dyspraxia, and dyscalculia. Neurodivergent individuals have different ways of thinking, learning, and interacting with the world. These differences can be both strengths and challenges, and they can impact a person's life in many ways.
In the workplace, neurodivergent employees may experience several challenges, including sensory overload, difficulty with communication and social interaction, and challenges with planning and organisation. However, neurodivergent individuals also bring many unique strengths to the workplace, such as creativity, innovation, and problem-solving skills.
Ensuring employees have access to ADHD support at work is paramount, and by implementing some of the findings from our research, businesses can stop losing out on talented workers.
Sources:
About the research:
Motionspot instructed OnePoll to conduct online research between 16 and 29 August 2023 with 2,000 UK adults who work full and part-time in an office and attend it at least once a week, at companies with 50+ employees (1,000 neurodivergent, 1,000 neurotypical). All data is available on request including data splits based on: disability and health conditions, age, gender, region and ethnicity. 
Get in touch.
Our Team are always happy to provide free advice and discuss your requirements. We can also provide free quotes and accessible product specifications tailored to your project budget and design intent.
Get in touch to chat through your plans with us.
Contact us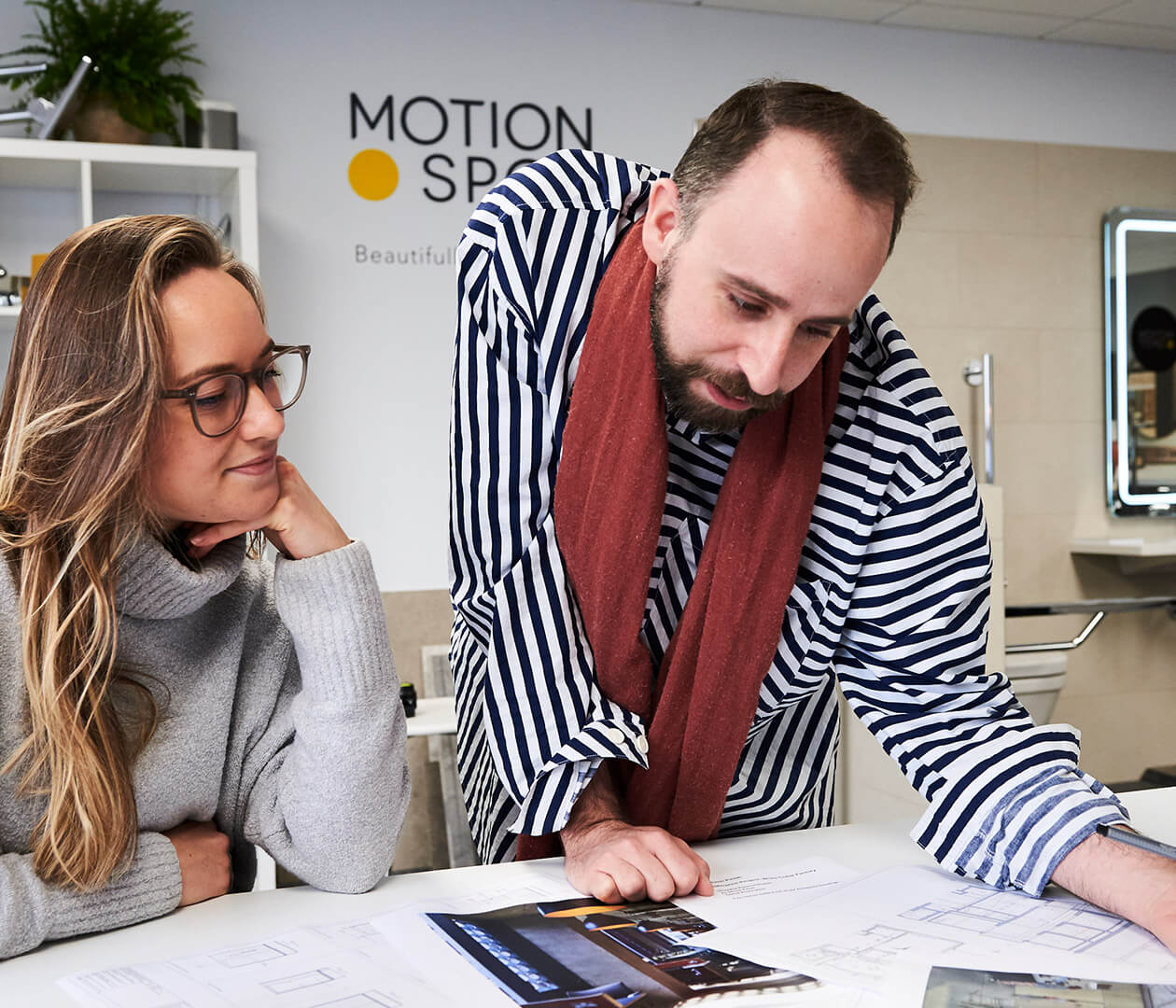 Start a conversation
Get in touch to chat through your plans or requirements and see how we can help. Please complete your contact details below.
Contact us
Stay connected
Sign up to receive the latest inclusive design insight and inspiration from our team.