Transforming spaces and lives.
We are motivated by delivering a positive impact on the lives of the people who use the buildings, spaces, and places we contribute to. We aim to transform these environments from inaccessible and exclusive to welcoming, safe, and enabling for all, across the world. We believe that to create truly inclusive environments people with a broad range of protected characteristics and identities, including disability, neurodiversity, age, race, ethnicity, religion, belief and more must be considered throughout the design process. This starts with engaging a broad range of people from the outset of projects and throughout.
The Motionspot design ethos raises the bar significantly beyond the minimum standards of building regulations and combines style with functionality to create uplifting inclusive spaces that are welcoming, easy to navigate, and accessible for all.
"We offer specialist inclusive design and innovative product advice that changes lives and positively impacts the world."
Our vision
Our approach.
1.Inclusive

Inclusive design is about so much more than ramps, lifts, and accessible toilets. It is about how the built environment can go beyond the minimum standards of building regulations and create spaces that are inspiring, inclusive, and future-proofed for all. Many of our human characteristics and identities are invisible. As a result, they tend to be overlooked in the standard design process. However, they have a profound impact on how individuals can use and enjoy a space.

2.Above and beyond

Working alongside our clients and their design teams, we strive to redefine what is possible in inclusive design. Going beyond the minimum building regulations we create inspiring, design-led projects that are inclusive and future-proofed for everyone.

3.Solution-focused

We're not about tick boxes. We don't just uncover access and inclusion challenges with buildings, we propose creative design solutions that make your space more inclusive.

Embedding inclusive design at the earliest stages of your project doesn't only increase cost-effectiveness, it also opens up opportunities for the most creative solutions.

4.Evidence-based

Seeking and involving different perspectives throughout a project, from conception to post-completion, is the only way to be sure design is really meeting a diverse range of needs.

The Motionspot team is skilled at blending user insights with the latest global best practice, cutting-edge academic research, evidence-based design principles, and relevant local legislation.

Our team and network include leading specialists on rapidly evolving subjects such as dementia and neurodiversity and intersects with people who have lived experiences of a range of protected characteristics.

5.Sustainable

Thinking inclusively is more sustainable. It future-proofs design, saves money and reduces financially and ecologically costly retrofitting.

6.Global

With offices in the UK and North America and a global network of inclusive designers we help local, national, and multi-national businesses and organisations to create inclusive environments across the office, hospitality, later living, retail, and care sectors around the world.

7.Innovative product solutions

Frustrated that well-designed accessible products weren't easy to find on the market, we developed our inclusive product advice service to identify the right products for our clients to create beautiful inclusive facilities with confidence. Every product we recommend is in line with Motionspot's ethos of design-led accessibility. Explore our product advice service

8.Collaborative

The best solutions come when people work together. We are experienced at working collaboratively with architects, interior designers, Equality, Diversity & Inclusion (ED&I) and building/property teams, contractors, building users, and product manufacturers at all RIBA stages.
"Disability is diverse. Just 7% of disabled people use a wheelchair. We help people to think about what they are doing for the other 93% with many other types of physical, sensory and cognitive access needs too."
Ed Warner, CEO of Motionspot & Founder
Get in touch.
Our team is always happy to discuss your requirements and provide a scope and fee proposal for your project. Get in touch to chat through your plans with us.
Contact us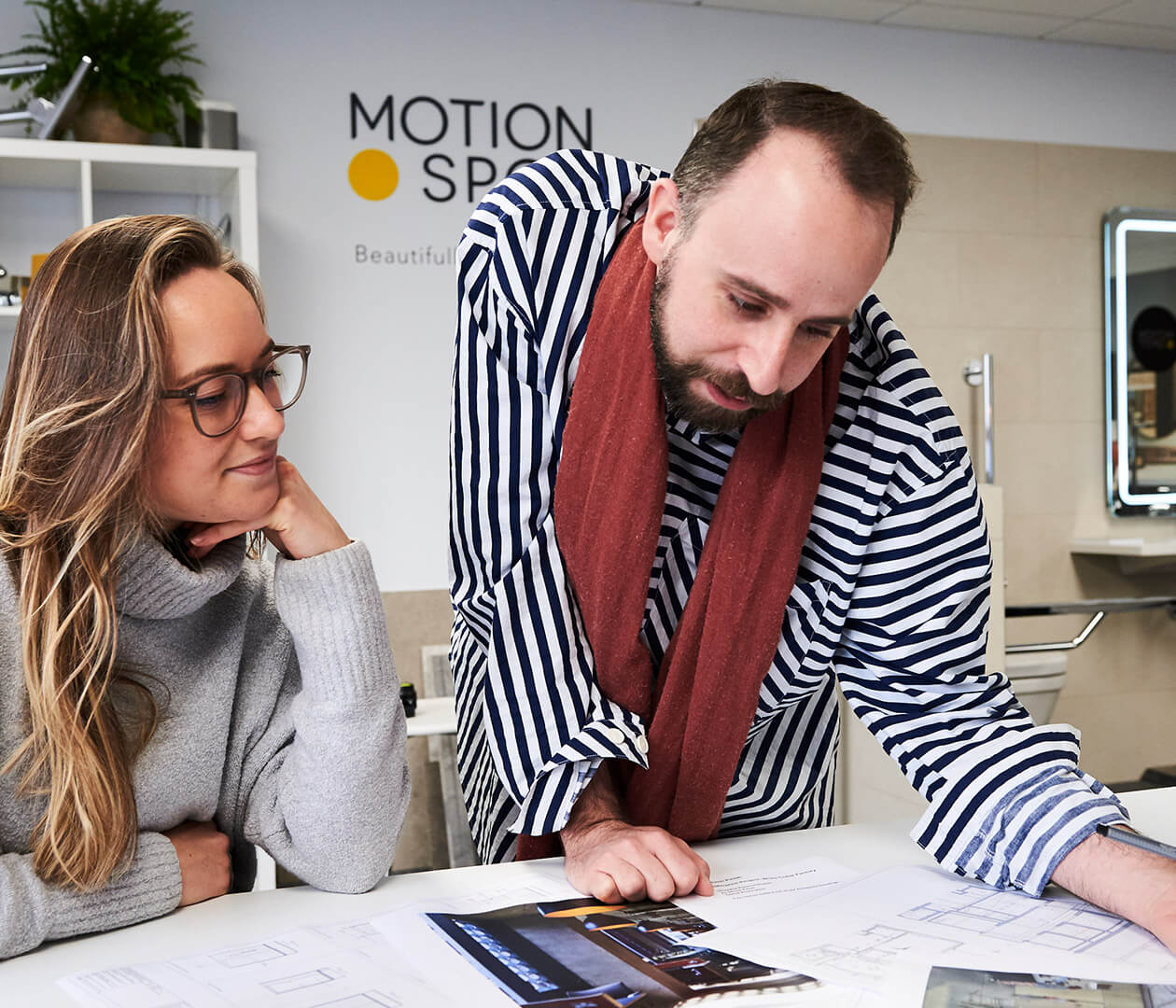 Start a conversation
Get in touch to chat through your plans or requirements and see how we can help. Please complete your contact details below.
Contact us
Stay connected
Sign up to receive the latest inclusive design insight and inspiration from our team.