AbleStay, Worcester Park, London.
London's first fully accessible holiday home for people with complex physical disabilities
Project brief .
AbleStay is a registered charity with the mission of providing fully accessible holiday accommodation for people with complex physical disabilities and their families. AbleStay purchased and renovated its first property, a fully wheelchair accessible, single storey holiday home in Worcester Park in South West London. The three-bedroom house has a bright open plan accessible kitchen, dining and living area, with bi-fold doors to a south facing garden terrace, and a large accessible wetroom/bathroom.
Founders, Charles and Jo van Berckel, were motivated to create a space that would enable many families to visit London for the first time. They appointed Motionspot to help them create a bathroom that was highly functional as well as aesthetically in keeping with the rest of the home for the quarter of a million people in the UK with complex physical disabilities. These include:
Cerebral palsy
Motor neurone disease (MND)
Muscular dystrophies (MD)
Spinal muscular atrophy (SMA)
Brain injury
Spinal cord injury
Award-winning
In July 2023 AbleStay won the Accessibility Award at The Caterer's CATEYS Awards, with the judges describing it as a "shining example of design-led accessible accommodation and one that has a perfect combination of a commitment to its guests while being a commercial opportunity."
In October 2023 AbleStay was recognised as exemplifying the 'Gold Standard' for accessible style and design when it won both the Best Accessible Toilet/Bathroom Award and the Above and Beyond Award at the Blue Badge Access Awards. The judges said it has "a 'wheelchair friendly everything' for a truly accessible stay which delivers the stylish BBAA 'wow' factor!"
"We are hugely thankful to the Motionspot team for helping us to create a much needed fully accessible bathroom that looks great too. The design of the room layout has created a space that is functional for a couple of carers, while the mood board including the stunning jade hexagonal tiles has resulted in a space that is both stylish and homely. We will definitely call upon Motionspot's inclusive design expertise again as we open future AbleStay's throughout the UK."
Charles and Jo Van Berckel
Project scope .
AbleStay's large, fully accessible bathroom for people with complex needs includes a large wetroom shower area including shower chair, shower trolley and grab rails, a height-adjustable bath, an accessible basin and wash and dry toilet. The bathroom can also be accessed by a ceiling track hoist from the bedroom.
Motionspot provided inclusive design consultancy which included moodboards and floorplans for the bathroom as well as the specification and supply of design-led accessible products including:
Hexagon tiles in Timeless Jade (please speak to a member of the Motionspot team to find out more)
The resulting bathroom can be accessed via a ceiling track hoist from a profiling bed in the bedroom.
"A truly stunning accessible home in a fabulous location. We enjoyed knowing everything we needed was there and it was so comfortable and homely. This beautiful home will change so many lives for disabled people. There needs to be more places like this around the country. We will definitely be back."
AbleStay guest
Gallery.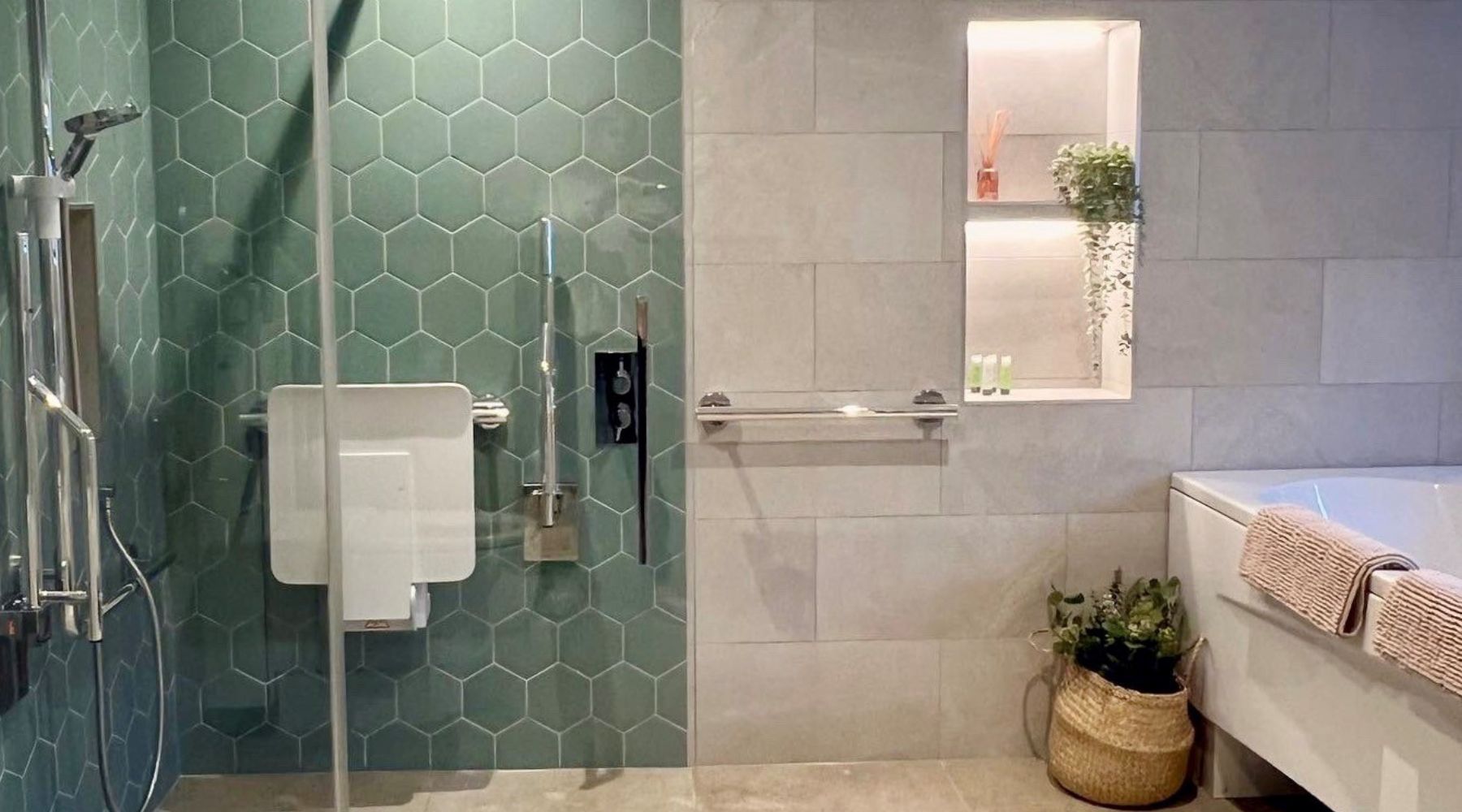 Hexagon tiles in Timeless Jade, shower, bi-fold shower screen, chrome grab rails and wall mounted shower seat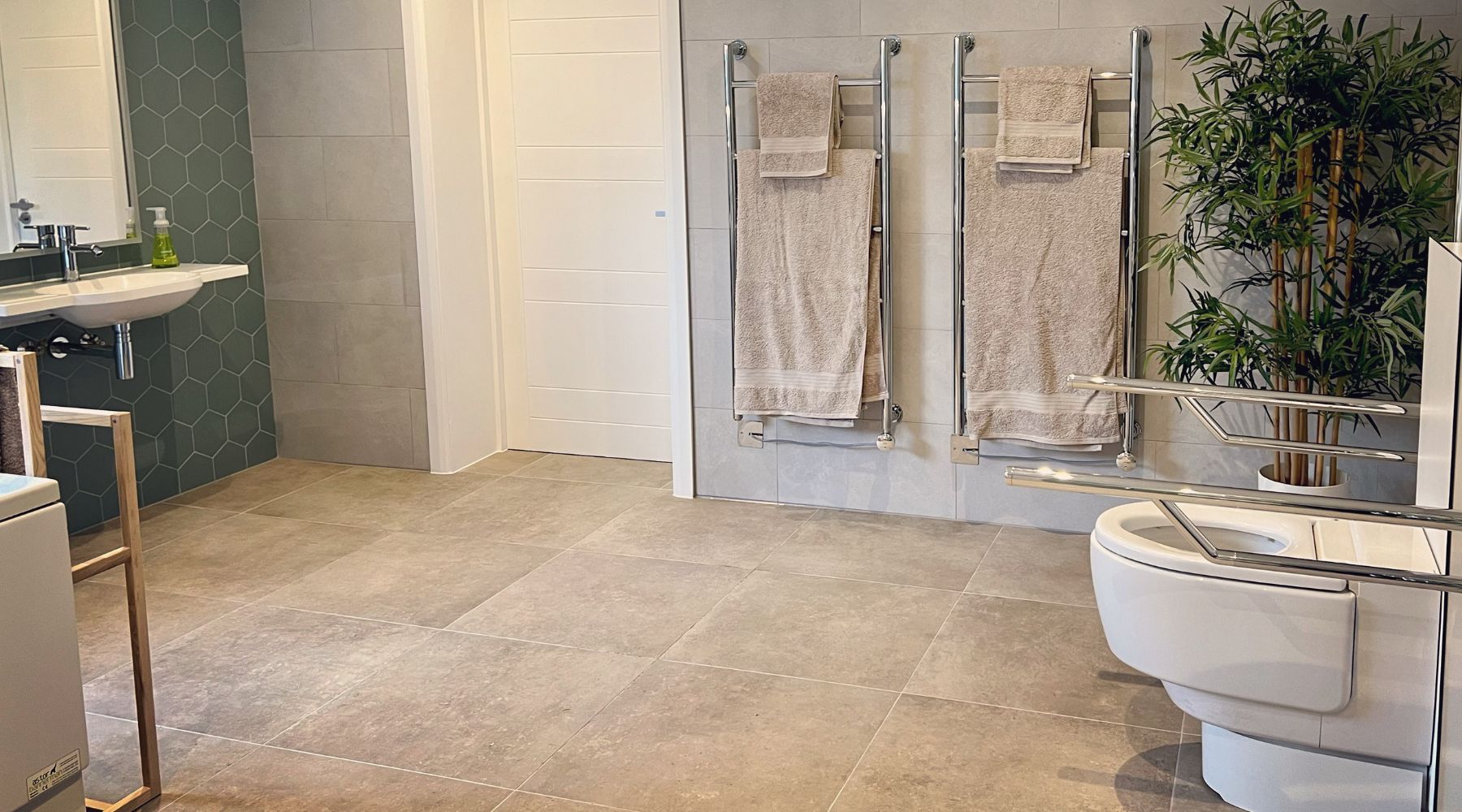 Toilet, chrome grab rails, wall mounted basin and heated towel rails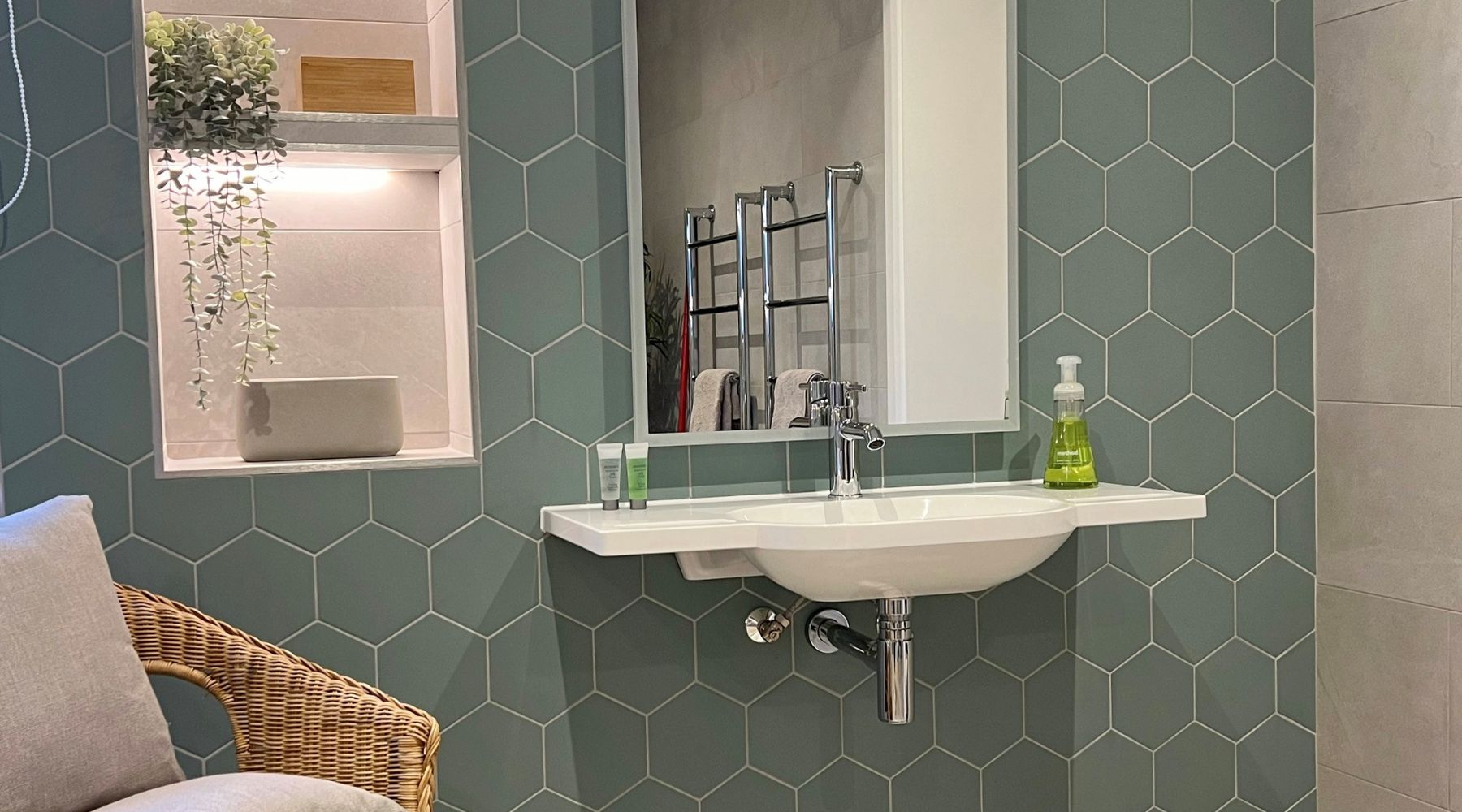 Wall mounted basin and illuminated mirror with storage niche against hexagon tiles in Timeless Jade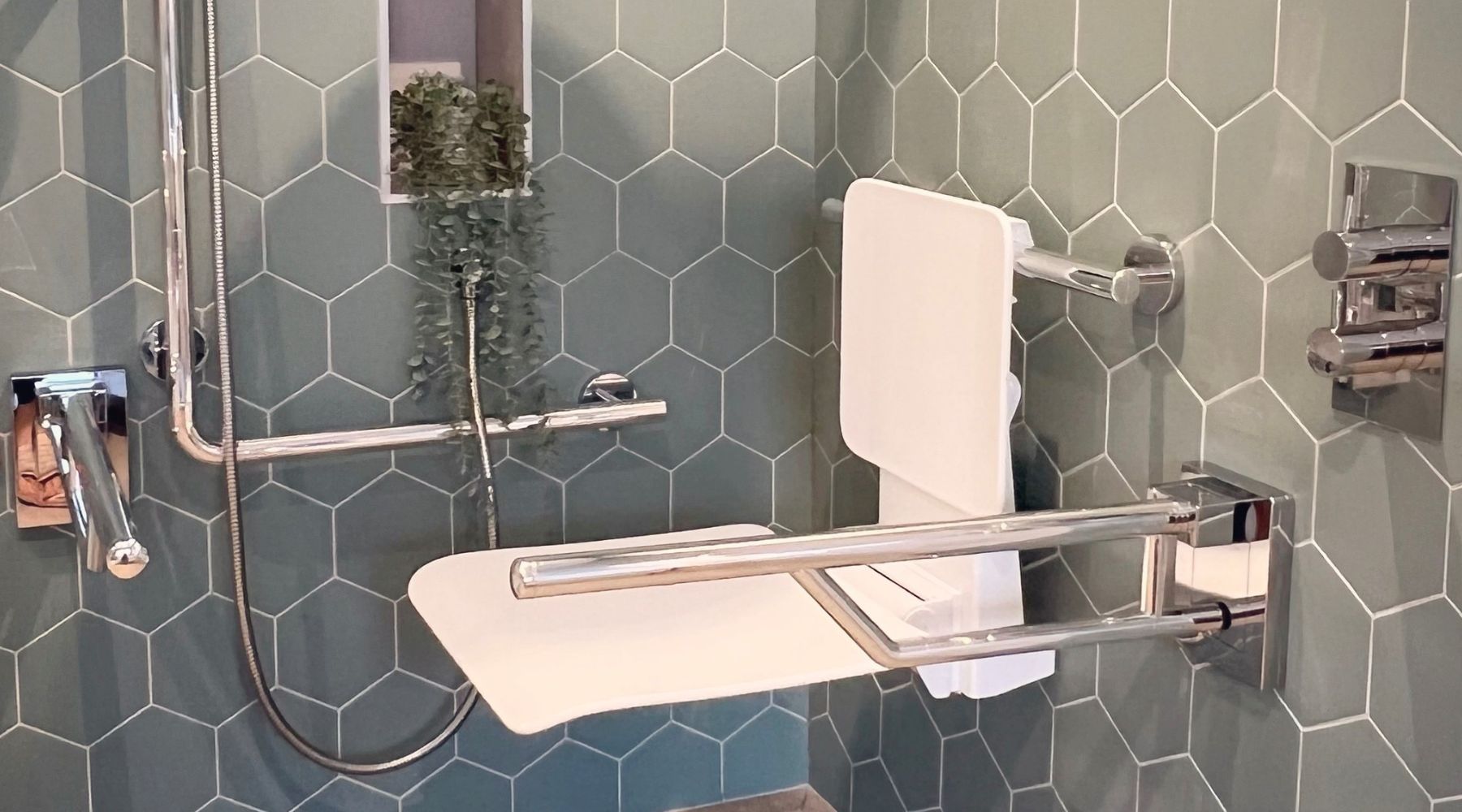 Accessible shower with chrome grab rails, wall mounted shower seat and hexagon tiles in Timeless Jade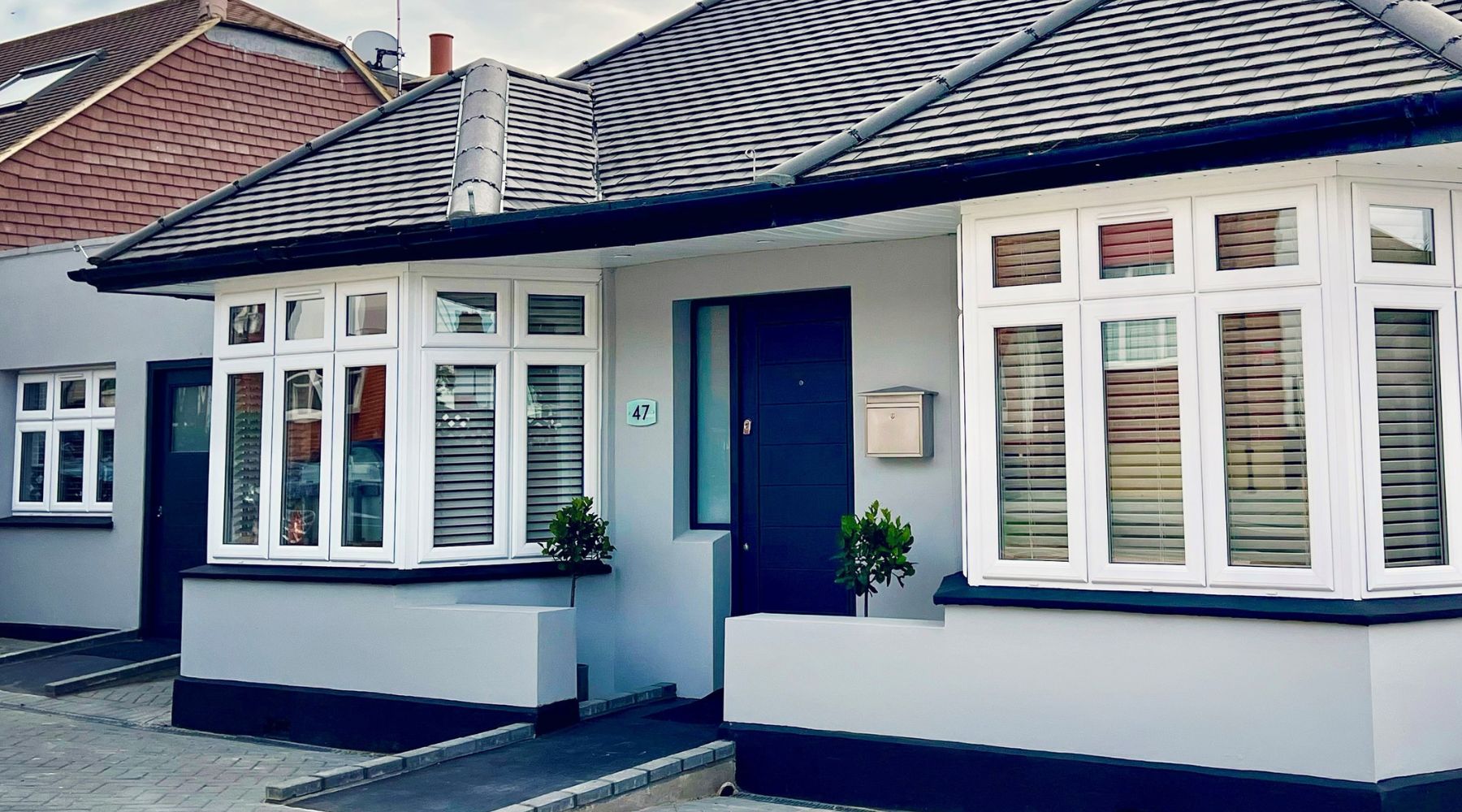 AbleStay exterior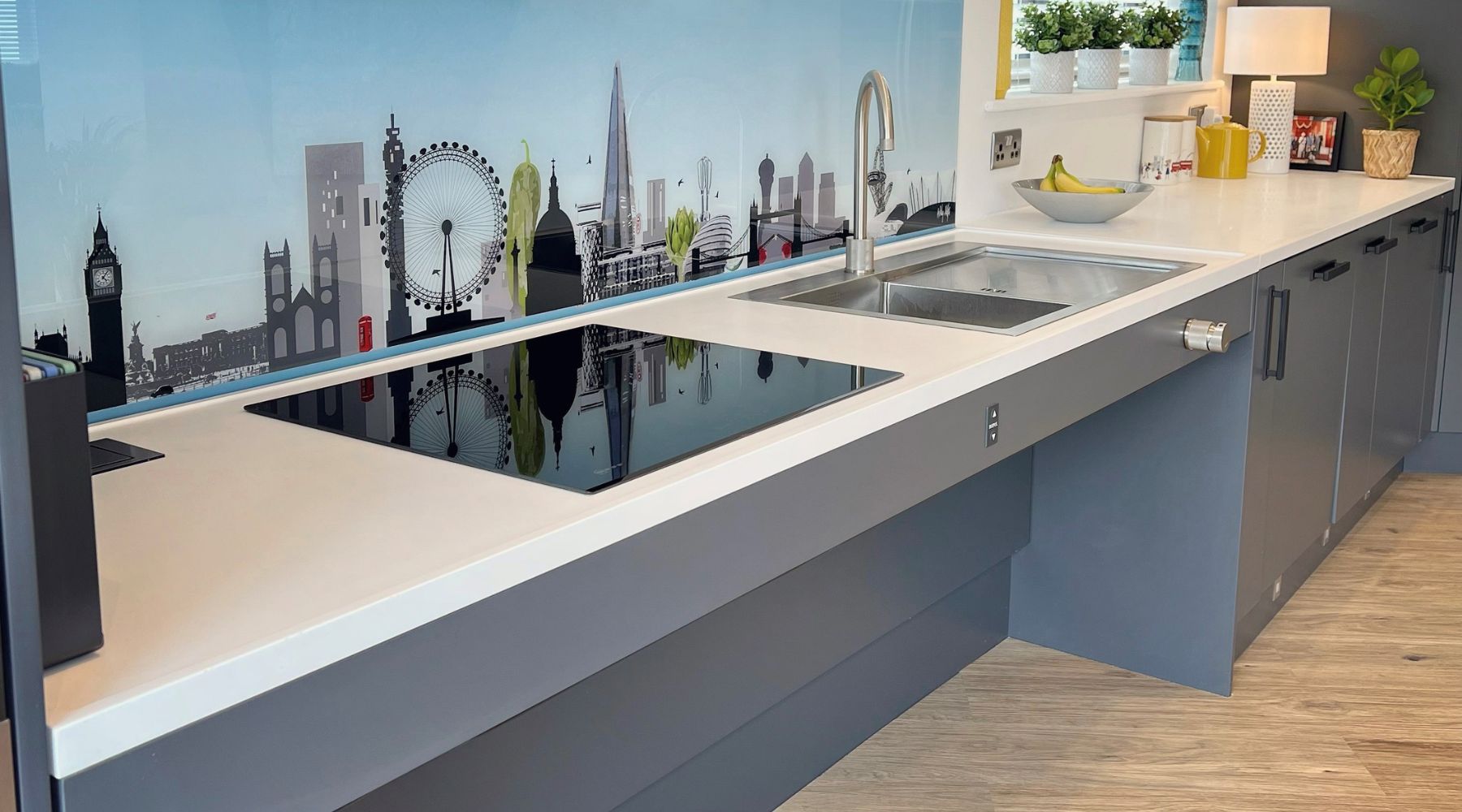 Accessible kitchen with wheelchair clearance under the units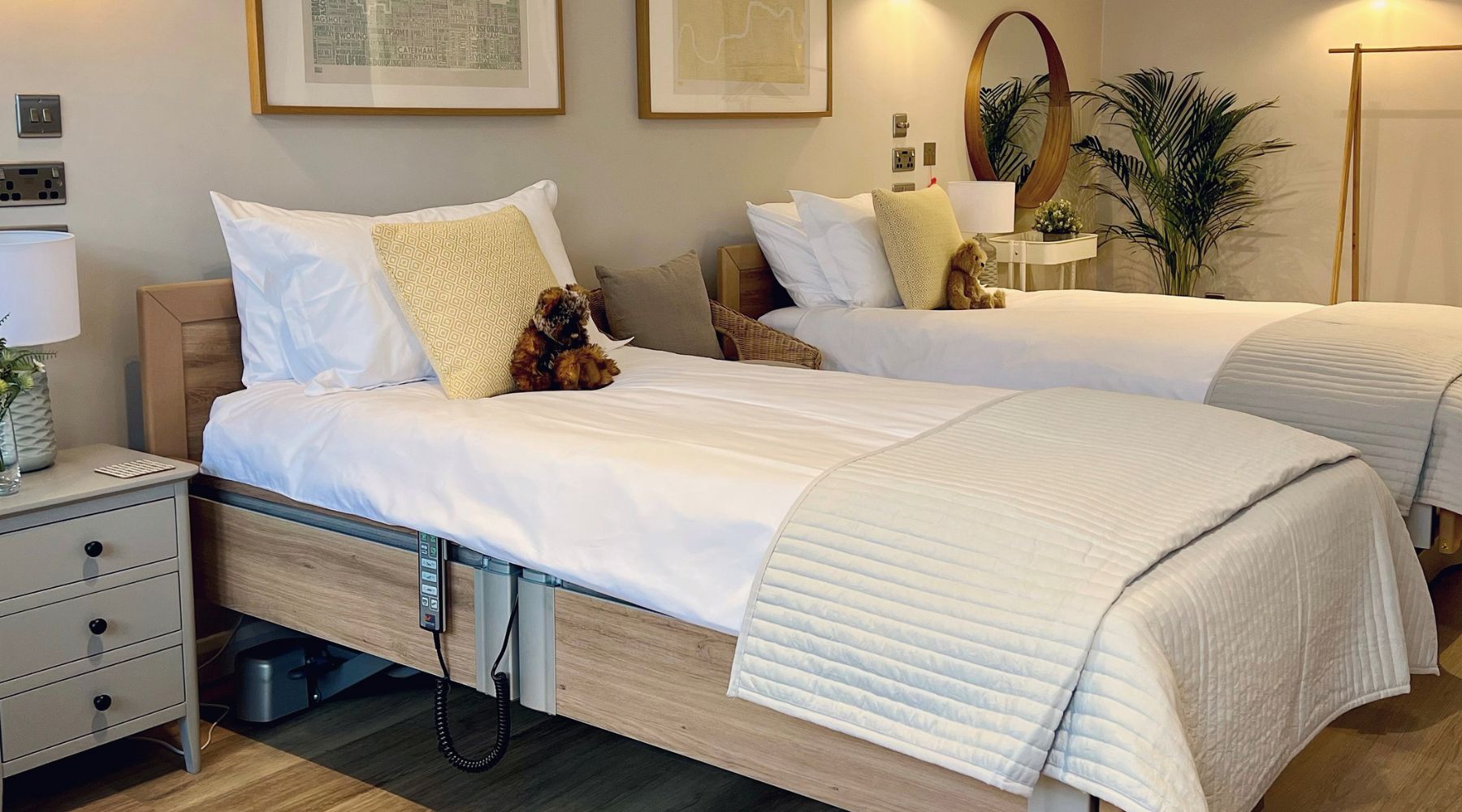 Twin profiling beds
"My son and his team have just returned following a three-night stay. The house was amazing, and had everything that my son, who is a full-time wheelchair user, with 2:1 care, needed. And we didn't have to pack everything and the kitchen sink for once! This wonderful, facility, a home from home, made it possible for my son to visit London for the first time in his 22 years. He had a great time."
AbleStay guest
Get in touch.
Our team is always happy to discuss your requirements and provide a scope and fee proposal for your project. Get in touch to chat through your plans with us.
Contact us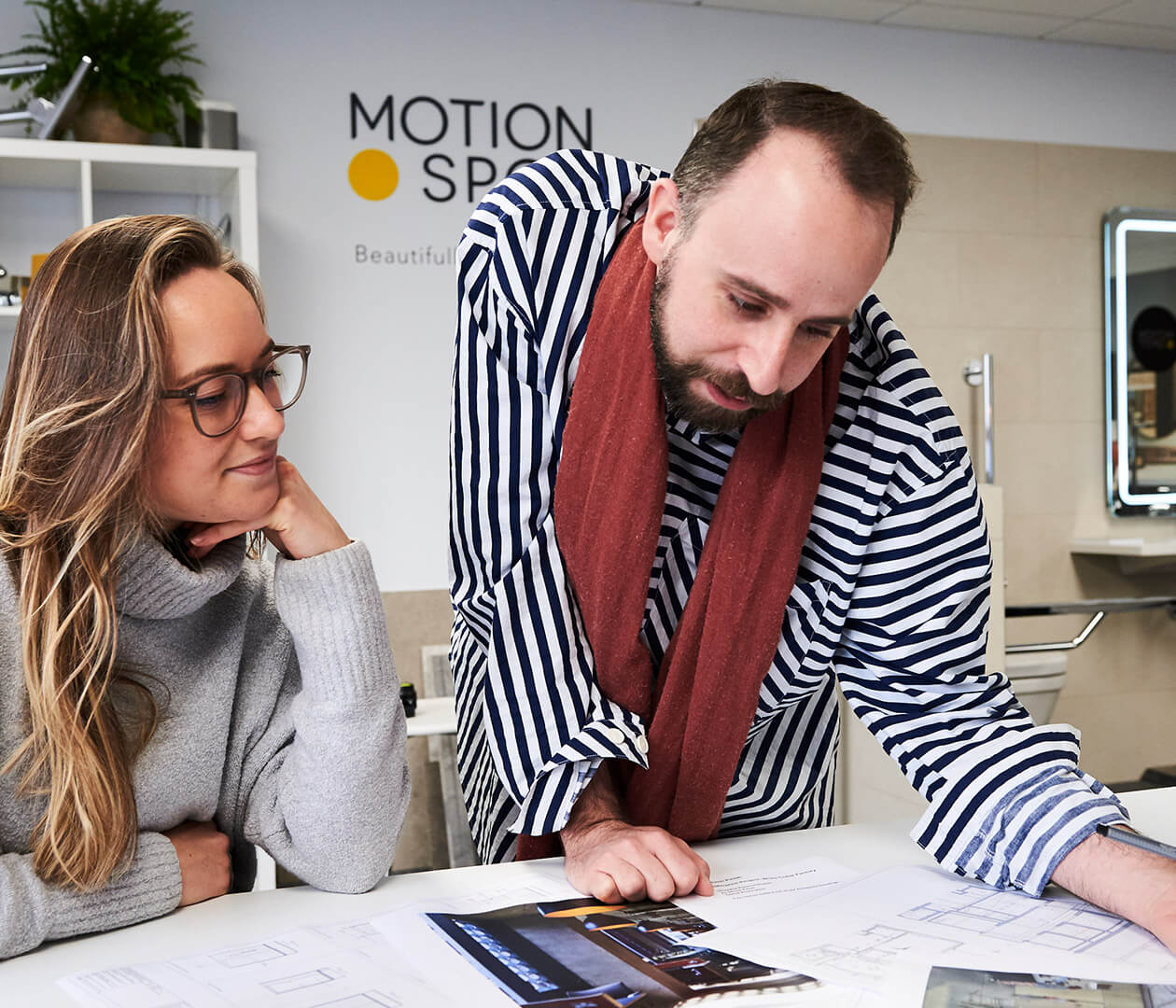 Start a conversation
Get in touch to chat through your plans or requirements and see how we can help. Please complete your contact details below.
Contact us
Stay connected
Sign up to receive the latest inclusive design insight and inspiration from our team.