An ever-growing element of what we do at Motionspot is working with corporate clients to help them understand how to design more inclusive workplaces for their employees.
Post COVID there was a real shift towards businesses needing to encourage employees back into the workplace. Hybrid working is now the norm for many, presenting unique challenges for employers. Recent times have also seen EDI (Equality, Diversity, and Inclusion) and ESG (Environmental, Social and Governance) growing in status.
As a result, business leaders and their design teams realised the importance of designing more accessible and inclusive environments for everyone. Much progress has been made, however, there is still further to go to make truly inclusive workplaces. So, here we share some of our inclusive design thinking to support businesses along that journey.   
Inclusive design – the missing piece of EDI
The inclusive design of workplaces has historically been a neglected component of EDI strategies compared to the focus around HR policies, procedures, and practices. While these areas are tremendously important, organisations will not be truly diverse and inclusive if they do not also think about:
The potential barriers within the built environment
How employees and visitors interact with the physical spaces
At Motionspot, we work with clients to help them design beautiful inclusive spaces that tie into their hiring and HR policies, procedures, and practices to create truly inclusive workplaces for everyone. This enables businesses to recruit and retain the best talent.
For us, the inclusive design of built environments is not just the right thing to do socially, it is financially beneficial too. For one of our clients, every pound they spent on inclusive design as part of the design process saved them a hundred pounds in expensive retrofits later.
Designing for a broader range of protected characteristics
In many cases there is a perception that a level access entrance and wheelchair-accessible toilet means an accessible building. This is a great starting point and foundation to build on. However, only 8% of disabled people are wheelchair users, which means that a lot more can be done to meet the needs of the 92% of people with other physical, cognitive, and sensory needs including neurodivergence. We also encourage businesses to consider all human characteristics and design for intersections such as disabilities, neurodiversity, health and mental health conditions, sex, gender, age, ethnicity, faith, and culture.
Inclusive design principles
The types of inclusive design principles that we implement in workplaces span:
Inclusive entrances
Some types of doors and entranceways can be very inaccessible, not just for wheelchair users but also for people with anxiety, dementia, and dyspraxia, for example. As inclusive designers, we do not believe that someone should have to go through a separate accessible entrance apart from the main entrance. Rather there should be a single inclusively designed entrance solution suitable for everybody.
Inclusive reception areas
For example, reception desks of different heights. Seating in the main reception area should also consider everyone from wheelchair users to people who may not have strength to get up from a low seat.
Sensory rooms
We are seeing a real trend towards the creation of specially designed rooms that enable people to move out of a busy, open plan work environment, to recalibrate for a short time.
Faith rooms
We are seeing design of faith rooms in workplaces increase in popularity. See more in our inclusive multi-faith design blog here. 
Changing Places and accessible toilets
Accessible toilets and Changing Places Rooms can be as beautiful as they are functional. At Motionspot, we can provide design-led Doc M Packs and bespoke design guidance to make these rooms fit the look and feel of the rest of the wokplace. Explore our accessible product collections here.
The small details
These include acoustics, lighting, air quality, and the use of materials including biophilia (planting in the office), to maintain and promote a sense of wellbeing. There are so many small design principles that make such a difference to how we all respond to our built environment. If businesses get these right, they can create better workplace environments that enable everyone to bring their best selves to work.
Evidence based design
It is vital have different perspectives contributing to the design process. One of the most important things we do at Motionspot is to bring in people with an extensive spectrum of intersectional lived experiences. We run focus groups and engagement sessions to collate feedback around the challenges people are facing within the built environment, as well as what they want to see from new developments and refurbishments.
Designing choice
We always promote the element of designing choice within a building or space.
Recently, a client raised the challenge of wanting heavily patterned wallpaper in their meeting rooms to help create high energy. For some people, this can be challenging as they require calmer surfaces and materials to be able to concentrate. We were able to work with the client to create a selection of environments that provided varying sensory stimulus and choice for different people and circumstances.  See more on sensory design considerations in our The Design for the Mind Guide: What Does it Mean? blog. 
"There are so many small design principles that make such a difference to how we all respond to our built environment. The businesses that get these right can create better workplace environments that enable everyone to bring their best selves to work."
- Ed Warner, CEO, Motionspot
Motionspot's inclusive design team
To speak to one of Motionspot's inclusive designers about how we can help your business to go beyond minimum design standards and building regulations to create an environment that considers the entire spectrum of protected human characteristics, start a conversation via team@motionspot.co.uk.
Get in touch.
Our team is always happy to discuss your requirements and provide a scope and fee proposal for your project. Get in touch to chat through your plans with us.
Contact us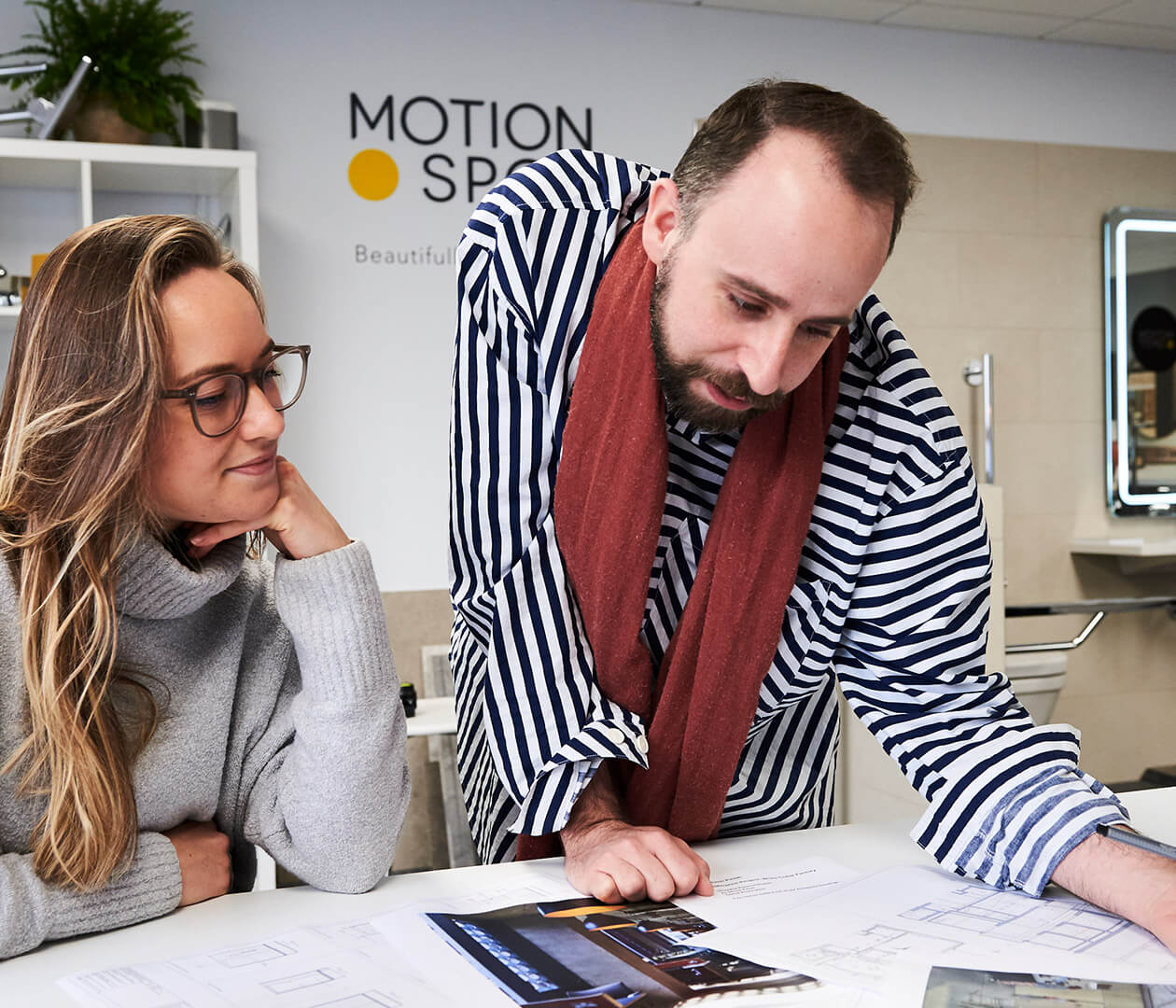 Start a conversation
Get in touch to chat through your plans or requirements and see how we can help. Please complete your contact details below.
Contact us
Stay connected
Sign up to receive the latest inclusive design insight and inspiration from our team.