The world of accessibility opens up a whole new dictionary of terminology and definitions. For those who are only just discovering the industry, whether you're looking to create an accessible bathroom in your home or you want to ensure your public space is inclusive for all, some of the terms can be confusing. To help you out, we've put together a list of accessible words you are likely to come across and their meanings.
Terminology & Definitions
Bi-folding shower screen - these shower enclosures are made of thickened safety glass and can fold back on themselves creating more space in a wet room or shower room. This provides increased space and circulation, particularly useful for wheelchair users and is a great alternative to a shower curtain.
A bi-folding shower screen
Changing Places toilets - these are accessible toilets that are designed for users with complex care needs. They are larger spaces than a wheelchair accessible toilet and have a specific set of requirements including an adult sized, height adjustable changing bench, a ceiling track hoist, a centrally positioned toilet and adequate space for a wheelchair transfers and access for carers.
Circulation - this refers to the movement and flow of a person or people in a space and is an important design consideration when planning the space needed for wheelchair users to move with ease within a space.
Click Clack waste/push button plug - both terms for the plug in your sink! Designed to be accessible and to allow water to drain away. They are great options for anyone with limited dexterity or arthritis as they use a spring so can be operated by pushing down with a knuckle, palm or fist.
The push button plug
DDA bathrooms – Technically not a correct term as the Disability Discrimination Act (DDA) was replaced by the Equality Act in 2010 however many architects and contractors still refer to their DDA bathrooms! Some architects and contractors still refer to DDA bathrooms when they mean wheelchair accessible bathrooms.  In a commercial setting, like a hotel, these bathrooms should be 2.5m x 2.4m and have a level access shower, raised height and long projection toilet and an additional small hand rinse basin located next to the toilet. To see a layout of an accessible bathroom visit our downloads page.
Doc M Pack - Document 'doc' M is building regulation that a new build development needs to comply with. This means that a building can be easily accessed by everyone, including people who are ambulant disabled or wheelchair users. In a commercial setting, Doc M packs are a simple way to buy everything for an accessible washroom that is compliant with Document M. For all you developers of accessible accommodation, please don't fit out homes with Doc M packs as this will be an over specification, would not meet the technical requirements, and can look institutional or clinical in a home. To find out how to design an accessible home please contact us.
Insulated bottle trap - a bottle trap is an essential part of the basin or sink's plumbing and prevents the room smelling of dirty water! In accessible bathrooms, basins should be wall hung (rather than sitting on a pedestal) as this allows space underneath for wheelchair users or for anyone seated at the basin. All Motionspot bottle traps are insulated to prevent scalding of legs when hot water is running in the basin.
Lever tap - if you have limited dexterity, arthritis or simply struggle turning taps on and off, a lever tap is a great solution as they are much easier to operate.
Lever taps
Light Reflectance Value - LRV measures the percentage of light a paint colour reflects, so the darker the colour, the lower the LRV. This is one of the most important design considerations when creating an inclusive space for someone with a visual impairment as colour can help a person gauge the depth of a room and how they can navigate around the space. British Standards recommend that a 30 point difference between the LRV of walls, the ceiling and floor. It's also important to make sure that door frames, handles, locks and other openings are highlighted using the LRV scale. Learn more about designing for people with a visual impairment.
Pocket doors - a pocket door is a sliding door that, when fully open, conceals itself into a space (or pocket) in the opposite wall. They are a great design feature when creating wheelchair accessible rooms because not only do they maximise space, they also make it much easier for wheelchair users to move around and open.
Pocket doors
Supportive shower riser rail – this stylish shower rail has a dual purpose. It allows the user to adjust the height of the shower head whilst also acting as a support rail providing up to 150kg of support.
Shower riser rail
Thermostatic shower - a thermostatic shower valve mixes hot and cold water to keep it at a constant temperature to prevent scalding of sensitive skin.
Wayfinding - how a person is able to plan and navigate a route around an environment. When designed public spaces, this is something we always consider. People with visual or cognitive impairments can find it hard to navigate through areas and elements such as the clarity of signs and floor markings can help improve this.
Get in touch.
Our team is always happy to discuss your requirements and provide a scope and fee proposal for your project. Get in touch to chat through your plans with us.
Contact us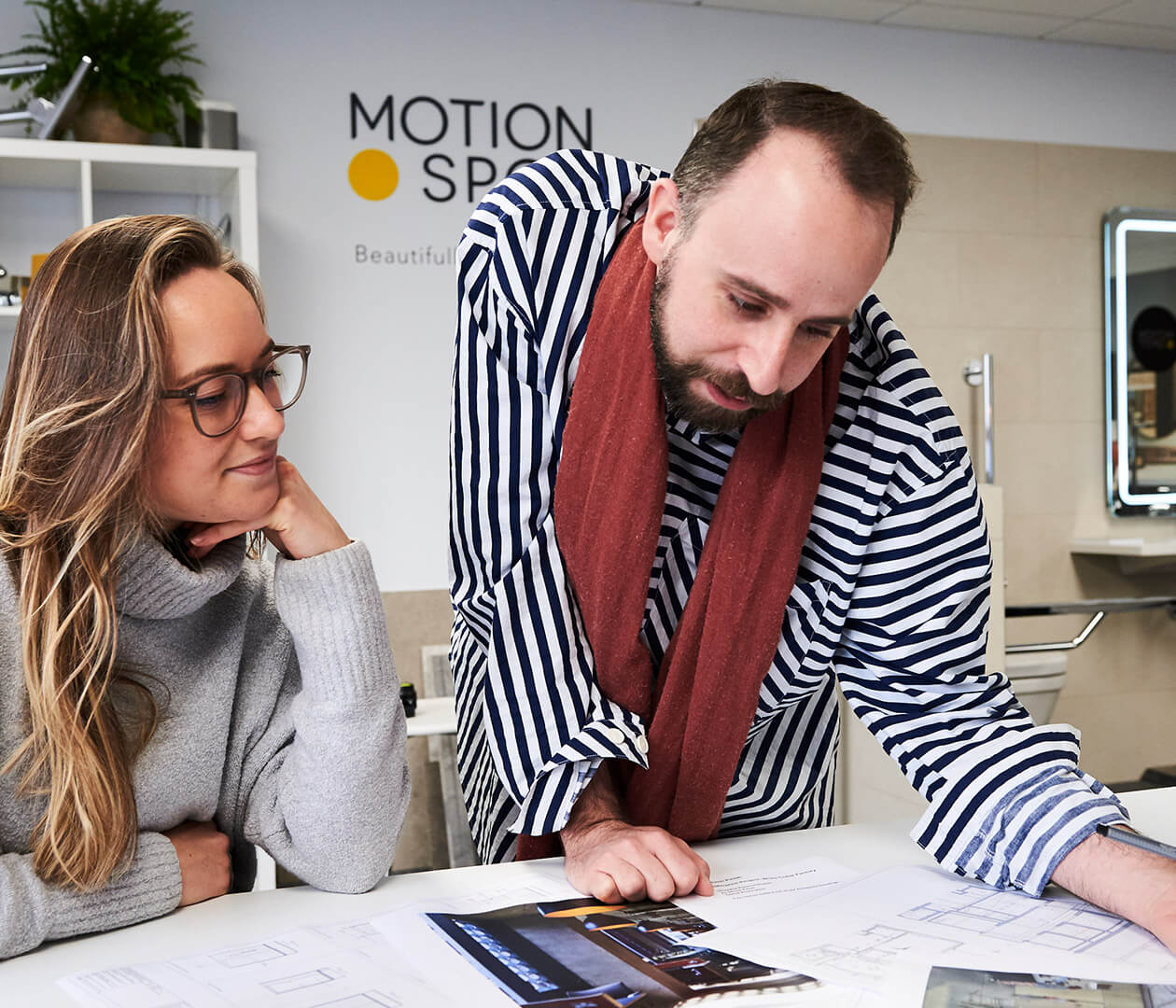 Start a conversation
Get in touch to chat through your plans or requirements and see how we can help. Please complete your contact details below.
Contact us
Stay connected
Sign up to receive the latest inclusive design insight and inspiration from our team.