Glasgow City Council & Barclays.
Improving the accessibility of the public realm to support staff and visitors travelling to and from a new Barclays site and business district in Glasgow.
Project background.
Creating an accessible workplace begins with a person's journey from home, through the public realm to arrival on site.
Typically, urban environments are rarely designed for people with cognitive and sensory processing impairments. Common issues include sensory overload, difficulties navigating to and finding places, using public transport, safety, and discomfort.
Barclays is a British multi-national bank and financial services company. Barclays commissioned Motionspot as access designers to work with Gensler and the wider Barclays design team to review the surrounding urban landscape of their new 500,000sqf campus under construction in Glasgow. The objective was to deliver a welcoming and inclusive office environment for their 5,000 employees and visitors.
"We're building our new campus from the ground up so it's a great opportunity for us to think differently about inclusive design from the start. It has been a delight to work with a business partner that shares the same values of inclusivity as Barclays. Being involved in the early stages of the renovation opened exciting opportunities to push the boundaries of what was possible".
Kathryn Townsend, Head of Customer and Client Accessibility at Barclays UK
Project scope.
Motionspot conducted a walking survey of the city landscape surrounding the Barclays campus with members of Glasgow City Council at different times of day and night. Our findings captured the condition of key access routes by foot, wheelchair and public transport and potential barriers for people with physical, cognitive, and sensory impairments on their journey to the site.
Glasgow City Council have used this report to make the necessary upgrades.
External areas of the new Barclays site were also reviewed and recommendations for improvements provided. These outdoor areas have an important role to play as a 'transition space' between home and work.
In developing the designs, Motionspot recommended rest points that offer opportunities for people to recalibrate and provide refuge and protection from their surroundings. These were supported by 'quiet' routes to offer people who are sensitive to busy environments the option to move around at their preferred pace. Key landmarks were distinctively and attractively highlighted in the landscape to help people with visual and cognitive impairments identify their location and navigate the space. This design principle of landmarking continued inside the buildings.
"The collaboration between the Barclays design team and Motionspot has created an inclusive workplace that goes beyond standard access guidance. The Glasgow development has paved the way for future Barclays developments, encouraging them to achieve world leading accessible design standards and create spaces that are truly inclusive for all. It took time to get Motionspot involved in the project but I couldn't imagine proceeding with any part of the design without them."
Ron Coghill, Director, Major Projects Delivery Lead, Barclays
Get in touch.
Our Team are always happy to provide free advice and discuss your requirements. We can also provide free quotes and accessible product specifications tailored to your project budget and design intent.
Get in touch to chat through your plans with us.
Contact us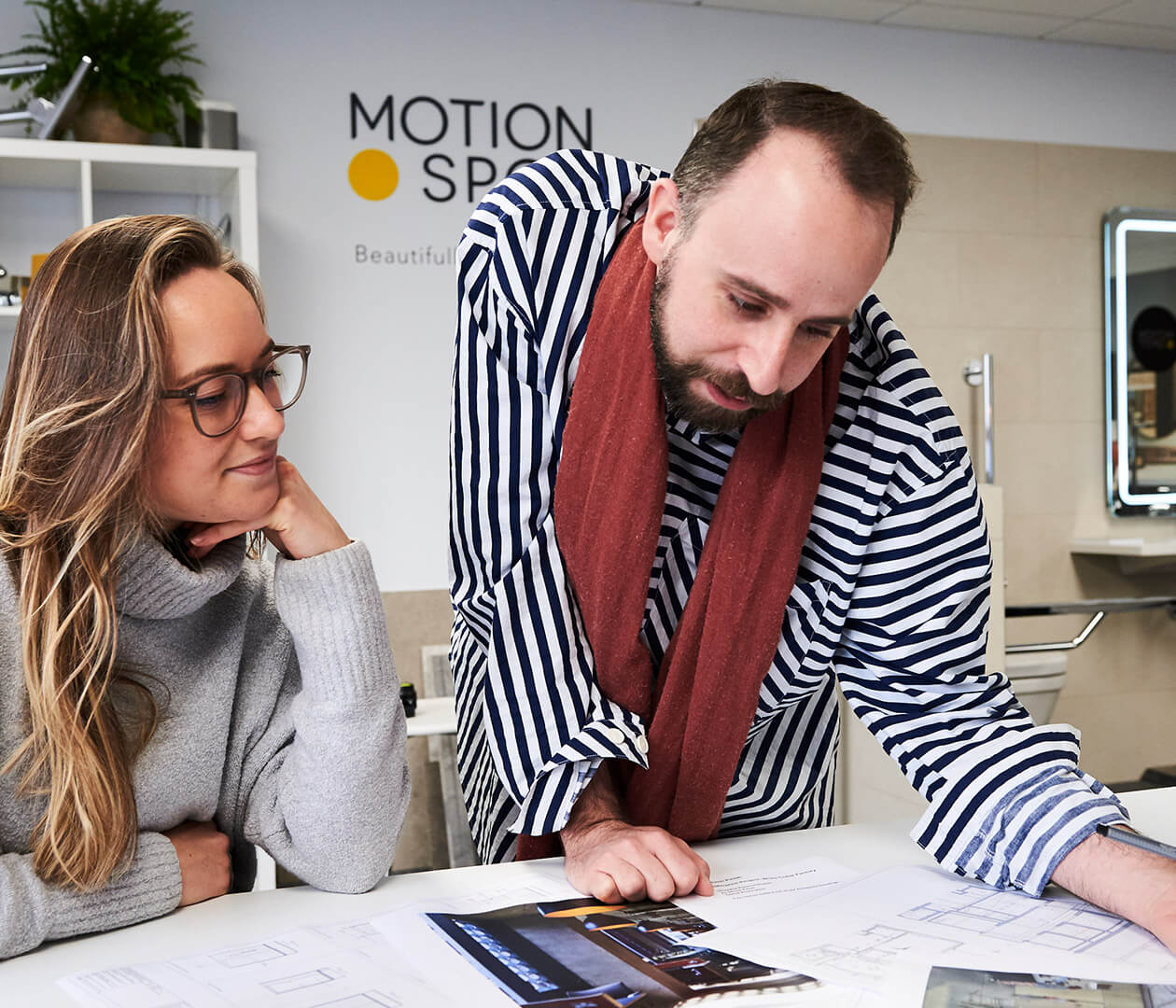 Start a conversation
Get in touch to chat through your plans or requirements and see how we can help. Please complete your contact details below.
Contact us
Stay connected
Sign up to receive the latest inclusive design insight and inspiration from our team.