Every commercial space throughout the UK is legally meant to have a wheelchair accessible toilet. These toilets are often clinical and institutional in their appearance and frequently don't meet the required accessibility standards.
Before: a bland 'Doc M pack'
At Motionspot, we're on a mission to show that you don't need to compromise on style or standards in order to create an accessible space.
A recent project involved transforming a wheelchair accessible toilet in an office building into a chic space that was in keeping with the rest of the office design.
Key design features include:
The long projection toilet allows a wheelchair user to transfer easily
The flush plate has raised buttons which helps people with limited dexterity
Chrome grab bars provide support. One is hinged to allow greater space for wheelchair transfer. It also has an integrated loo roll holder
There is a stylish small basin close to the toilet for hand washing
Call alarms buttons located an accessible heights are easy to use in an emergency and is a good alternative to call alarm pull cords which are frequently tied up and unusable
The walls and floor contrast in colour so people with visual impairment can more easily access the space
The mirror height allows both a wheelchair user and someone standing to see themselves easily
Task lighting is designed to highlight the loo and basin
After: a chic wheelchair accessible toilet
Watch the transformation:
Find out how Motionspot can create an accessible office space for you.
Get in touch.
Our Team are always happy to provide free advice and discuss your requirements. We can also provide free quotes and accessible product specifications tailored to your project budget and design intent.
Get in touch to chat through your plans with us.
Contact us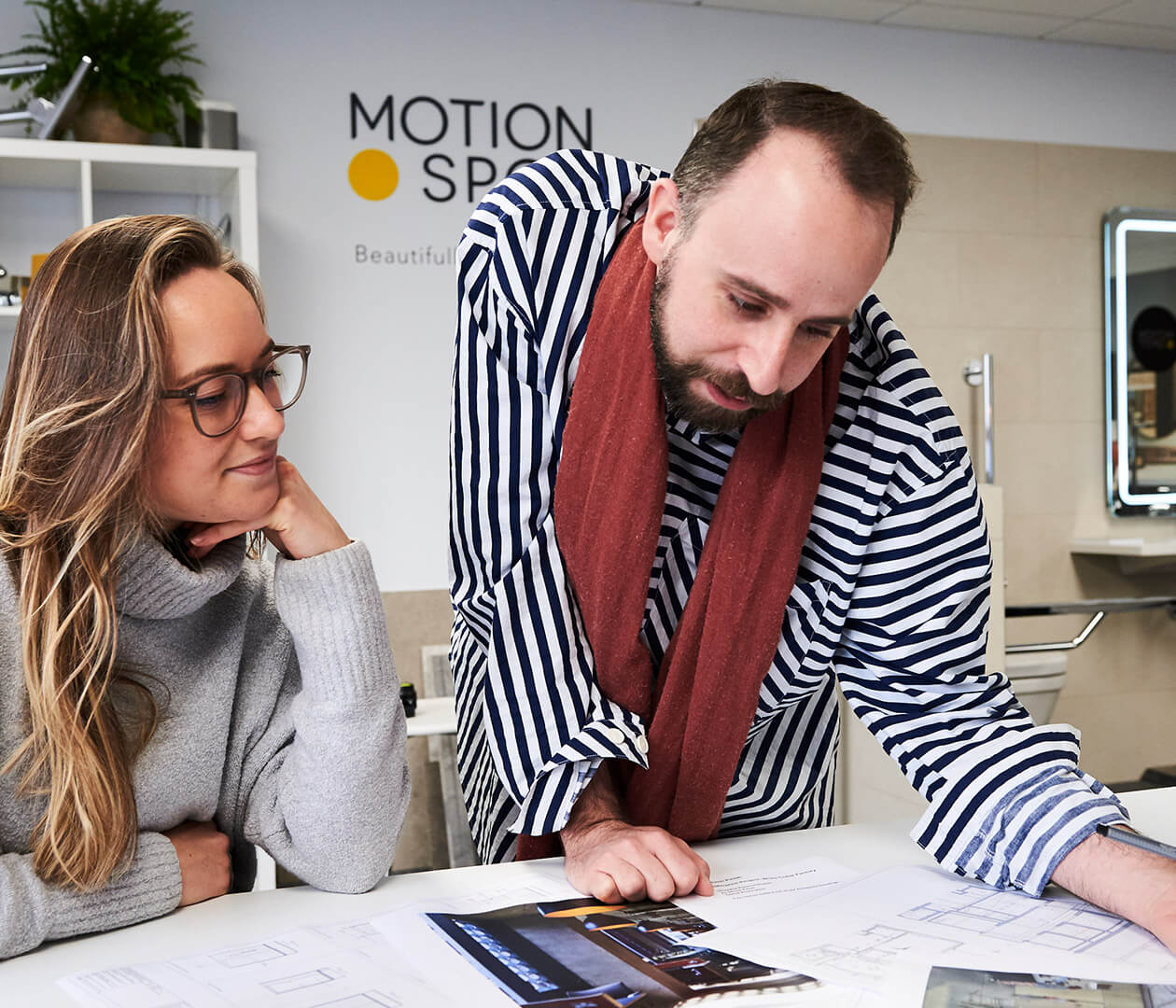 Start a conversation
Get in touch to chat through your plans or requirements and see how we can help. Please complete your contact details below.
Contact us
Stay connected
Sign up to receive the latest inclusive design insight and inspiration from our team.