Our Inclusive Design Strategy Lead Pareisse Wilson wrote the following in her role as Project Lead and Lead Overlay Author for the Inclusive Design Overlay to the RIBA Plan of Work:
What is inclusive design?
Inclusive design seeks to create buildings and spaces that welcome everyone. It aims to remove the barriers that create undue effort and separation, and enables everyone to participate equally, confidently, and independently in everyday activities.
The design of the built environment can include or exclude users. By designing infrastructure with human diversity at its core, the built environment can cater for the widest range of human abilities and experiences. This will help identify potential barriers and create design solutions that are accessible and inclusive to all users, equitably. Equity recognises that we do not all start from the same position. This must be acknowledged, and adjustments made in designs to mitigate these imbalances and foster diversity.
Inclusive design and sustainability
Designing inclusively is intricately linked with sustainability.
The UN Sustainable Development Goal, Number 11 is to 'make cities and human settlements inclusive, safe, resilient and sustainable'.
BREEAM (Building Research Establishment Environmental Assessment Method) and WELL (WELL Building Standard) refer to the importance of inclusive design in creating sustainable environments.
The RIBA Sustainable Outcomes 'Good Health and Wellbeing' (Outcome 6) and 'Sustainable Communities and Social Value' (Outcome 7) include principles to 'design spaces that are inclusive and universal accessible' and 'create inclusive places for community interaction'. Accessible, equitable, and usable spaces are more sustainable as designing inclusively from the outset saves the high environmental costs of retrofitting later.
Inclusive design in practice
One specific example of inclusive design is equitable building entrances. For example, revolving doors can be very inaccessible for people who use wheelchairs and other mobility equipment, as well as people with conditions such as anxiety and dyspraxia. One of the core inclusive design principles we adhere to is aiming to create a single entrance that is accessible to as many people as possible. Ideally no one would need to use a 'secondary' entrance.
These types of inclusive design considerations are required at every point of a person's interaction with a building. Inclusive design consultants, supported by lived experience user groups, are critical to support the identification of challenges and development of design solutions.
User engagement
Everyone is different and will access and experience the built environment in a range of ways. However, those differences should not stop anyone experiencing the built environment with dignity and feeling a sense of belonging. Underpinning inclusive design is the engagement with users, communities, and stakeholders with lived experience of diverse and intersectional protected characteristics (Equality Act, 2010) to better understand the needs of a diverse range of users in the design of environments.
Our Inclusive Design team is experienced in coordinating User Groups. Work typically spans:
Ensuring appropriate representation of people with a range of intersectional lived experiences of protected characteristics, as well as other communities likely to be impacted by design decisions
Facilitating in-person and virtual workshops
Ensuring that communication is fully inclusive throughout
Inclusive Design Consultants
As outlined in the Inclusive Design Overlay to the RIBA Plan of Work, 'Dependent on the size and complexity of the project, appointment of Inclusive Design Consultants (sometimes known as Access Consultants), is required to ensure environments are designed to be usable for all people, regardless of their abilities, disabilities, gender, faith, and other protected characteristics.'
Successful large projects appoint Inclusive Design Consultants at an early stage to help define the project brief, set the inclusive design strategy, and provide specialist advice at each RIBA Work Stage. Inclusive Design Consultants, are specialists in the field of inclusive design. We help clients, architects, and other built environment professionals to set an inclusive design strategy with defined objectives. We facilitate the effective implementation of that strategy and adherence to regulations and guidance, such as the Inclusive Design Overlay to the RIBA Plan of Work.
Inclusion Champions
We frequently work closely with internal Inclusion Champions who liaise with us as the appointed Inclusive Design Consultant and support with in-house awareness raising, monitoring and promotion of inclusive design thinking and collaboration at all stages of the design process.
See more in our blog on what the Inclusive Design Overlay is and how it will revolutionise the built environment sector.
Get in touch.
Our Team are always happy to provide free advice and discuss your requirements. We can also provide free quotes and accessible product specifications tailored to your project budget and design intent.
Get in touch to chat through your plans with us.
Contact us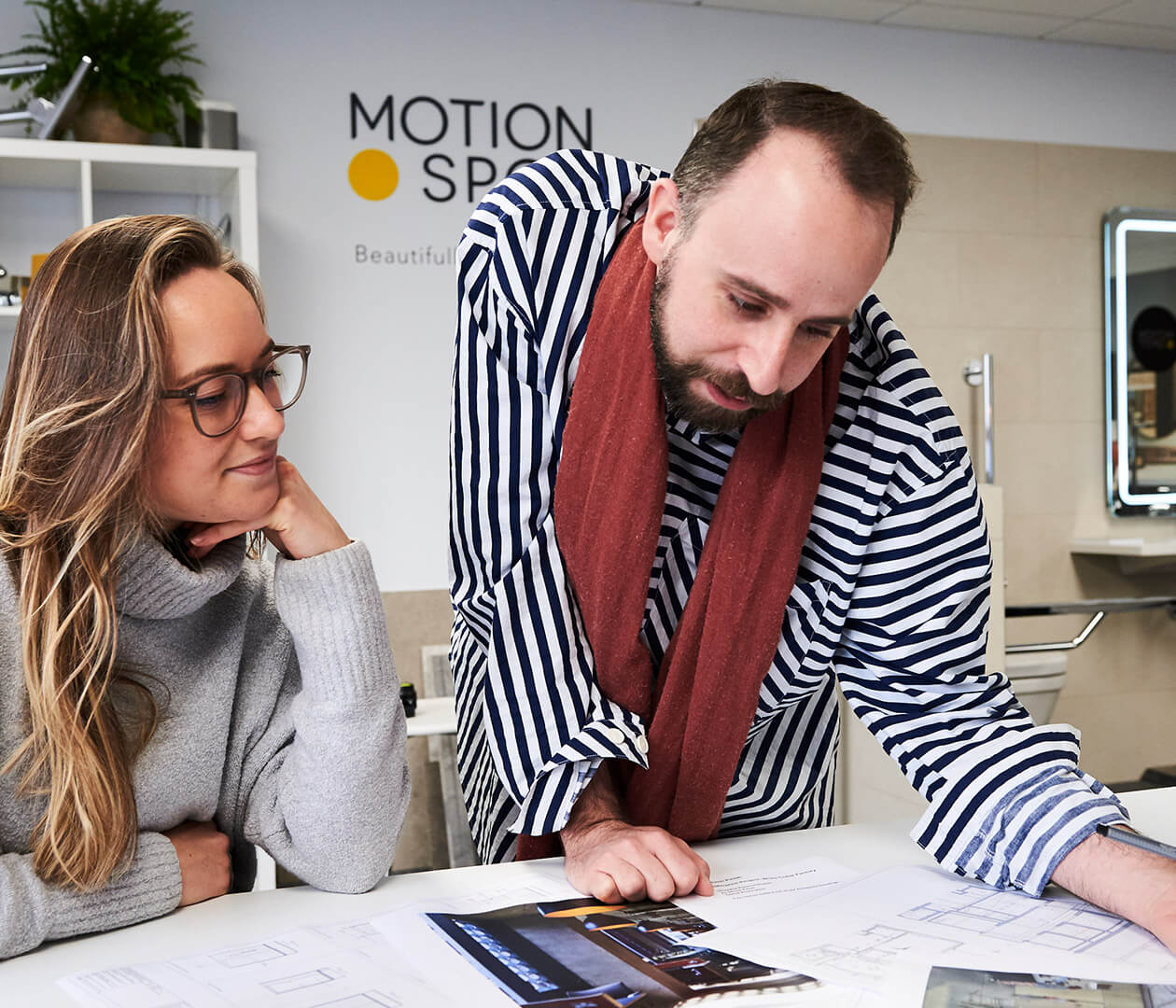 Start a conversation
Get in touch to chat through your plans or requirements and see how we can help. Please complete your contact details below.
Contact us
Stay connected
Sign up to receive the latest inclusive design insight and inspiration from our team.