Technology can do many great things; connect people across the world, build skyscrapers and send people into space. When it comes to accessibility, technology can also play an important role. A lot of the products currently on the market can be used to make life easier for those with physical, cognitive or sensory impairments.
We've put together a few great tech ideas that are modernising the accessibility space.
Norma Gorman uses virtual reality goggles at the the MIT Age Lab in Cambridge, Massachusetts
Voice recognition - most people will be familiar with voice controlled technology such as Alexa and Google Home. They're great for playing music, telling you news or answering questions but they can go further when it comes to helping navigate daily life. They can remind you to take your medication, they can read a recipe to you, if you are lonely, the products can provide a source of companionship through interactions such as quizzes.
These devices can also be paired with various household items to turn your house into a smart home. For example, it can be linked to your doorbell so that when it is pressed, it sounds on all Alexas in your home to ensure that you hear it. This is especially useful for those with a hearing impairment. You will then be able to answer the door on your smart phone or tablet which is beneficial for people with mobility issues who might not be able to get to the door fast enough. Similarly, these can be paired with lights that can be instructed to turn on and off without the need to manually do so which can be hard for people with limited mobility or dexterity.
Voice recognition products, like Alexa, can remind you to take medication
Smart locks - these are a relatively new concept and are currently being trialled by shops like Waitrose(opens in a new tab). The idea is that they make home deliveries seamless and efficient, even when you're not there. A one time passcode is shared with the delivery driver, who wears a body cam that's live streamed to your smart device during the delivery. These have great potential to be used by other industries such as carers visiting elderly or disabled people which can be monitored by loved ones.
Apps - There's a growing number of apps that can help improve accessibility out of the home and can help make the consumer journey easier and more accessible. Neatebox's 'Welcome'(opens in a new tab) allows customers to connect with store staff so they can get assistance in store if needed and retailers can receive information on their customer's access requirements in advance of someone's visit.
UbaMarket(opens in a new tab) allows customers to plan their trip in advance and understand where items can be found in a shop and Be My Eyes(opens in a new tab) connects blind and low-vision people with sighted volunteers and company representatives for visual assistance through a live video call.
Neatebox phone app is an example of technology making life more accessible
Unobtrusive monitoring - Brands like Hive are developing their unobtrusive monitoring systems, something particularly useful for those who care for others like elderly relatives.
The systems learn someone's daily routine via discreet sensors and smart plugs around the home and can therefore establish if a regular action isn't completed e.g. the switching on of the kettle at 8am. A notification will be sent to the carer to alert them to this.
Hive can keep track of your routine
Movement detection systems - Falling over and being unable to get up or call for help is a scary reality faced by many people. There are technologies being developed that can help in these scenarios.
We have designed and installed under-floor sensors that can detect when a person walks over it and can then tell if someone has fallen and are lying prone on the floor. Apple has also developed software for their watch that can tell if you've fallen and prompts you to call the emergency services.
Get in touch.
Our Team are always happy to provide free advice and discuss your requirements. We can also provide free quotes and accessible product specifications tailored to your project budget and design intent.
Get in touch to chat through your plans with us.
Contact us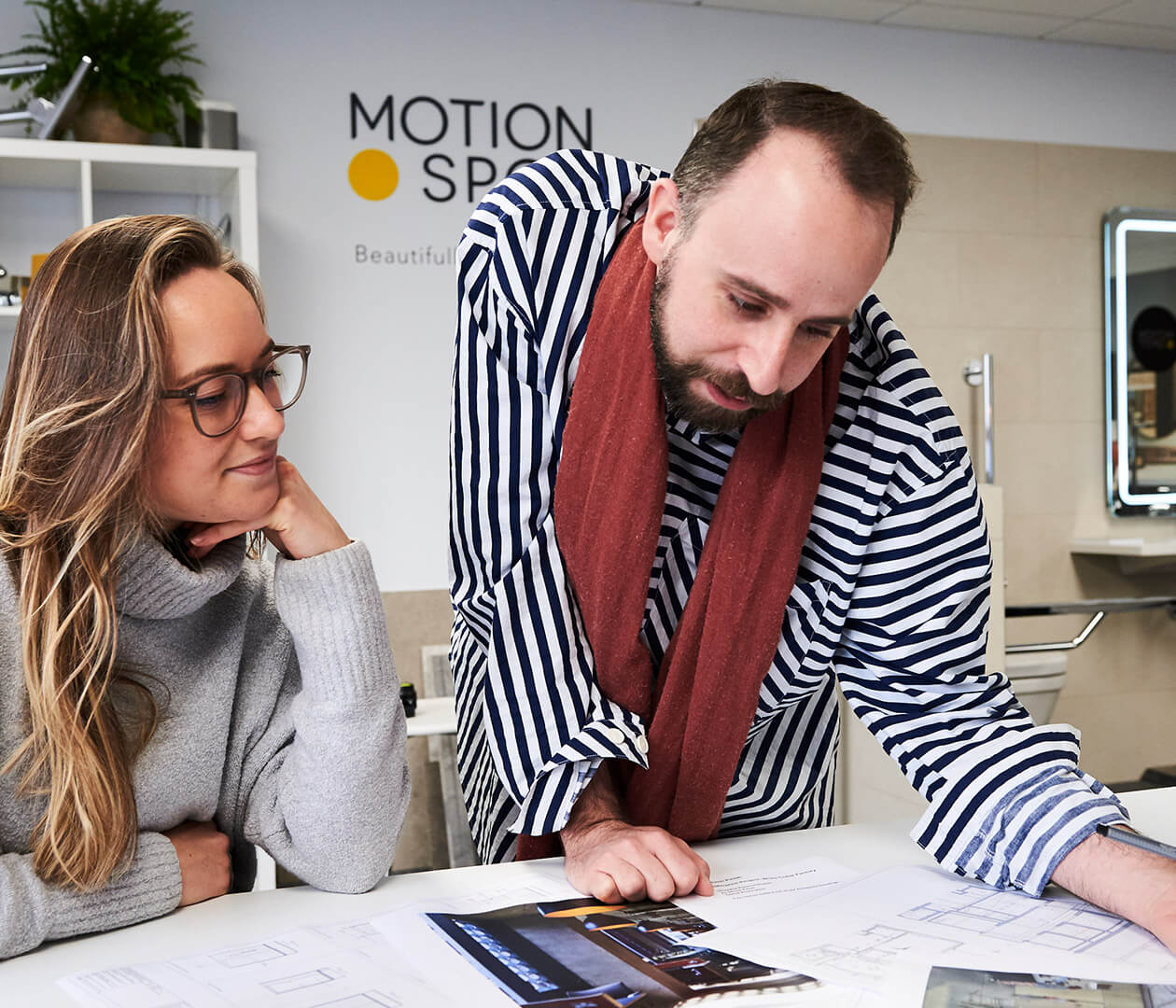 Start a conversation
Get in touch to chat through your plans or requirements and see how we can help. Please complete your contact details below.
Contact us
Stay connected
Sign up to receive the latest inclusive design insight and inspiration from our team.