Demand for multi-faith considerations within workplaces is growing. This usually refers to private rooms for prayer or quiet reflection. However, multi-faith design also has implications for facilities such as kitchens and toilets.
When designing these spaces, it is important not to view faith and spirituality in isolation. Truly inclusive workplaces consider people's multiple intersecting needs including disability, gender, ethnicity, age, and other protected characteristics.
Here we outline some considerations when designing multi-faith spaces and facilities that are accessible and inclusive for everyone.

Who benefits from multi-faith inclusion in the built environment?
Faith and spiritual beliefs inform many people's inner sense of purpose, direction, and values.
We've heard from employees that having a private space to express and practice their faith can make all the difference to their sense of belonging. This is especially true for those who identify with a minority group within their workforce. Sensitive design and management of a workplace can demonstrate that a company respects cultural festivals, events, and ceremonies that are of religious and cultural importance to staff.
The impact for employers who get this right can be significant in terms of recruiting and retaining a diverse workforce. When people feel included by their employers and colleagues, they naturally feel more motivated and confident to express their insights. The sharing of diverse perspectives can lead to improved innovation in business. It also broadens interfaith and intercultural understanding within an organisation. This is essential for a company's Environmental, Social, and Governance (ESG) impact objectives.
"I was questioning will I adapt? Feel included and that I belong in my new workplace? The answer to all those questions is summed up by my workplace having a private room with a special place for ablution to accommodate a non-majority group. I am so appreciative to whoever suggested the idea and to my employer for implementing it. Thank you for making people feel at home :)"
- Employee (who identifies as Muslim-Middle Eastern) commenting upon their return to London for work

 
Accessible and inclusive multi-faith facilities
To support clients to create inclusive multi-faith spaces, the types of questions we ask are:
What proportion of workplace-based staff practice a particular faith during their workday and how might this evolve over time?
Do some people have gender separation requirements during prayer, and is this likely to change in future?
Is it probable that a multi-faith room will be required by more than one person or group at the same time of day?
Have physical, cognitive, and sensory access needs, including neurodiversity, been considered?
Do rooms and facilities (e.g. ablution, toilets, and food storage and preparation) cater for the almost 1 in 4 people (16 million people) in the UK who identify as having a disability?
Interior decor
A space that feels like a sanctuary can promote a sense of calm for people practicing their faith or having a quiet moment of meditation or contemplation.
Thoughtful use of finishes and colour, natural and artificial light sources, as well as the most appropriate storage, equipment, furniture, and room signage can create a welcoming space for everyone. If multiple rooms are not feasible, ways to create and indicate privacy are important.
Other areas in the workplace
Multi-faith design is about more than providing a room to pray in. Design of toilet, kitchen, and refreshment areas should also consider people's needs, including:
Are ablution facilities accessible to people using mobility equipment such as wheelchairs or crutches, or people of different statures?
Can different foods be separated e.g. Halal, Kosher, and vegan?
Are there any visual, auditory, and olfactory enablers and barriers in the space?
Motionspot's inclusive design team
Motionspot's team of inclusive designers are experienced in creating inclusive multi-faith facilities in the workplace. To speak to one of Motionspot's inclusive designers about how we can help your business to go beyond minimum design standards and building regulations to create an environment that considers the entire spectrum of protected human characteristics, start a conversation via
team@motionspot.co.uk
.
Get in touch.
Our Team are always happy to provide free advice and discuss your requirements. We can also provide free quotes and accessible product specifications tailored to your project budget and design intent.
Get in touch to chat through your plans with us.
Contact us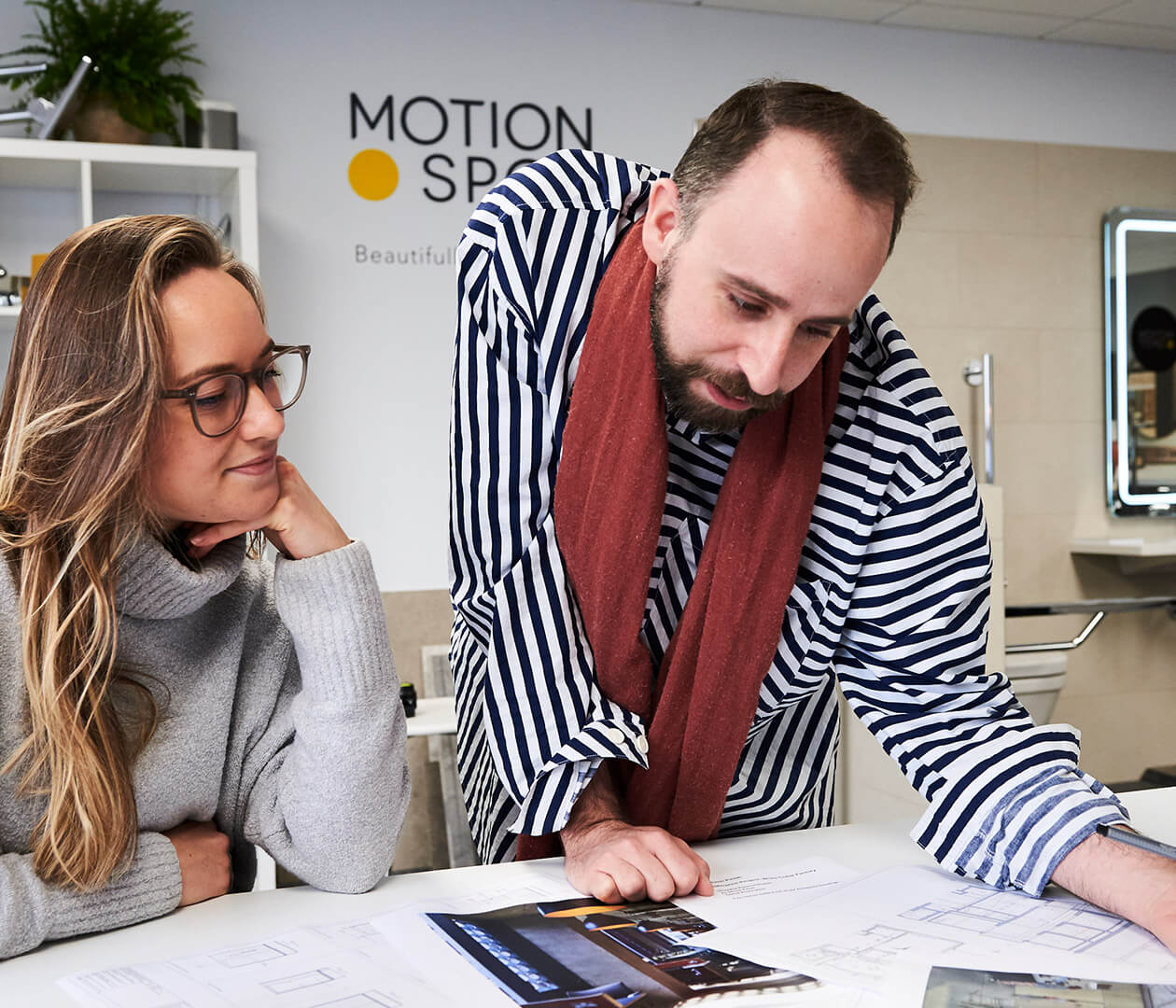 Start a conversation
Get in touch to chat through your plans or requirements and see how we can help. Please complete your contact details below.
Contact us
Stay connected
Sign up to receive the latest inclusive design insight and inspiration from our team.