A large segment of the workforce comprises people who experience menstruation, menopause, and hormonal change. This includes women, non-binary individuals, transgender men and women, and people undergoing cancer treatment. Yet the impact of workplace design on pain and discomfort associated with hormonal fluctuation is an emerging field for many employers.
Creating workplaces that work for everyone is central to Motionspot's inclusive design ethos. We commissioned research with 2,000 office workers and partnered with the Women In Work Summit to explore and raise the profile of the topic further. 
Workplaces missing quick wins
Our research showed that nearly half (48%) of respondents lack access to their most useful feature to manage pain and discomfort at work. The most common unavailable feature in respondents' workplaces is:
A place to lie down (78%)
A hot bath and shower (both 66%)
A dark or dimly lit space (60%)
This demonstrates that despite many changes being relatively simple to implement, they are absent from a significant number of workplaces.
An example of an accessible shower room by Motionspot
Inclusive workplace features
For office workers who experience menstrual symptoms, fresh air is the most common feature that would attract them to work more days in their current workplace (37%). This increases to 41% for people experiencing peri/menopause. Following on from fresh air, comfortable desk seating (30%), natural light (28%), a private room to decompress (25%), temperature-controlled spaces (19% vs 28% for peri/menopausal people), and more focus rooms with less distractions (19%) were also commonplace.
Specific insights from respondents include:
"Shower facilities with a private and secure changing and showering space would make a huge difference as someone with a heavy flow, because the cleaner I feel the more productive I am".
"A quiet room to just go and sit for 10 mins to massage my tummy when I have pain".
"Screens between desks for privacy to hide hot flushes".
"More open space so that I can move freely to help with moments of discomfort".
"Spaces to emote." 
An example of a quiet room 
Motionspot's Inclusive Design Strategy Lead, Pareisse Wilson commented:
"The data shines a light on the fact that the spaces and products people need to ease their hormonal symptoms are not readily available in workplaces. However, the factors that would reduce pain and discomfort can be implemented by many working environments. Examples include focus rooms, comfortable seating, sleep pods, and sensory controls. 
"There is a substantial overlap of desired workplace features for people experiencing hormonal fluctuations, and people with neurodivergent conditions related to sensory modulation. We hope these insights encourage organisations to engage with their employees and their full spectrum of intersectionalities to create happy and healthy working environments that enable everyone to thrive."
Hormonal fluctuations are a whole career issue
The research reveals that while 35% of respondents report that their hormones are most impacted by conditions associated with the menopause, for 53% of people it is conditions associated with menstruation that have the greatest impact. These include:
PMS (premenstrual syndrome (19%)
PCOS (polycystic ovary syndrome) (6%)
Endometriosis and PMDD (premenstrual dysphoric disorder) (both 5%)
Pregnancy (4%)
Miscarriage, and chest-feeding/expressing (both 3%)
IVF (in vitro fertilisation) (2%)
The impact of hormonal fluctuations
The impact of the negative effects of hormonal fluctuations on both employers and employees' productivity, efficiency, and financial outcomes cannot be underestimated given that:
61% of respondents say their mood is affected at work
58% find their concentration at work is impacted by hormonal variations
Almost half (49%) experience a lack of motivation at work
44% face fatigue
35% feel teary at work
29% deal with pain
Nearly half (43%) of peri/menopausal people suffer brain fog and over half (65%) struggle with concentration, both of which are significantly more than the 18% and 51% of non-peri/menopausal respondents who said the same respectively.
The time people are negatively affected by hormonal changes was also found to be significant. Nearly 8 consecutive days every month for non-peri/menopausal respondents on average. This increases to just over 9 days for people experiencing the peri/menopause, with 42% of this group impacted for between 8 and 31 days per month. The impact of this on personal wellbeing and business productivity and profits could therefore be substantial.
Mariella Frostrup, broadcaster, columnist, creator of BBC1's The Truth about Menopause, Chair of Menopause Mandate, and Co-Founder of The Women In Work Summit said of the findings:
"The imperative place of women in our workplaces is unquestionable but the inequity caused by our differing biology remains almost entirely unaddressed.
"From menstruation to fertility issues, parenthood and menopause, there is a strong correlation between women's health and workforce participation. Employers have a crucial role to play. Without robust policies, inclusively designed workplaces, and a strong cultural mandate, the failings will continue - women will leave the workforce and the bottom line will suffer.
"I am delighted to welcome Motionspot as one of our valuable partners to the Women In Work Summit, who share our values and our mission to create a female-shaped space in workplaces, making them better environments for all genders."
What your can business do
The progressive organisations that embrace inclusive design will enjoy improved productivity, performance, and staff retention, and become the top choice for workers at every age and life and career stage. We look forward to helping you achieve this.
Our team of inclusive designers are experienced in helping businesses to design beyond minimum design standards and building regulations to create an environment that considers the entire spectrum of protected human characteristics and identities. Get in contact to discuss your inclusive design requirements with our inclusive design experts.
A brief glossary of terms:
What is menstruation? It is the monthly bleeding, often called a "period", experienced by a person with a uterus (womb). Menstruation is the body discarding the monthly build-up of the lining of the uterus.

What is menopause? It is when a person who has menstruated stops having periods. It usually happens between 45 and 55 years old. Symptoms include hot flushes and night sweats.

What is peri-menopause? It means "around menopause" and refers to the time during which the body of someone who has menstruated makes the natural transition to menopause, marking the end of the reproductive years. Perimenopause is also called the menopausal transition. 
About Motionspot's research
We instructed OnePoll to conduct online research between 16 and 24 May 2023 with 2,000 office-based adults who: experience menstrual symptoms (cisgender women, transgender men, transgender women, non-binary and alternative identity); attend the office at least twice a week; work for companies with 250+ employees; 50% (1,000) of whom are perimenopausal or menopausal, 50% (1,000) of whom are non-menopausal. All data is available on request including data splits based on: disability and health conditions, age, gender, region and ethnicity.
Further reading  
Further to our own research, we welcome the release of the British Standards Institute's BS 30416 guide which has been designed to help organisations identify policy guidance and practices, supportive workplace cultures, and practical workplace adjustments that support employees who menstruate and experience peri/menopause symptoms.
About Women In Work Summit
A one-day face-to-face event, taking place on 26 September 2023 at Kings Place and online on-demand. The event programme is dedicated to creating equitable workforces to drive business growth. For further information and to book tickets visit: https://www.wiwsummit.com.
Get in touch.
Our Team are always happy to provide free advice and discuss your requirements. We can also provide free quotes and accessible product specifications tailored to your project budget and design intent.
Get in touch to chat through your plans with us.
Contact us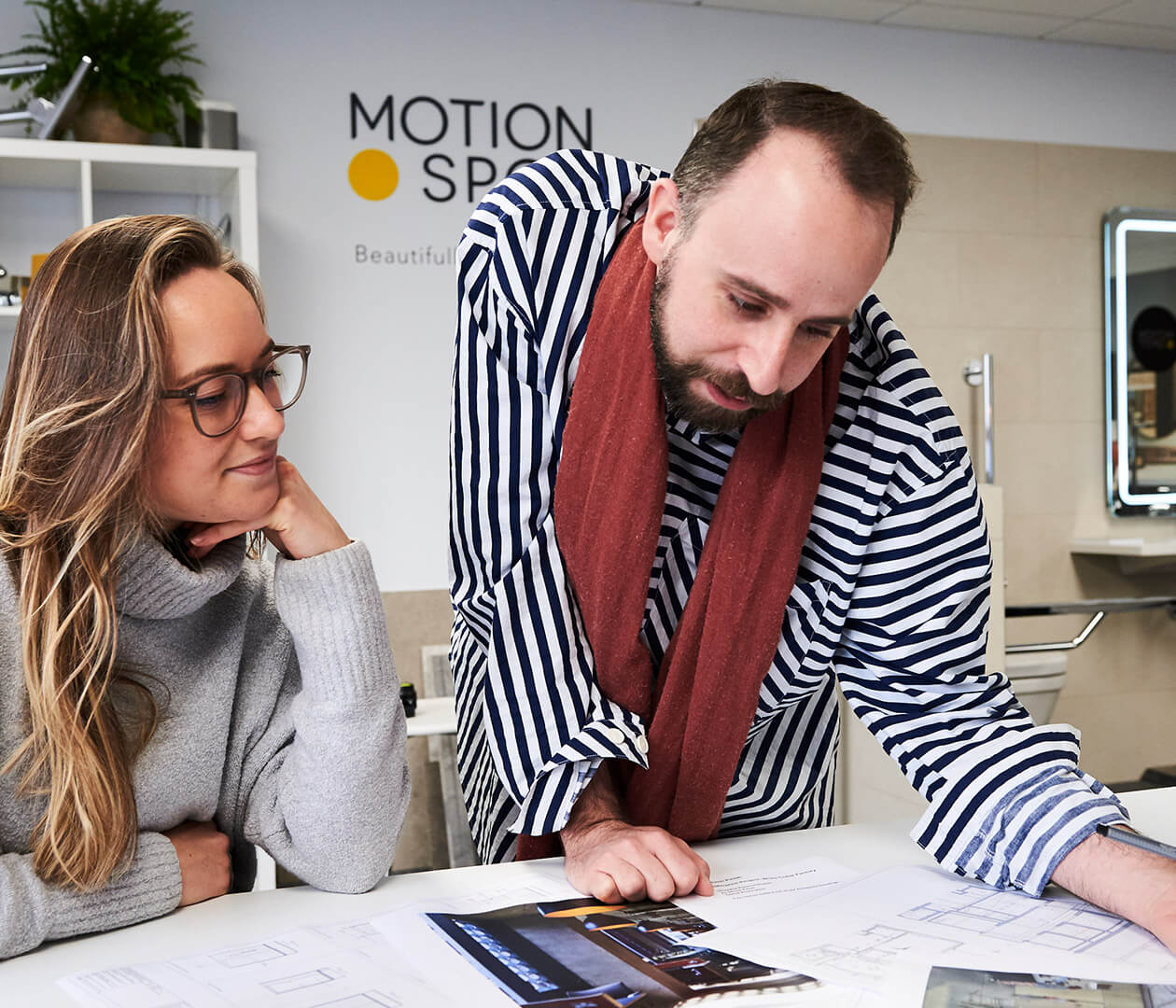 Start a conversation
Get in touch to chat through your plans or requirements and see how we can help. Please complete your contact details below.
Contact us
Stay connected
Sign up to receive the latest inclusive design insight and inspiration from our team.