We're standing on a typical suburban street in West London, in front of the home of Ade and Linda Adepitan. The outside of the house is unassuming but inside something very exciting is happening.
Ade is a Paralympian and TV presenter and Linda is singer Elle Exxe, and their home is a testament to what is possible when you get aesthetics and accessibility in perfect balance.
Inside, their love of music, travel and sport is reflected throughout; you'll find a cheeky BAFTA here, an Olympic torch over there and instruments all around. Ade is a wheelchair user and Linda explains that ever since they bought this house, back in December 2016, they have been dreaming of turning it into a home where access is beautifully woven in rather than a clunky add-on. 'We became quite passionate about proving that accessibility can and should be aesthetically desirable, and that there's definitely no need for it to look like a hospital,' Ade says.
Ade visits the Motionspot design studio
It took a long time to get the planning permissions they needed but over the last few months things have moved quickly and the finish line is now in sight.
We've been working with Linda and Ade since 2018, when the couple visited our design studio as they wanted help designing their master en suite and family bathroom. Since then we've been helping them to bring their vision to life.
A shared vision
Linda is modest, but she has almost single-handedly project managed the whole transformation from dingy, cramped and rotten-carpeted shell to their dream home. One of the first things you notice when you walk around are the bright pink Post It notes stuck on the walls of each room with a list of what's still left to do.
'I don't think I realised I was doing it [project managing]!' she jokes. 'This was the first time I had done something like this but I had all these ideas in my head and I think I would have regretted it if I hadn't at least tried to bring them to life.'
Linda explains how making changes to your home can be overwhelming without the right professional help, especially in kitchens and bathrooms where there are so many technical details to get to grips with. A key part of finding the right professional help is finding those people who share your vision. It was this realisation that lead them to Motionspot.
Ade's and Linda's beautiful en suite
Even before meeting anyone from Motionspot Linda says she looked at the website 'and some of the things written on the About Us pages were things I had actually said to Ade. I knew immediately we were on the same page and wanted to see what we could do together.'
The master bathroom
Throughout the house, the attention to detail and creativity is evident, especially in the way the pair have understood that the design will need to meet their changing needs over the years. Arguably, nowhere is this more obvious than in their en suite bathroom. Linda confesses that she was obsessed with getting all the finishes right and this fixation has truly paid off because everywhere you look there is something to delight in.
Central to Linda's en suite vision was the use of MicroCement which covers almost every surface in a gorgeous, muted rose colour. This has created a wonderfully natural, warm and calming effect. 'I wanted everything to be really textured and natural,' she explains, 'it really works in here, it's just so peaceful.'
Together with the Motionspot brushed copper fixtures and accessories, the overall look is one of understated luxury. 'I felt that tranquility would be created if everything matched perfectly. I didn't want anything too eye-catching, it had to be smooth.' We arranged for everything, from the towel rail to the support rails, to be sprayed to her exact colour specification.
The double basins with views over the garden
Double basins have been integrated at different heights on a floating countertop. Ade's is slightly sunken to make it easier to reach from a wheelchair, whilst Linda's sits slightly above the surface so she doesn't have to bend so far when standing. The space under the basins not only gives Ade room to pull his wheelchair in right underneath, but also creates a beautiful sense of openness in what could otherwise feel like a small, enclosed room.
Despite not having traditional under-basin cabinets, there is no lack of storage. A hidden cupboard subtly sits atop one end of the counter within easy reach and opens with a tap. A number of alcoves have also been purposely recessed into the walls at key points to create extra hanging storage at levels suitable for both.
There's even an aesthetic quality in areas you wouldn't expect to find beauty. A sleek drop-down rail has been fitted beside the wall-mounted toilet that folds neatly away when not in use. There is a cleverly positioned alcove in the wall on the other side of the toilet too which Linda explains was designed for Ade to lean on it, creating a hidden handrail.
The shower and loo with the grab bar down
In the shower area a simple fold-up shower seat and support rail are seamlessly built in. Having both an overhead and detachable shower with a long hose allows them different options for washing with easy-to-use shower controls.
Key to the design of the en suite, and something really important to Ade and Linda, was making the most of the view over their garden. This was an element our design team helped them to achieve. 'Whether you're in the shower, using the toilet or washing your hands, you're looking out of the window,' Linda says. 'It's the big focal point. We can see the seasons coming and going. It helps ground you.'
To top it off, a huge full length mirror has been cleverly sunk into the back of the sliding pocket door. Lots of plants and a beautiful leather rimmed mirror soften the room further. The overall effect is truly gorgeous and it couldn't be further from what people think of as a traditional accessible bathroom.
The full length mirror in the back of the pocket door and the alcove that doubles as additional support
'It is my favourite room in the house,' Linda says with a smile.
Future-proofing the rest of the home
The attention to detail and creativity continues into the rest of the house; from the beautiful sliding doors that provide level access to the garden to a laundry shoot from their bedroom so they don't have to carry heavy laundry baskets downstairs, from the platform lift cleverly disguised to look like any other door off their hallway to the lower section of work surfaces and raised appliances in the kitchen. Sliding pocket doors throughout make the space easier to manoeuvre in a wheelchair but also create an amazing sense of openness due to the lack of doors hinging obtrusively into rooms. The whole house is seamless and designed for ease.
Linda explains this is a once in a lifetime opportunity to build in the features they love and to future-proof their home at the same time. 'Accessibility was obviously incredibly important to make Ade's life easier but what you don't realise is that everything you do to make a place accessible actually makes it easier for everyone. Like having a little seat in your shower - it's nice just to have a place to sit,' she says. 'I want to make my house as comfortable as I possibly can. When you're making your home from scratch, you have to make it right.'
One particularly striking design is the ramp Ade and Linda created to deal with the change of level through their home, which is much higher at the front than the back. Instead of a standard straight ramp, they have one that curves, flowing gently around a central raised circular plinth, with an intricate wood and inlaid brass design. It is a clever, personal and bold statement and one that creates a real feature in the room without overpowering it.
The striking ramp that curves around a circular plinth designed by architect Veronica Congden
The accessible dream
Ade's and Linda's house is a masterpiece of creativity and beauty. They prove that the principles of clever and accessible design can be recreated by anyone and there's no need to compromise on style in order to turn your accessible home dream into a reality.  'It's just so amazing to live somewhere that meets both our needs in such a subtle way. The house has come a long way since 2016 but it's definitely home now and we're both really looking forward to many happy years here,' says Ade.
Ade and Linda Adepitan working on plans with the Motionspot team
To find out how we can create aesthetic and accessible harmony in your bathroom, click here to visit our sister website Fine & Able.
Article by Laura Wigzell
Get in touch.
Our team is always happy to discuss your requirements and provide a scope and fee proposal for your project. Get in touch to chat through your plans with us.
Contact us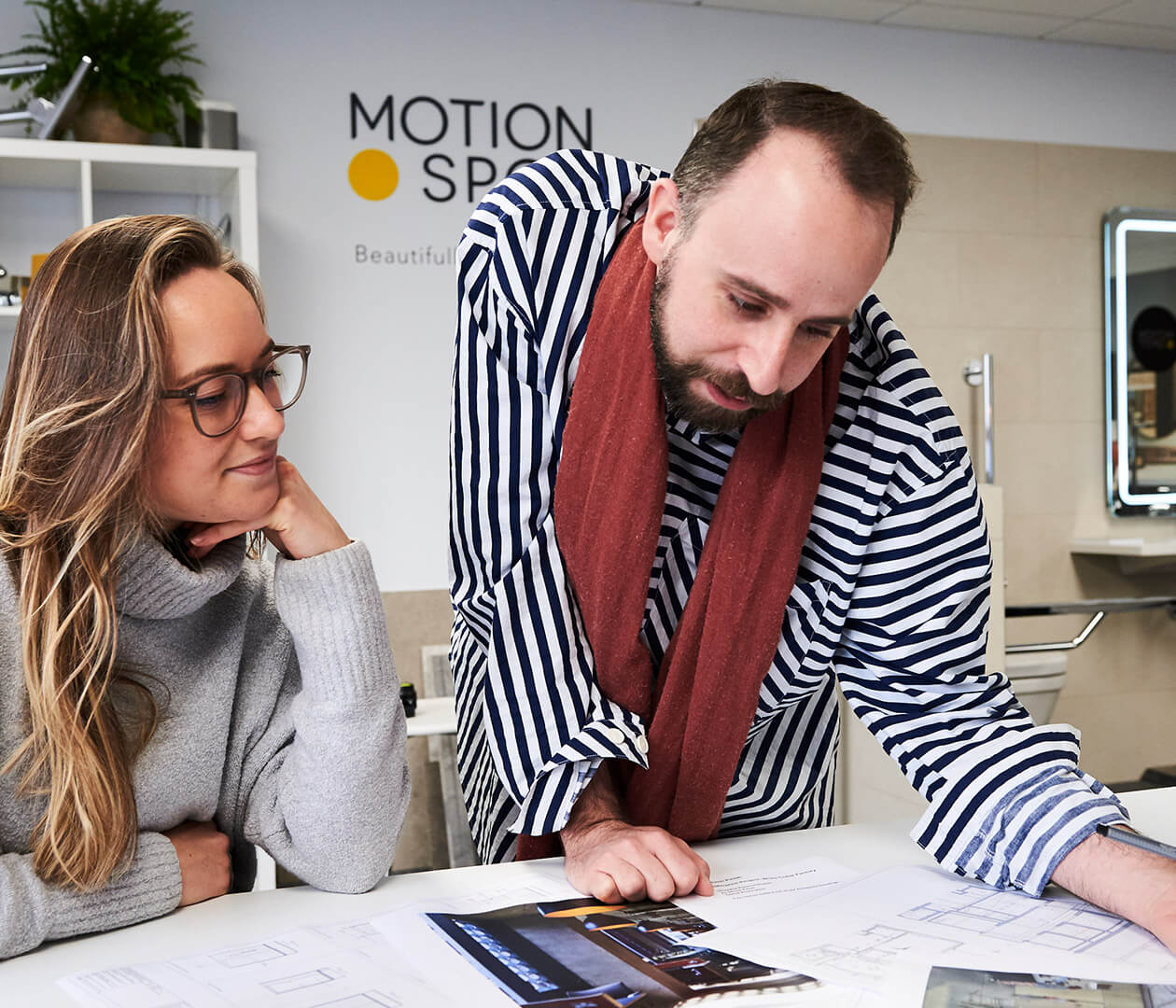 Start a conversation
Get in touch to chat through your plans or requirements and see how we can help. Please complete your contact details below.
Contact us
Stay connected
Sign up to receive the latest inclusive design insight and inspiration from our team.