Accessible toilet design has become a baseline of accessibility, providing greater independence and support for all disabled people. While primarily designed for people with physical disabilities, another group that benefits from access to accessible toilets is autistic people.
What is autism?
The National Autistic Society defines autism as a "lifelong developmental disability which affects how people communicate and interact with the world". What many people don't realise is the myriad of co-occurring conditions that are likely to exist alongside autism. One of these is autistic people being much more likely to experience gastrointestinal (GI) symptoms such as abdominal pain, constipation, and diarrhoea.
Autistic people face a range of challenges when it comes to using public facilities designed as blocks of standard non-accessible cubicles. This means that access to accessible toilets helps many autistic people have a more comfortable toilet experience.
Here are some ways in which accessible toilets benefit autistic people:
Reducing anxiety levels
People with autism can experience anxiety when it comes to using public toilets. The unfamiliarity of the environment, sounds, and smells can be overwhelming, leading to sensory overload. Accessible toilets are private and calmer spaces that help reduce anxiety levels.
Providing a safe and secure space
Accessible toilets are equipped with lockable doors, which can provide a safe and secure space for autistic people. This is particularly important for those who require assistance with toileting as it offers greater privacy. Autistic people who require more space to move around or engage in stimming behaviours can benefit from a larger cubicle. Having space to move around can reduce anxiety and provide a sense of comfort.
High quality fittings
Some autistic people may have difficulty with fine motor skills which can make it challenging to use standard toilet features such as flush buttons, locks, and taps. Accessible toilets often have features that make them easier to use, such as rounded corners, automatic flushes, grab rails, shelves, assistance alarms and reset buttons, higher contrast fittings and wider stalls. Equipment inside accessible toilets is usually more robust which can be reassuring if it is difficult to know how much force to apply without worrying it will break.
Accommodating sensory needs
Many autistic people have sensory sensitivities that can make using standard toilet blocks challenging. For example, noise from other people and hand dryers can be loud and overwhelming. Accessible toilets are typically calmer spaces and usually offer quieter paper towel dispensers as an option.
Accessible toilets are an essential feature that can improve the quality of life for autistic people. They provide safe, secure, private, and accommodating spaces that cater for the specific needs of autistic people and their associated conditions. By designing inclusive spaces that are accessible to a broad range of disabilities, a better experience for everyone can be provided.
To discuss accessible toilet design and inclusive design for autistic people and how Motionspot could support your requirements, please get in touch via team@motionspot.co.uk
Get in touch.
Our Team are always happy to provide free advice and discuss your requirements. We can also provide free quotes and accessible product specifications tailored to your project budget and design intent.
Get in touch to chat through your plans with us.
Contact us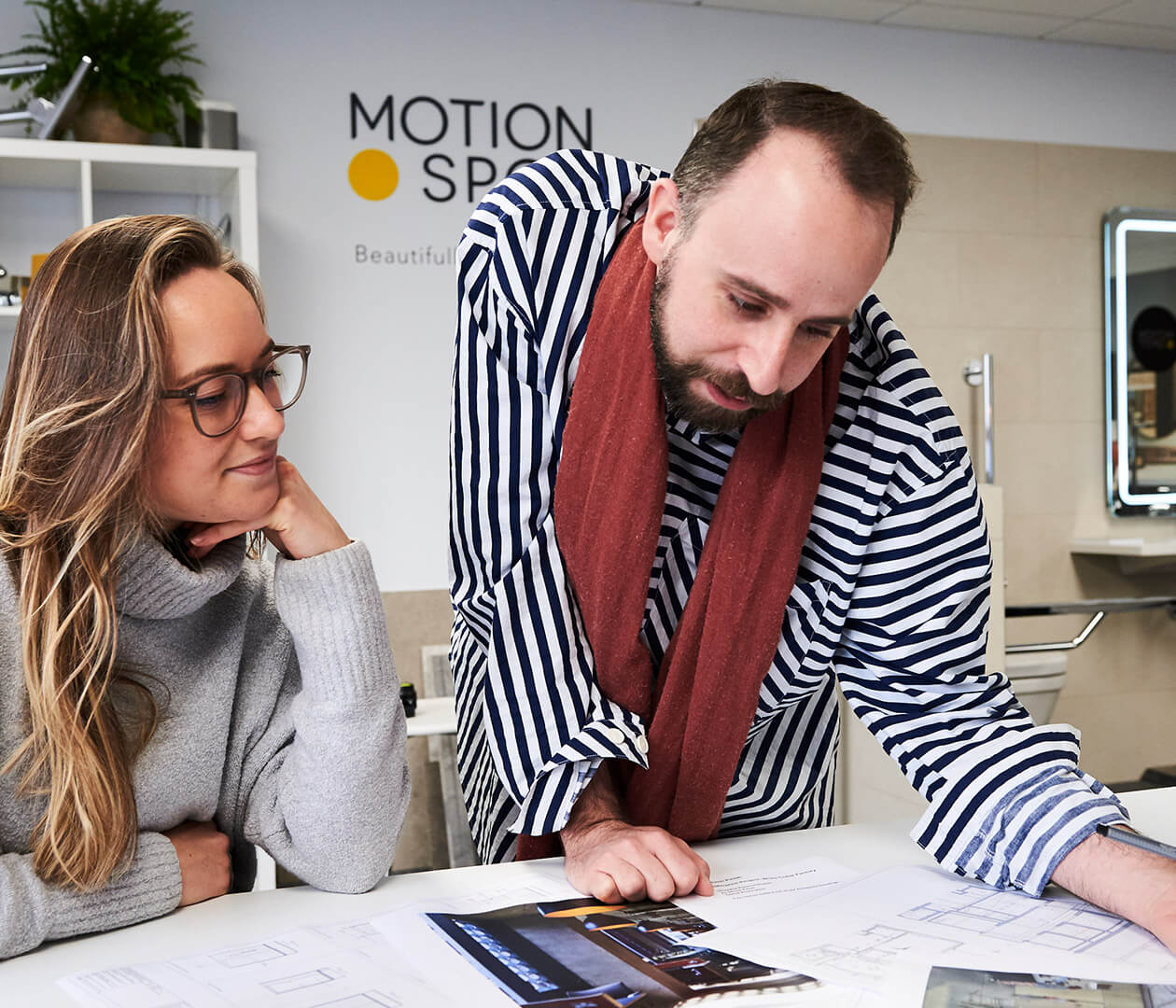 Start a conversation
Get in touch to chat through your plans or requirements and see how we can help. Please complete your contact details below.
Contact us
Stay connected
Sign up to receive the latest inclusive design insight and inspiration from our team.