Josh McDonagh has a neurological condition that makes it difficult to carry out everyday tasks such as getting dressed, eating and communicating. When adapting his new home, Josh was offered 'medical-looking' designs that made him feel as though he was in hospital. The architecture graduate talks to us about misconceptions surrounding people with disabilities and design, "overcoming barriers" – and how Motionspot helped him build a bathroom that was "truly beautiful".
Josh McDonagh is a 26-year-old architecture graduate. He recently got married and this year moved into his first home in London. He also faces many challenges that others could only imagine. He was born with cerebral palsy spastic quadriplegia – a neurological condition which makes it difficult for him to move, speak and carry out basic day-to-day tasks.
"It's quite a mouthful to say," says Josh. "I guess one of the things I've found most difficult about my disability is time. Because everything takes me so much longer to do than the average person."
Josh was always "very aware" of his disability, something he puts down to his parents discussing it with him at a young age. "I always knew I had limitations, there were things I couldn't do. But where there was a barrier I would want to find a way to overcome that barrier."
Josh McDonagh
And he's had many barriers to overcome. Attending a state school in a village just outside Bristol, he needed a lot of support – something that wasn't always forthcoming. "In the end I got a lot of help, but my family had to really fight for it. I had to have someone write for me, help me read and generally just give me practical assistance.
"It wasn't easy. I did face some bullying from other students – but the vast majority were sympathetic and caring."
It's to these challenges that Josh attributes his passion for architecture – a field in which he says he has a lot to offer because of his "unique perspective".
"I've always been interested in how you design space, particularly given my insights into disability. I also think it's really important for architects to think about future-proofing. We've got an ageing population. How are our buildings and spaces going to respond to that?"
A truly beautiful accessible bathroom
After graduating from Cardiff University, Josh moved to London with his now wife Richelle. Finding a property to rent threw up an all too familiar set of challenges, not just around accessibility but also around style. He needed to adapt his bathroom to cater for his specific needs but felt uninspired by the "hospital-looking" designs he was presented with.
"I wanted my bathroom to feel like a home and not feel 'medical'," he explains. "To me that was absolutely crucial, but every design I received felt so institutionalised with lots of white tiles and horrible looking floors."
It was at this point that Josh was introduced to Motionspot.
Josh's height adjustable bath
"Motionspot understand that yes I have a disability, but it doesn't encompass who I am," he explains. "A lot of companies say 'you're disabled so you must have this'. But Motionspot takes a completely different approach. They get to know you, they ask what you want and what you like – and then they tailor the service around that.
"They set the bar higher and delivered an accessible bathroom that is truly beautiful."
For Josh, that early stage thinking about accessibility, married with style and design, is a welcome change to the approach he is so used to.
He explains: "There's an opinion that people with disabilities don't care about style and I think that's totally wrong. The entire market of disabled or adaptive products needs to move to recognise that people who have disabilities are actually people first and foremost."
Find out more about creating your dream accessible home with Motionspot, contact the team for more information: team: team@motionspot.co.uk.
We'd like to say a huge thank you to our partner, Barclays, for creating this video and helping us tell both Josh's story and ours this International Day of Disability.
Get in touch.
Our Team are always happy to provide free advice and discuss your requirements. We can also provide free quotes and accessible product specifications tailored to your project budget and design intent.
Get in touch to chat through your plans with us.
Contact us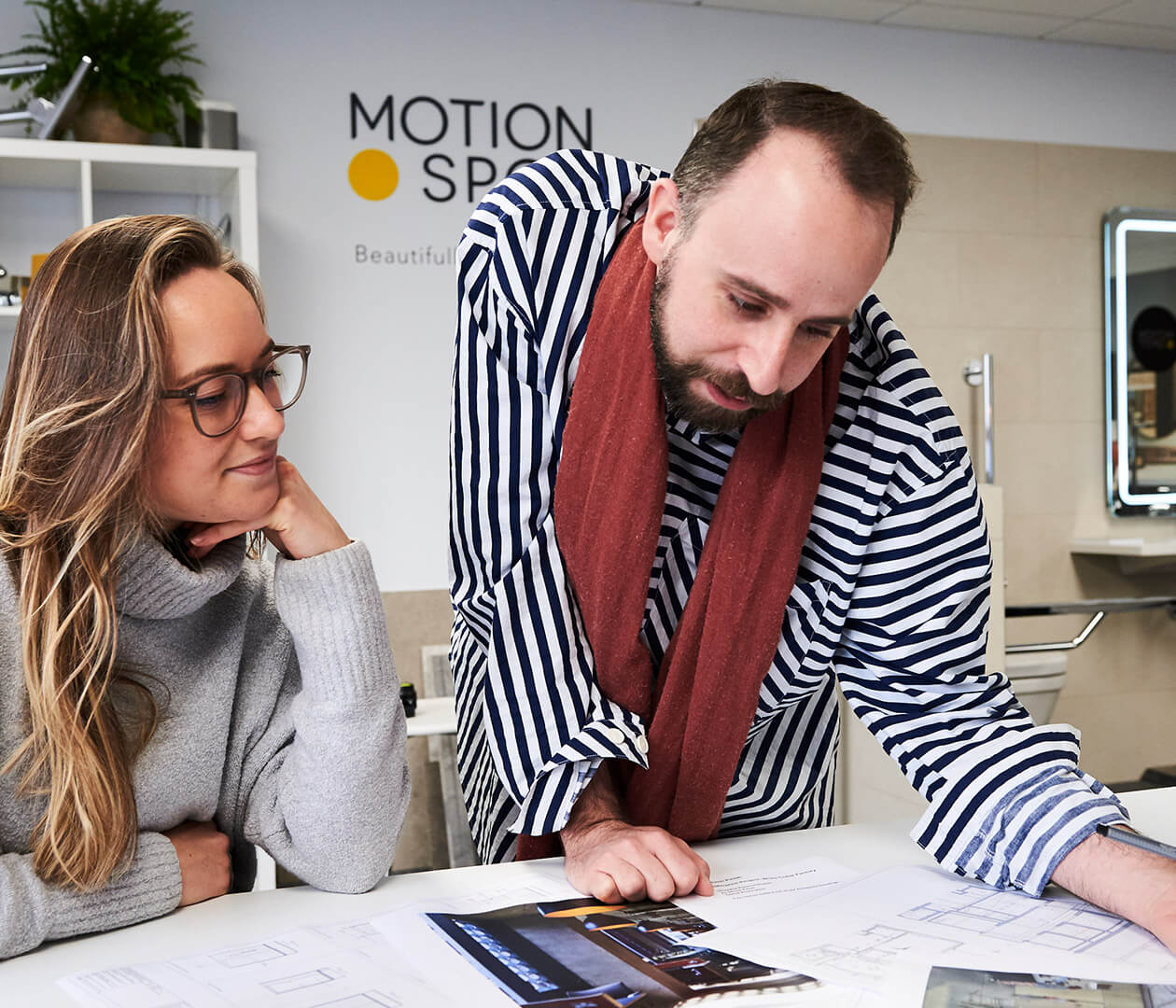 Start a conversation
Get in touch to chat through your plans or requirements and see how we can help. Please complete your contact details below.
Contact us
Stay connected
Sign up to receive the latest inclusive design insight and inspiration from our team.