We recently worked on an exciting, innovative project for Transport for London (TfL) where we helped identify ways in which they could improve specific elements of accessibility across the transport network including London Underground, Overground , bus services and streetscapes.
1.4 billion people travel across London every year on public transport and a key objective for TfL is to make this extensive and often complicated network as accessible as possible for every passenger.
London Underground
Whilst step-free access is being improved at stations across the network, our initial project with TfL was to identify the less obvious environmental challenges faced by passengers who may have a cognitive or sensory impairment. We would then provide a set of accessible design principles that could deliver improvements to the environment, empowering people who may have an invisible disability to travel safely and independently across London.
When planning this project, our design team reviewed sensory impairments like sight loss and hearing loss and a broad range of cognitive impairments such as dyslexia, dyspraxia, autism and Tourette's syndrome. The team also reviewed how the environment might be challenging for someone with dementia, learning difficulties and mental illnesses like depression, anxiety, panic attacks and phobias. They also considered how the spaces could be better designed for anyone travelling with a carer.
London buses outside Euston station
We reviewed feedback from TfL passengers and stakeholder groups and drew on global best practice to identify a range of design criteria to help us comprehensively review one of the most challenging environments for travellers; Euston Station. In total, our team reviewed Euston Underground, Network Rail interchange, buses and streetscapes and assessed 31 customer touchpoints that related to accessibility. We took over 1600 photos, interviewed a number of TFL staff and completed enough steps to cover 45 miles!
From the research, several common themes began to appear. In addition to identifying several positive design features that were already being implemented by TfL, a number of environmental challenges were identified. These were; use of materials, lighting, signage, wayfinding and hierarchy of information. The next stage will be for TfL to work with partners and stakeholders to prioritise and implement design solutions that can improve access across the network. This will include exploring how technology, information and innovation can help to deliver a safer more accessible experience for everyone.
Dan, Head of Creative Design, studying the map of Euston
Following the project, Motionspot's Co-Founder Ed Warner presented a summary of the report at the UITP global conference attended by CEO's of transport systems across the world, helping to raise awareness of the key considerations when designing accessible transport systems for everyone. With interest from Australia, New York, Malaysia and Dublin, it's hoped the design best practice being implemented by TfL will inspire improvements in access in these international markets as a well-designed, accessible transportation system has the power to support the long-term sustainability of our cities.
Reviewing our findings
Get in touch.
Our Team are always happy to provide free advice and discuss your requirements. We can also provide free quotes and accessible product specifications tailored to your project budget and design intent.
Get in touch to chat through your plans with us.
Contact us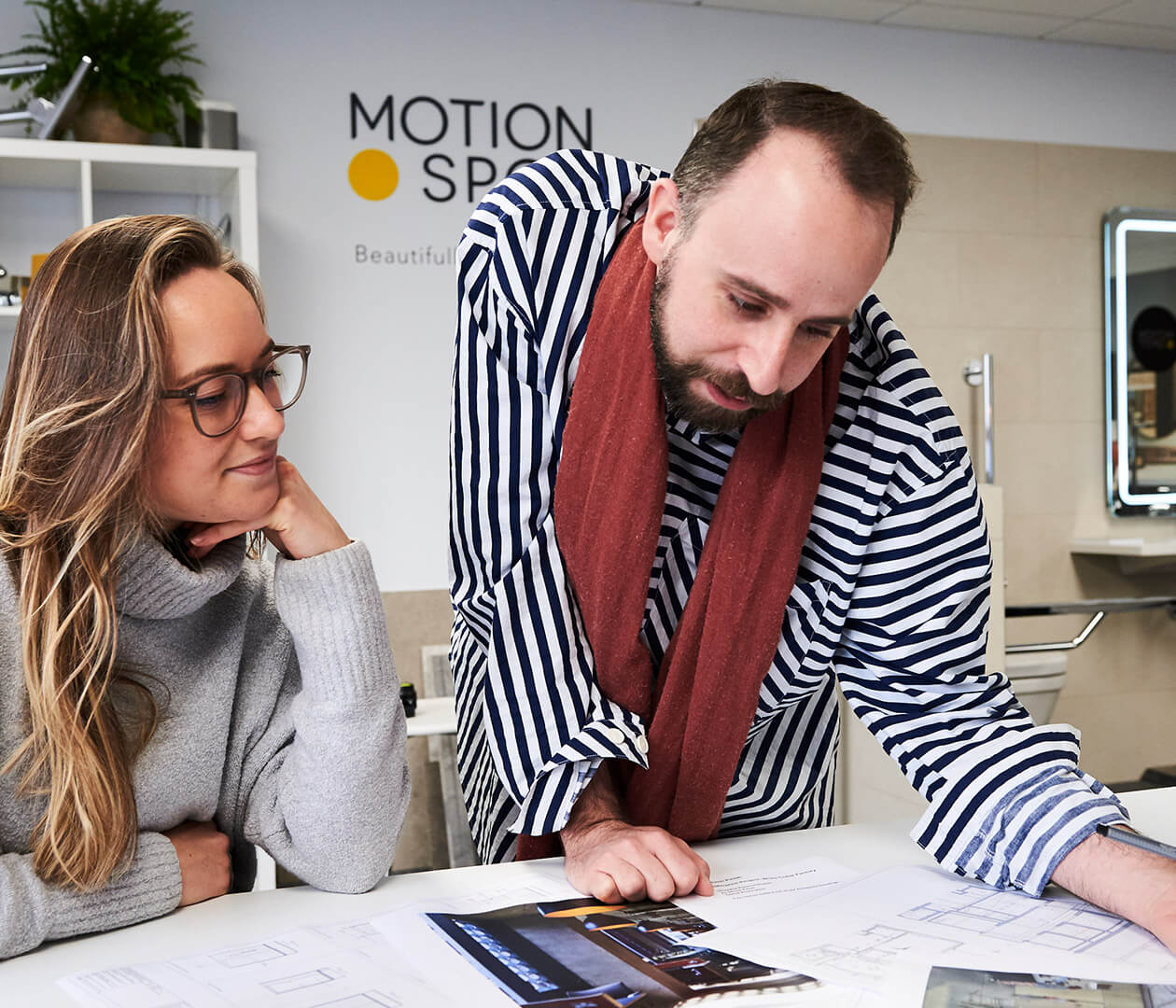 Start a conversation
Get in touch to chat through your plans or requirements and see how we can help. Please complete your contact details below.
Contact us
Stay connected
Sign up to receive the latest inclusive design insight and inspiration from our team.