Sue had been planning on creating a home that she could future proof when she had her first chance encounter with Motionspot at the Grand Designs Show in London.
Sue's future proof bathroom
'At the time, I was going to move in with my daughter and son-in-law and we were gong to create separate living accommodation for me within the property,' explains Sue. 'Although I'm still reasonably fit and active, I knew I wanted a bathroom that would be accessible and stylish and that I could future proof so that it could adapt to my needs as I got older.'
Sue, who is in her early 70s, and her daughter visited the Motionspot showroom in Twickenham to meet the team and find out more about how we could help bring her vision to life. 'Motionspot provides the complete design service and that appealed to us. We were impressed with the examples and the products that could be supplied, as well as the team's ability to create an accessible contemporary bathroom.'
The benefits of future proofing a bathroom and making it more accessible are becoming clearer to Sue the longer she lives in the house. The support rail next to the toilet helps her stand with ease and she's already used the fold down shower seat to enjoy more relaxing showers! Knowing that the removable grab rails can be added when needed - and are simple to fix - brings peace of mind to both Sue and her daughter. 'I can retain independence and stay safe in my home,' says Sue.
The 'practical and elegant' basin
One feature that Sue particularly likes is the basin with integrated hand grips that can double up as a towel rail which she describes as 'practical and elegant'. The bathroom is covered in a vinyl metallic effect wall covering which she says she's 'delighted' with and gives the room a chic and modern look.
'I would definitely recommend Motionspot to a friend,' says Sue. 'The team are very knowledgable, they ask key questions to understand their clients' needs and they're always ready to listen and find a solution. My bathroom is accessible but because of the quality and style, you don't feel you're walking into a disabled bathroom. I'm very pleased with it.'
Find out how the Motionspot team can future proof your bathroom or send us an email for more information: team@motionspot.co.uk
The fold down shower seat
Get in touch.
Our Team are always happy to provide free advice and discuss your requirements. We can also provide free quotes and accessible product specifications tailored to your project budget and design intent.
Get in touch to chat through your plans with us.
Contact us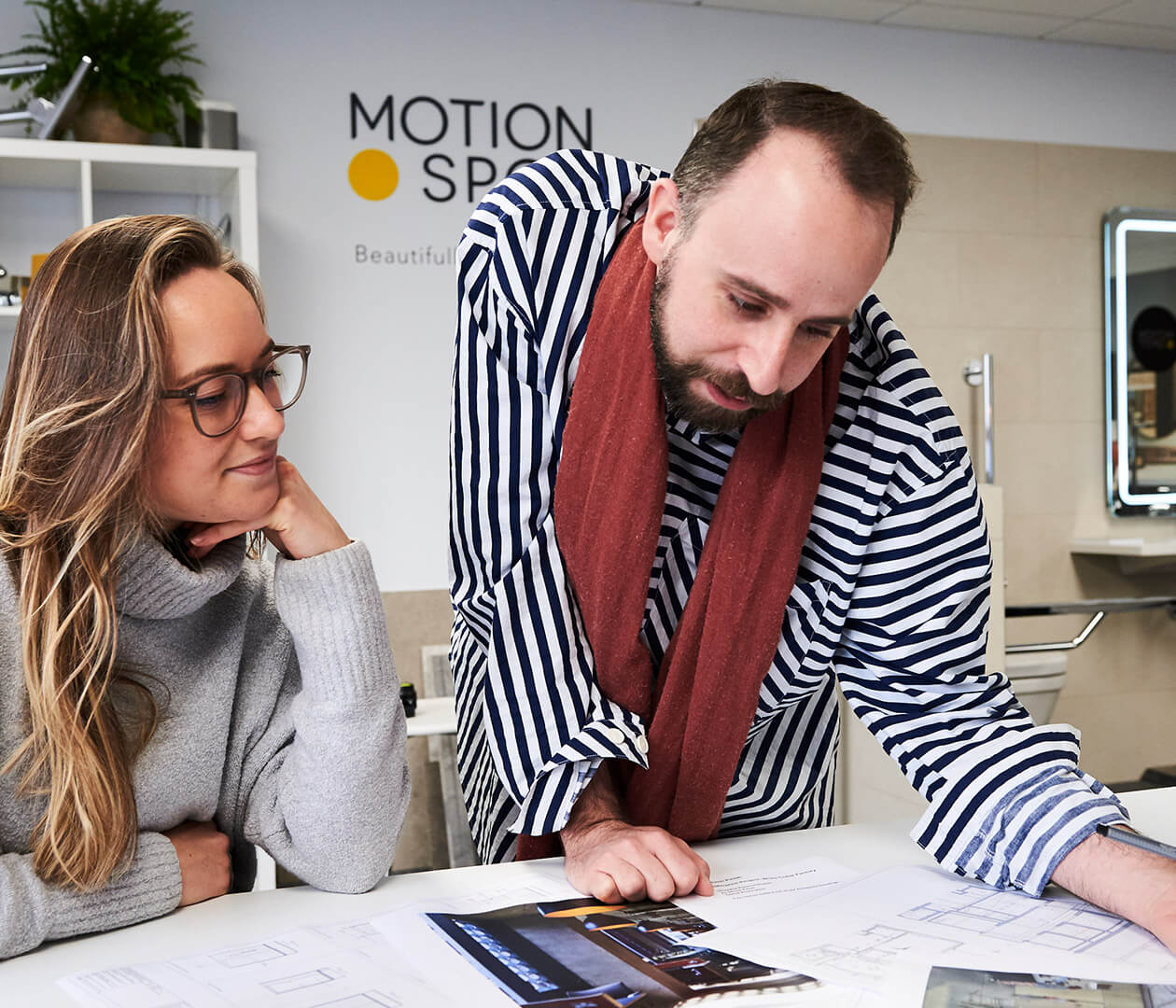 Start a conversation
Get in touch to chat through your plans or requirements and see how we can help. Please complete your contact details below.
Contact us
Stay connected
Sign up to receive the latest inclusive design insight and inspiration from our team.