Motionspot is delighted to have worked recently with Omnipod, an innovative company specialising in building luxury, self-contained living accommodation suitable for anyone with an access requirement.
Our design team worked closely with Omnipod founder, Paddy Costeloe to design an accessible holiday home that was both practical and beautiful in its appearance.
Paddy, who was paralysed as a result of a boating accident, spotted a gap in the market for accommodation for disabled holidays in the UK after experiencing difficulties finding it for himself and his family. He came up with the idea of Omnipod to make staycations accessible for all. "Most holiday destinations in our country are inaccessible for families with a member who has an impairment which causes huge restrictions," Paddy explains. "It's time the staycation is for all and Omnipod brings a solution for this. I am passionate about a huge opportunity for the sector to provide accommodation which enables everyone to venture outside and explore our beautiful country!"
Accessible Holiday Home Design.
When designing the pods, Paddy knew the bathroom or wet-room could "make or break the accessible living experience" and that he would need help coming up with the right mix of space and fixtures. "I eventually discovered Motionspot's range of products and liked them immediately. It wasn't just the incredibly high quality that sold me but the clever design which made them so flexibly versatile. The fact the fixtures are so easy to attach and detach makes it easy to provide the perfect bathroom for any guest, no matter what the access requirement is."
We worked closely with Paddy to agree a layout in the wet-room which would create the best access in the available space. The size and shape of the room provided a few challenges, such as the low walls and curved ceiling, but with some thoughtful planning, we were able to come up with some solutions to overcome this. Despite the small size of the room, we still needed to accommodate transfer zones of at least 1m from the front and side of the loo and shower seat. We also needed to include an accessible basin – larger than a hand rinse basin – which should be kept within reachable proximity to the WC. We incorporated this by kicking the toilet out further from the wall. The low walls and curved ceiling meant we had to be mindful about where we could position hinged and vertical support bars, as well as the shower seat for comfortable sitting.
In addition to helping with the wet-room layout we also provided and supplied;
Removable support bar/shower seat technology, a chrome insulated bottle trap to ensure seated users don't burn their legs and a lever tap and push button plug for those with limited dexterity
A long projection and raised height toilet – for easier transfer for wheelchair users, and ensured there was space to one side for side-transfer
A basin with handgrips – to give additional support at the basin. The bowl is shallow to help accommodate seated access underneath.
A shower riser rail which can withstand a weight of 130kg for guests who need a bit of extra support in the shower
A thermostatic shower which won't go over 43o and scald a guest. The shower also has looped handles ensuring it can be operated by guests with limited dexterity or arthritis.
Removable support rails throughout – hinged rails next to the shower seat and toilet, and a vertical and horizontal support bar in the shower to assist with transfers and if additional support is required with seating and standing transfers
A shower seat to aid those who cannot stand for long periods of time! This is also easily removable and the bracket concealed with a cover plate
Paddy is determined the Omnipod will have a positive impact, "When you live with a disability, simple actions can be immensely difficult. We've created an environment to include features such as a wet-room with shower seat, detachable support-handles, wheelchair accessible sinks, low level kitchen worktops, level entry doorways and lots of space. This absolutely transforms someone's experience and enables them to enjoy a holiday just like everyone else can, without feeling restricted!"
Find out how we can make your home or work accessible, please email us; team@motionspot.co.uk or call  0203 7355139. Read about other Motionspot projects on our blog.
Get in touch.
Our Team are always happy to provide free advice and discuss your requirements. We can also provide free quotes and accessible product specifications tailored to your project budget and design intent.
Get in touch to chat through your plans with us.
Contact us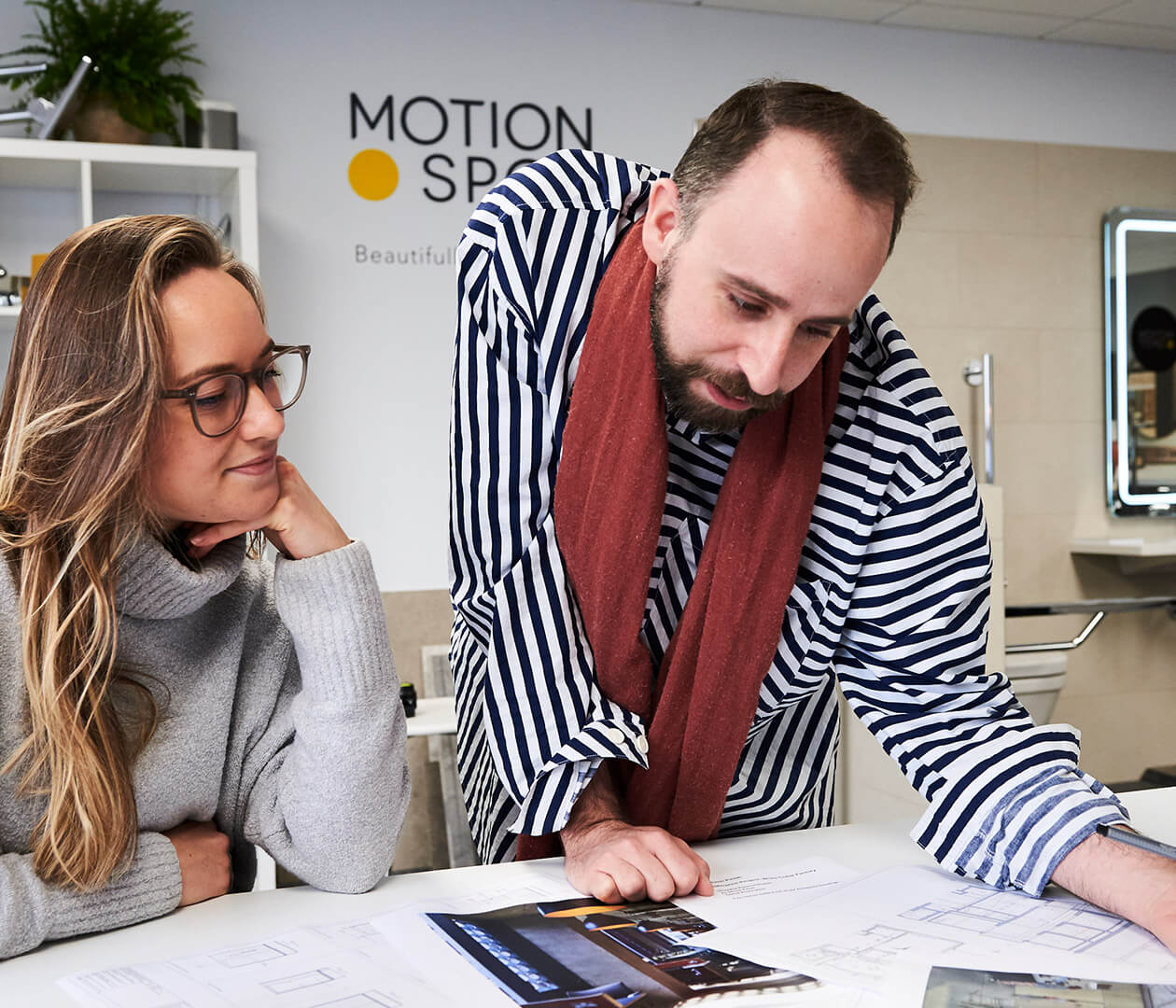 Start a conversation
Get in touch to chat through your plans or requirements and see how we can help. Please complete your contact details below.
Contact us
Stay connected
Sign up to receive the latest inclusive design insight and inspiration from our team.