Five steps to creating an accessible bathroom or wetroom.
One of the most frequent questions we are asked is 'How do I design an accessible bathroom or wetroom?' For commercial spaces and buildings, Motionspot's team of access designers can explain how to make them compliant as well as design-led.
For individuals in their own homes, the team at our sister brand Fine & Able which specialises in creating people's dream accessible bathrooms, typically say that designing an accessible bathroom or wetroom is personal to the needs of the main user. Here are some of our tips for creating a stunning home bathroom. 
Fully bi-folding shower doors and a shower seat maximise space within this accessible wetroom
Prioritise individual needs and requirements
The first step is to consider how the main user/s want to use the bathroom or wetroom.  Answering some simple questions about what level of support is required will help to prioritise the must haves from the nice to haves. For example:
Does the person need to be seated in the shower?
Is carer support required?
Do they have any strength limitations?
Are these unilateral (one-sided)?
An Occupational Therapist can often help with this by making suggestions on the types of support needed in relation to needs both now and in the future.
Accessible products such as grab rails can be positioned to your exact requirements
Getting the accessible layout right
The first step is a thorough understanding of what elements of support are required in the bathroom. Next is thinking about moving around the space. It's worth thinking about how the room is used both now and in the longer term.
For commercial projects Motionspot uses principles from disability design regulations (Part M and BS8300), and on domestic projects Fine & Able uses input from OTs. Both use best practice to produce the best layout given the space available.  Starting with a floor plan, the location of products are plotted form a bird's eye point of view.  Next comes the elevation plans which will look at the perfect height for each product from a side on view.
As an example, toilets set at the best height for transfer to and from a wheelchair (usually 450 – 480mm from the floor), door frames can be widened to 900mm to allow for wheelchair access, and turning circles within the centre of the room are considered to make sure that there is enough space to manoeuvre a wheelchair, or walk with an aid or carer.
Toilets can be set as specific heights and can include wash and dry features
Select the right bathroom and wetroom products
Selecting products for an accessible bathroom or wetroom needn't be daunting or dull.  There are hundreds of accessible products that can create stunning wetrooms and bathrooms, removing the notion of having to have a boring or clinical 'disabled bathroom design'.
Removable warm-touch grab bars can transform an accessible wetroom
Products that are universal in design can offer the support required but without compromising aesthetics. For a sleek and contemporary look, chrome warm-touch grab bars and rails can be fitted with removable technology, they can be taken off the wall when not required and replaced with a cover plate.  Stylish shower seats can be installed that can also be removed with ease if they aren't required all of the time.
Feature basin with integrated hand grips
Basins with integrated hand grips can double up as towel rails to offer discreet support for ambulant users. Shower riser rails contain integrated support of up to 130kg avoid the need for lots of rails cluttering up the shower area. Bi-folding screens can offer a larger shower area but can be folded back to maximise room space when not required.
The finishing touches
Tiling can change the feeling of any room. Choosing slip-resistant tile which can be used within the wetroom and rest of the bathroom achieves a uniform look and removes any potential trip hazards that can occur with shower trays.   If vinyl is required then there are colours and finishes that can transform the look and avoid the drab grey that is so often found in disabled toilets and bathrooms.
Underfloor heating is the perfect accompaniment to a wetroom and will help tiles to dry quickly after showering.
Wetroom shower screens with bi-folding and pivoting folding panels can help to maximise the circulation space, so ensure ease of movement around the room.
Bi-folding screen and feature tiles within an accessible wetroom
Get in touch 
To discuss your commercial wetroom or bathroom, email team@motionspot.co.uk, and for individual homes see Fine & Able who will be able to help create your dream accessible bathroom,
Get in touch.
Our Team are always happy to provide free advice and discuss your requirements. We can also provide free quotes and accessible product specifications tailored to your project budget and design intent.
Get in touch to chat through your plans with us.
Contact us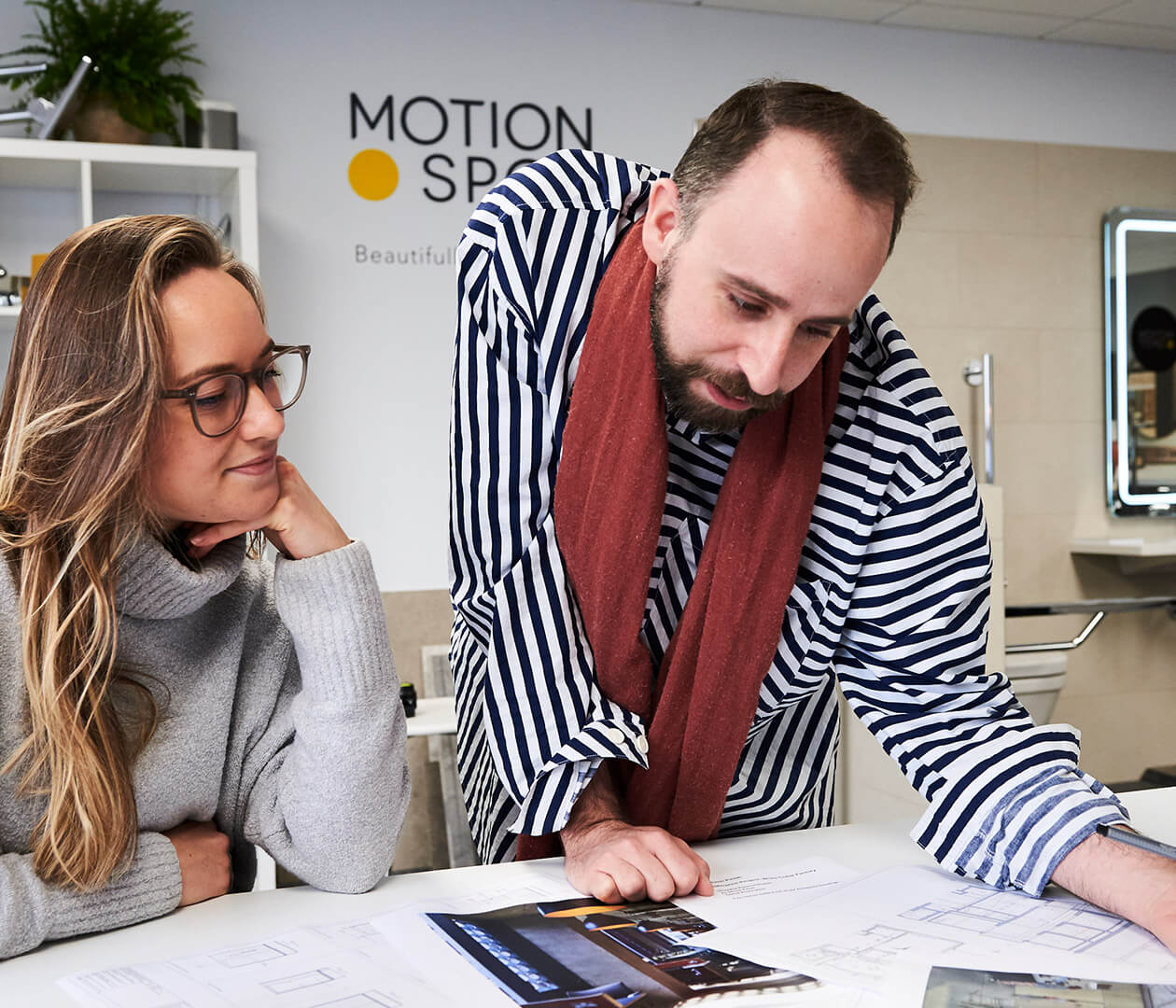 Start a conversation
Get in touch to chat through your plans or requirements and see how we can help. Please complete your contact details below.
Contact us
Stay connected
Sign up to receive the latest inclusive design insight and inspiration from our team.