Ricardo joined the Motionspot team at the end of July 2018 as a Creative Designer. He brings a wealth of international experience with him. We catch up with Ricardo to find out a bit more about him...
What's your background and how did you come to Motionspot?
I graduated in Construction Management and Science and Technology of building at Alcala de Henares University, in Spain. However, I have always had a keen interest in the Arts, Architecture, Fashion and Design so I took a course in graphic design and finally I enrolled in the Arts School of Guadalajara to study Interior Design.
In 2014, I moved to Malta to lead an award-winning company. That role has given me valuable experience understanding clients' needs as well as creating concepts and understanding materials.
In early 2018, I made the decision to move to a bigger and more exciting location to grow my skills as an interior designer, so I came to London. I was approached by Motionspot during my second month in the UK. They were looking for a new creator and I wanted a new challenge. It was a match.
Ricardo, Creative Designer
What do you most enjoy about the job?
Most of designers, including myself, have been basing our design concepts on clients' likes and needs. Motionspot's clientele add an extra layer of conditions which makes every project more exciting, challenging and satisfying. The job makes me even more aware of how our decisions as designers affect the user and how good design always needs to be inclusive and accessible for everyone.
What qualities do you think you bring to the Motionspot team?
The biggest asset of every designer is their visual library, the more you see and store in your mind the richer your visual library will be. In my case, growing up in Spain, living in Malta and always observing the little details, my visual library is built in an international complex environment. My inspiration comes from different aspects: the Scandinavian architecture of Alvar Aalto, the ethereal installations of Tokujin Yoshioka, the beige coasts in the Maltese island of Gozo or the sculptural garments of Balenciaga.
What does a normal day look like at Motionspot?
The creative process is more or less similar in all residential projects. Our day starts putting all the facts that we need to take in consideration for the client. We create a 2D layout where we study how the user will move around the space, choosing the products that works best for the case. After that we apply character to the project through the appropriate materials, the colours and the fittings. Once everything is tied up we present it to the client and get the feedback.
Although projects follow the same process, each result is as individual as each client.
When you are not at Motionspot what do you enjoy doing?
One of the main reasons I chose to live in London is because its endless cultural offering. The number of exhibitions, galleries, festivals, markets and places to discover is so unlimited that my list of sites to visit grows every day. I have a card called Art Found Pass which gives you access to many places, it is amazing.
I love cooking; opening the fridge, taking out a few things and creating a dish with them. When I am in the kitchen I can only focus on what I am cooking, trying not to burn or overcook anything! It is the way I switch off my mind.
Saying that, I'm currently moving so decorating the new flat is taking all my free time, including nights. I'm used to designing and live the construction process for clients but when you do it for yourself it is completely different. I understand why people require interior designers!
To find out more about what Ricardo and the Motionspot team do, have a look at our Accessible Design page.
Get in touch.
Our Team are always happy to provide free advice and discuss your requirements. We can also provide free quotes and accessible product specifications tailored to your project budget and design intent.
Get in touch to chat through your plans with us.
Contact us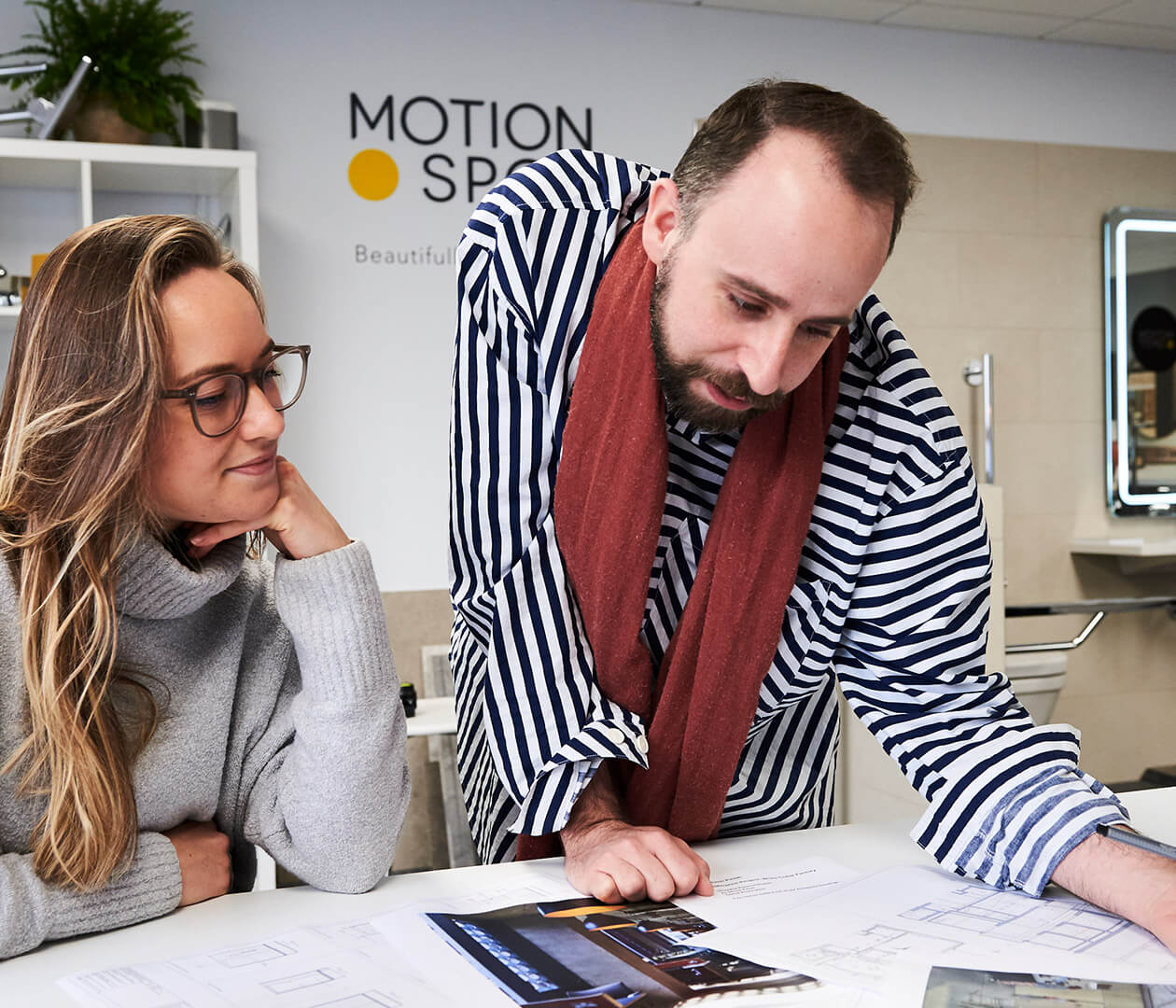 Start a conversation
Get in touch to chat through your plans or requirements and see how we can help. Please complete your contact details below.
Contact us
Stay connected
Sign up to receive the latest inclusive design insight and inspiration from our team.