The coronavirus has given us all an unprecedented moment to press pause, reassess our priorities and try to create a society more attuned to people and planet. Making sure accessibility is not just maintained, but enhanced, is fundamental to an inclusive recovery.
Bespoke Hotels (opens in a new tab) engaged Motionspot as access designers in their Hotel Brooklyn (opens in a new tab) in Manchester, which is now providing the hospitality industry with a blueprint for what a truly modern and inclusive approach to building back better and welcoming all guests looks like.
Too often, a hotel's accessible facilities are second rate compared to the luxury that surrounds them. Hotel Brooklyn has not just brought their 18 accessible rooms up to spec, but rather built accessibility into the core concept of the whole hotel's design, elevating the experience for all.
Take a look at this ceiling lighting feature.
Hotel Brooklyn's Liberty Suite, featuring a ceiling track hoist recessed into a beautiful lighting feature.
Few people will see anything other than an elegant, recessed light - a signature element in a beautifully styled room. Yet it is also a ceiling track hoist – a way to transfer to and from the bed for people with more complex disabilities - and essential for large numbers of people to enable travel away from home. Neatly hidden in a wardrobe when not in use, it is perfectly integrated into the room.
The concealed ceiling track hoist in action
This is the first hotel to integrate a hoist of this kind anywhere in the world. It is setting a new standard in what can be achieved when accessibility is considered from the outset as an integral part of the design scheme.
We have been thrilled to work alongside Hotel Brooklyn and Squid Inc (opens in a new tab) to bring their vision of a truly accessible hotel to life and are delighted the project has now been shortlisted for a Hotel Designs Britlist 2020 Award (opens in a new tab).
Spacious dining area that accommodates people with a range of seating needs
Ed Warner, CEO of Motionspot says, "Just 6% of disabled people use a wheelchair. We help people to think about what they are doing for the other 94% of people with many other types of physical, sensory and cognitive access needs too".
From the accessible reception area with the unmistakeable feel of Brooklyn, to the choice of materials, such as the glare-reducing tiles and high contrast features, that help people with certain visual impairments navigate the bathrooms.
Hotel Brooklyn's accessible reception area featuring a wheelchair height reception desk
The extra space, the interlinking rooms, the curtains you can control from the bed, the thoughtfully positioned hooks, hairdryers, mini-bar, safe and reception desk that can be reached no matter a person's stature, and stunning step-free en-suites make it a highly desirable hotel experience for anyone.
A beautiful, modern level access en-suite
The physical modifications are complimented by well-trained staff who fully understand how the different access features throughout the hotel may benefit guests during their stay. Hotel Brooklyn's Access Champions and Access Charter (opens in a new tab)create an ethos that sets them apart from their peers.
Robin Sheppard, chairman of Bespoke Hotels (opens in a new tab), says "Aside from the social impetus, the business case for accessibility is undeniable. The result has been beautifully designed rooms that have become our most popular suites. It's been so successful we're planning to recreate the model across our new Hotel Brooklyns in Leicester and Liverpool".
If more establishments follow Hotel Brooklyn's lead, the post-pandemic world will be more equitable, whilst also helping to support the hospitality industry.
Get in touch if you would like to talk to Motionspot about making your hotel more inclusive.
Get in touch.
Our Team are always happy to provide free advice and discuss your requirements. We can also provide free quotes and accessible product specifications tailored to your project budget and design intent.
Get in touch to chat through your plans with us.
Contact us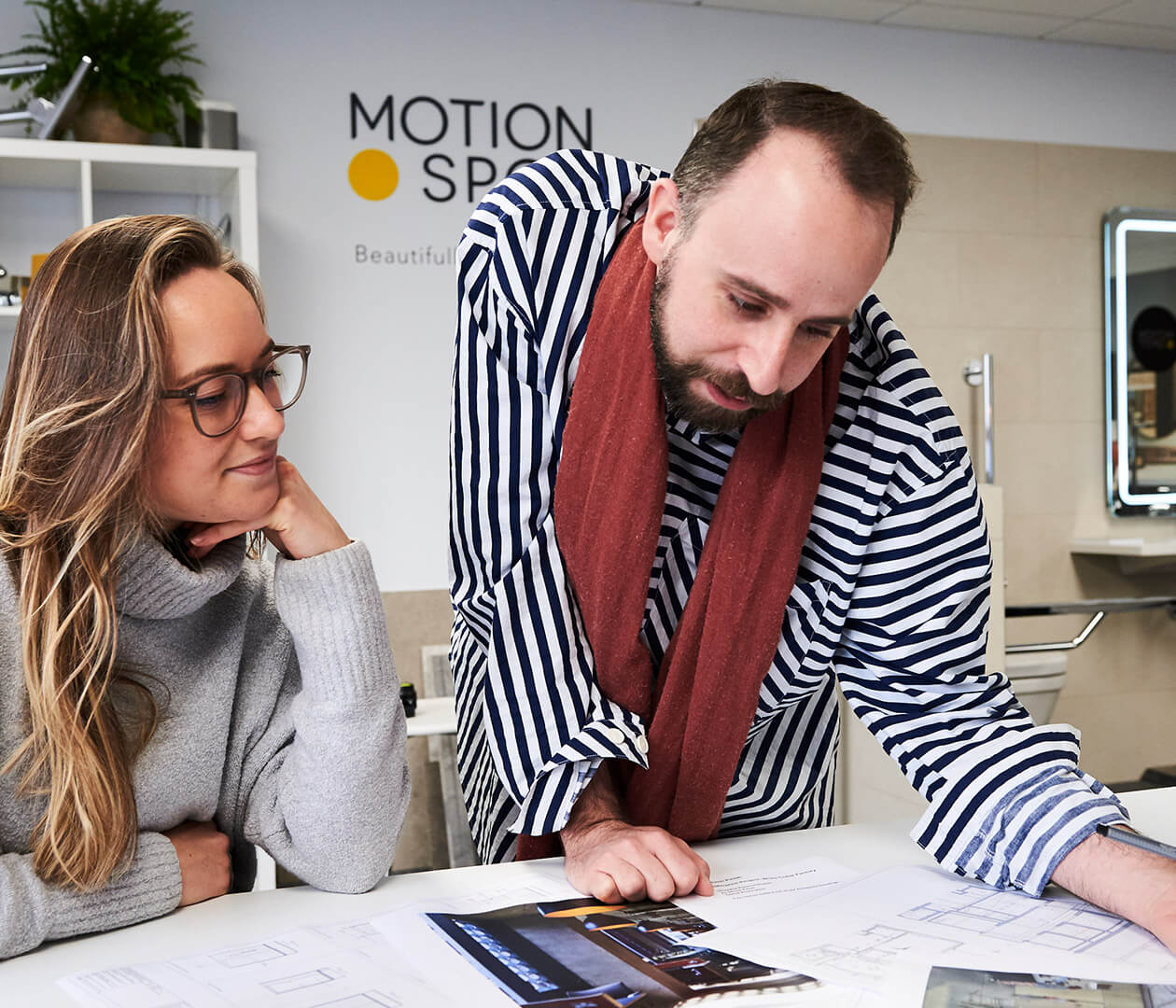 Start a conversation
Get in touch to chat through your plans or requirements and see how we can help. Please complete your contact details below.
Contact us
Stay connected
Sign up to receive the latest inclusive design insight and inspiration from our team.