Introducing Fine & Able: Our new consumer range of beautifully accessible, affordable bathrooms.
We are delighted to announce the launch of Fine & Able - a brand new range of accessible bathrooms designed specifically for the home market - created by the award-winning team here at Motionspot.
Whether you are future-proofing your home, or need to make it more accessible now, Fine & Able is built for you.
Download a brochure now (opens in a new tab)
A future proofed shower room
In this new range you'll find products including stylish accessible sanitary ware, beautiful slip-resistant floor tiles, level access shower enclosures, space-saving shower seats and sleek and elegant grab rails. All offer support and improved access with Motionspot's trademark subtlety and style. Over the coming months, all of these products will be available to buy directly from our new website - fineandable.co.uk (opens in a new tab) - but until then, please Get in touch to find out more or book a free design review and quote today.(opens in a new tab)
Over the last eight years, Motionspot has grown to become an international award-winning accessible design company. We are so proud of the impact we have had on improving the accessibility of retirement developments, housing providers, hotels, offices and leisure facilities all across the world and positively impacting on more than 26,000 people's lives. However, it all started with just one person - our co-founder James – and finding design to help him move around his home without making it feel like a hospital and with our new range Fine & Able, we're going back to our roots.
Bi-folding shower doors
Over the years we have worked closely with our customers to better understand what is needed in a home and what is missing on the market. Now we've poured all this knowledge and expertise into Fine & Able.
We know how daunting making accessible home adaptations can be – finding the right products, making sure they are fitted safely and getting good value for money. So, alongside great products, Fine & Able also offers expert guidance, video assessments and safe installation to make people's dream accessible bathrooms a reality. Our hope is this new offer will change the nature of the industry and encourage faster delivery of more effective adaptations for home owners and Local Authorities.
This is just the beginning. With our customers' continued help, our new Fine & Able range will develop to include accessible kitchens to suit every taste and budget. Sign up to keep up to date(opens in a new tab) with all the latest developments.
Lots of Fine & Able products are suitable for accessible commercial projects too – bringing a homely feel to everything from holiday homes to public spaces. Or for more bespoke design projects, Motionspot designers can help.
Get in touch with the Motionspot team if you have a commercial or bespoke project.
Get in touch.
Our Team are always happy to provide free advice and discuss your requirements. We can also provide free quotes and accessible product specifications tailored to your project budget and design intent.
Get in touch to chat through your plans with us.
Contact us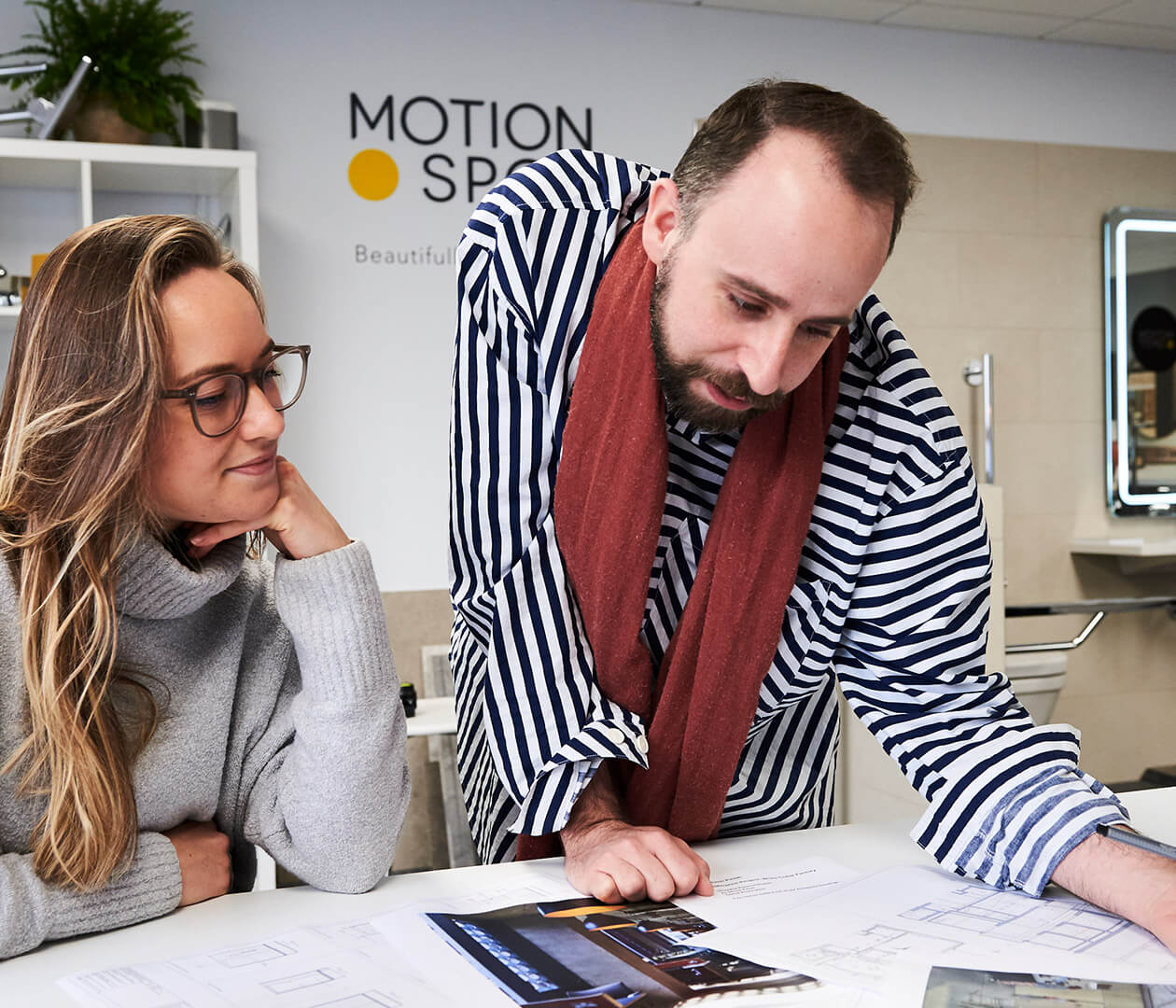 Start a conversation
Get in touch to chat through your plans or requirements and see how we can help. Please complete your contact details below.
Contact us
Stay connected
Sign up to receive the latest inclusive design insight and inspiration from our team.