Local lockdowns allowing, 2020 will be the year of the staycation.
UK breaks are receiving a boost from high profile TV campaigns encouraging us to 'escape the everyday'. It's heartening to see the importance of accessible tourism being highlighted in these campaigns, ensuring these getaways are open to all.
In Channel 4's Mission: Accessible (opens in a new tab), comedian Rosie Jones travels the length and breadth of Great Britain and stress-tests a host of fun-filled activities from a the perspective of someone with accessibility requirements - from caving in the West Country and canal boating in Wales to gliding in Scotland and the BA I360 in Brighton.
Rosie Jones for Mission: Accessible. Image credit: VisitBritain.org
TV presenter, disability advocate and adventurer, Sophie Morgan (opens in a new tab) has also been exploring the Peak District on her fabulous Ryker recently showcasing just how accessible the UK can be, including fly fishing on the open water of Ladybower Reservoir (opens in a new tab).
With Purple Tuesday (opens in a new tab) (3rd Nov) around the corner, these campaigns are a timely reminder about how important it is to improve customer experience for disabled people from an economic perspective too. The spending power of disabled people and their families (the purple pound) is worth a staggering £274 billion and is estimated to be raising by 14% per year. Yet less than 10% of organisations have a targeted plan to access the disability market.
Motionspot supports VisitEngland (opens in a new tab) to help businesses' open up their venues to more people, improve guest experience and ultimately increase their profitability. Take a look around some of our projects, including The Calf Shed, The Dairy, Hotel Brooklyn and many more, to see how we can help.
The Dairy - a delightful accessible retreat in the Yorkshire Dales
We provide a range of services for businesses looking to improve their accessibility, including:
Bespoke, award-winning interior design that seamlessly marry access solutions into any design scheme.
Advice covering legal accessibility requirements.
Affordable and attractive Doc M packs to create fully compliant, accessible public toilets.
Changing places toilet design.
Customer service training for staff on how to use access features and respond to the access needs of guests before and during their stay.
Compelling case studies to illustrate business case to wider organisation, for example, the stunning Calf Shed renovation and The Dairy.
Bespoke accessible tech solutions, from wearable tech to integrated lighting ceiling track hoists.
Advice on reaching VisitEngland UK National Accessibility Scheme standards.
Design guides covering inclusive design principles for architects and interior designers.
Accessibility audits.
Expertise on physical, cognitive and sensory access needs, including dementia-friendly design.
Get in touch if you'd like Motionspot to help make your business more accessible.
Get in touch.
Our Team are always happy to provide free advice and discuss your requirements. We can also provide free quotes and accessible product specifications tailored to your project budget and design intent.
Get in touch to chat through your plans with us.
Contact us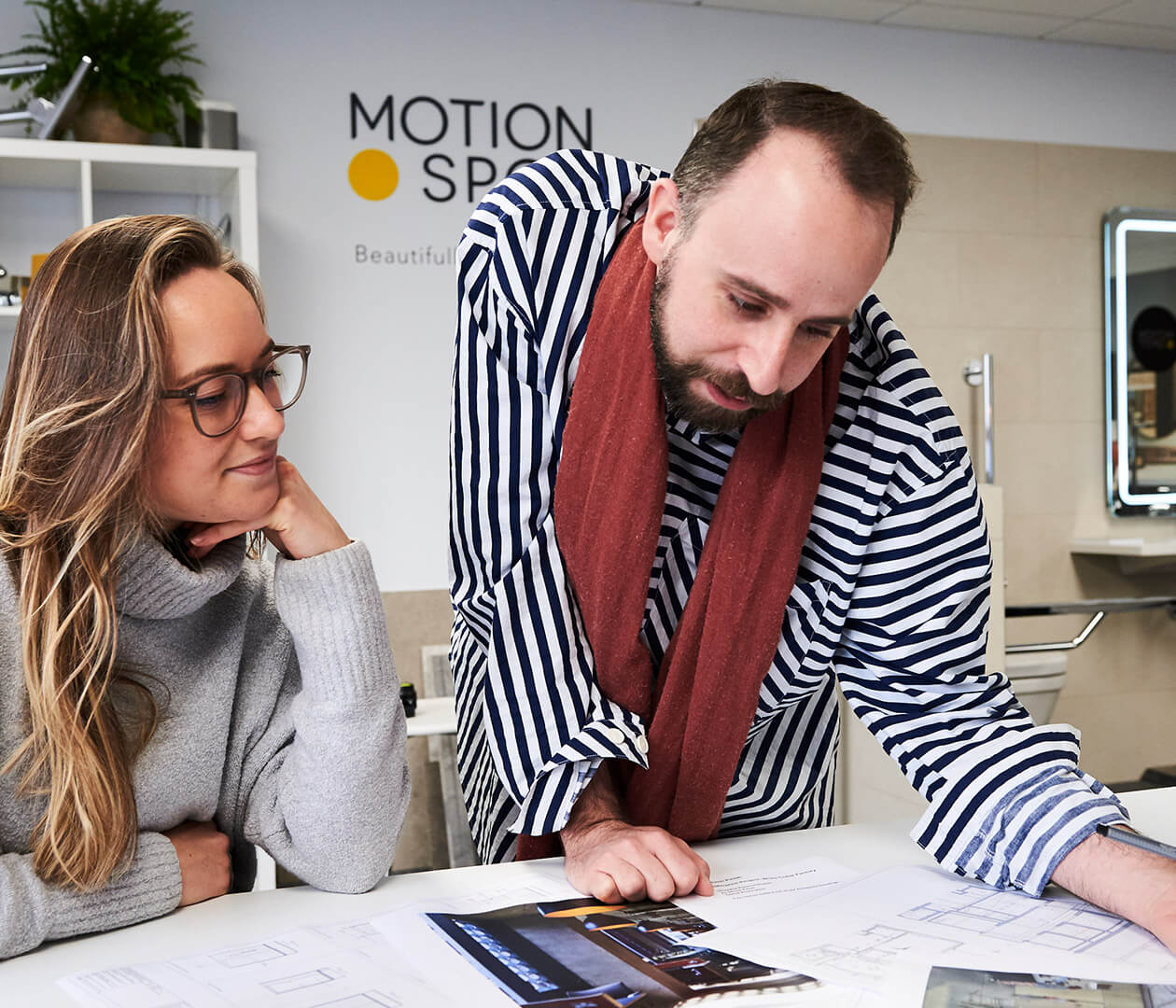 Start a conversation
Get in touch to chat through your plans or requirements and see how we can help. Please complete your contact details below.
Contact us
Stay connected
Sign up to receive the latest inclusive design insight and inspiration from our team.