There is no denying that the right flooring provides the building blocks for a beautiful room.
But what about practicality?
For all their beauty, some polished floors have the ability to transform moving around the bathroom from a relatively simple task into a hazardous obstacle course, particularly if you have a health condition which impacts on balance and vision.
In fact, wet bathroom floors are one of the most prominent causes of falls in the home for people aged 65 and over, and the lasting effects of these falls can create barriers to making the most of later life.
While 'non-slip' flooring is a great way of reducing the risk of accidents, until recently little has been done in the way of uniting the functionality of slip resistance with a desire for beautiful bathrooms.
Existing flooring options commonly found in bathrooms across Britain are far from ideal.
Carpets are susceptible to mould growth in damp conditions and can make moving around more difficult when using walking aids. Bath mats, while being non-slip, can curl up at the edges over time, creating a higher risk of trips and falls. As well as this, some vinyl flooring options can make a house feel more hospital than home.
Thankfully, the stylish alternatives which have emerged are paving the way for slip resistance and beautiful bathroom design to come together.
One of the most popular of these are porcelain tiles, which are a great feature for contemporary wet rooms. Not only are they more hygienic than carpet, but the wide range and quality of accessible bathroom tile designs available means that you can create a safe and stunning bathroom environment.
For a smaller budget, there are a range of refreshing alternatives to clinical-looking lido. The vinyl flooring industry has grown to provide a greater range of colours and finishes, which is great if you want to create a beautiful, accessible bathroom for less. Contemporary vinyl flooring is much more durable than previous types, and many manufacturers can provide you with a product guarantee.
At the forefront of developing slip resistance lies the pendulum test. The pendulum mimics the action of someone walking barefoot across both wet and dry conditions and measures the slip potential of each scenario. Flooring manufacturers are more than happy to share how their floors have fared in the various tests, so make sure you check out the results before committing to one.
Redecorating a bathroom can be a tricky task, but the right flooring lays the foundations for a beautiful, accessible space – allowing you to keep up with the pace of daily life.
Get in touch.
Our Team are always happy to provide free advice and discuss your requirements. We can also provide free quotes and accessible product specifications tailored to your project budget and design intent.
Get in touch to chat through your plans with us.
Contact us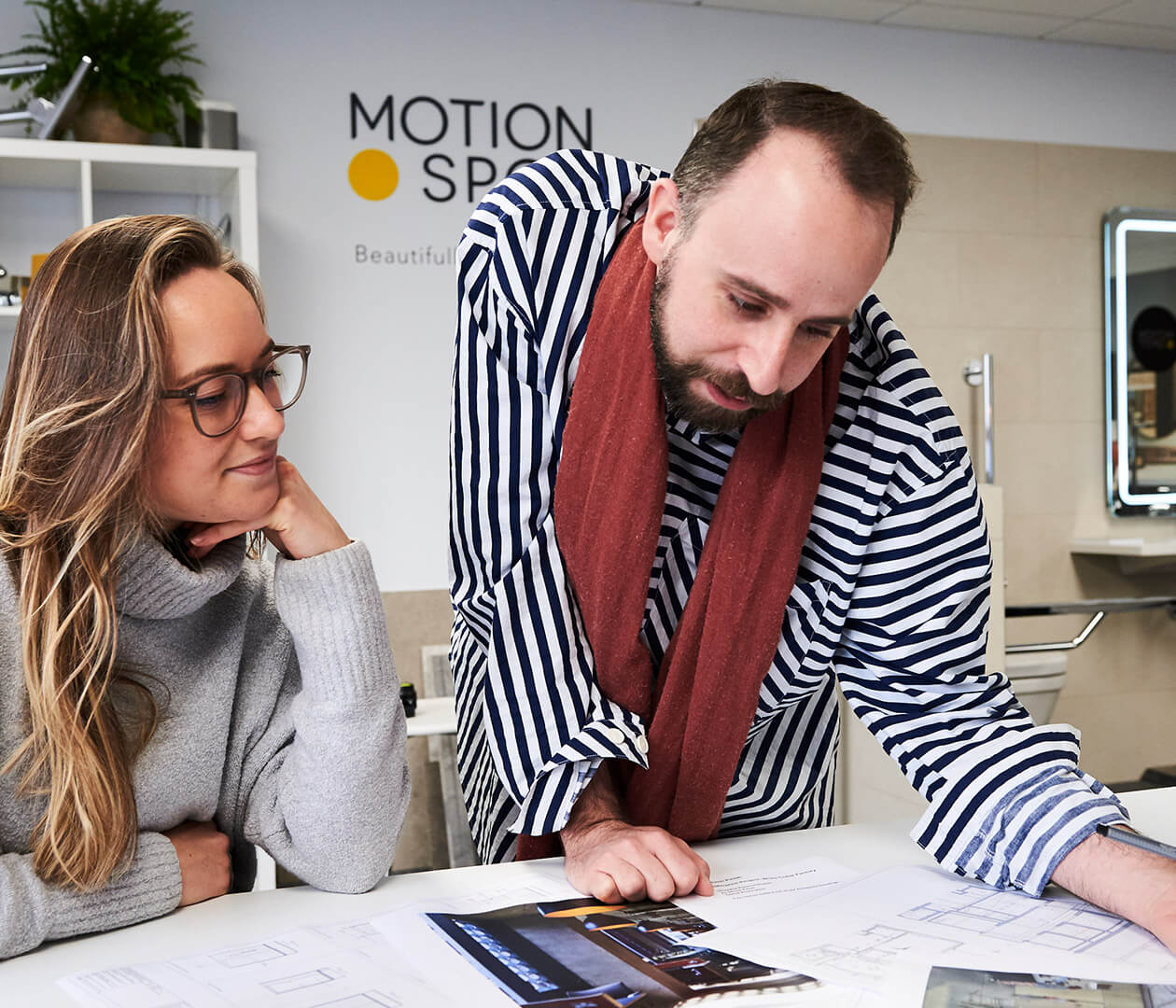 Start a conversation
Get in touch to chat through your plans or requirements and see how we can help. Please complete your contact details below.
Contact us
Stay connected
Sign up to receive the latest inclusive design insight and inspiration from our team.