To celebrate 2020 International Day of Persons with Disabilities, we wanted to shine a light on one of our clients, Barclays, who are pushing the boundaries when it comes to designing beautiful, accessible offices that exceed minimum standards.
The Barclays Glasgow campus currently under construction
"The collaboration between the Barclays design team and Motionspot has created a workplace that goes beyond standard access guidance. The Glasgow project has paved the way for future Barclays developments, encouraging them to achieve world-leading accessible design standards and create spaces that are truly inclusive of all".

Ron Coghill, Director, Major Projects Delivery Lead, Barclays
The brief
In 2019, Barclays commissioned Motionspot as access designers to work with Gensler and the wider Barclays design team to deliver an inclusive office environment for their 5,000 employees and visitors on their new campus under construction in Glasgow.
The mission for the partnership was to go beyond the mandatory accessible design standards to design a welcoming, inclusive environment for people with physical, cognitive and sensory disabilities, including design for neurodiversity.
The big picture
In the UK, there are 14.1 million disabled people (approximately 20% of the population). Therefore, in equal opportunities workplaces, one fifth of the workforce could have additional access needs, which doesn't include any visitors to the site.
Accessibility in the workplace is so much more than ramps and wheelchair accessible toilets. While these are vital features and an important start to making offices more accessible, just 8% of disabled people use a wheelchair. As inclusive designers, Motionspot helps businesses to plan the subtle design features that will make an office space accessible for wheelchair users and the 92% of people living with a range of other physical, sensory and cognitive disabilities.
The design details
Travelling to site
The office environment does not exist in a vacuum. Creating an accessible workplace begins with a person's journey from home. Visitors and employees with cognitive or sensory impairments arriving at the campus may have already felt challenged by elements of their commute, even before entering the workplace.
Motionspot surveyed the main routes to and from the Barclays campus by foot, wheelchair and public transport at different times of the day to ensure this part of people's day was understood and accessible design changes were made to improve the experience.
Reviewing the approach to the Glasgow campus at night
The wider site has an important role to play as a 'transition space'. Motionspot included rest points that offered opportunities for people to recalibrate, provide refuge and protection from their surroundings. 'Quiet' routes offered people who are sensitive to busy environments the option to navigate at their preferred pace. Key landmarks were distinctively and attractively highlighted in the landscape to help people with visual and cognitive impairments identify their location and navigate the space. This design principle of landmarking continued inside the buildings.
The small but important details
In addition to the accessible design of all internal areas, including reception areas, office spaces and meeting rooms, break out spaces and communal dining facilities, 'softer' elements of the built environment were also considered. This included lighting, acoustics, biophilia material finishes and signage, which are often neglected in designs but so important when considering an office space that is accessible to all.
Recalibration spaces
Many people with autism have developed strategies in the workplace that include sensory recalibration. Recalibration rooms have an emphasis on the sensory experience, which can help to 'reset' the mind if a person is experiencing sensory overload. These rooms offer privacy, intuitive environmental control (light, heat) and sensory equipment. Barclays will be offering specific quiet and recalibration spaces in their Glasgow campus.
An example of a recalibration space focussed on the sensory experience
Inclusive facilities
In addition to provision of wheelchair accessible and ambulant accessible toilets, Changing Places rooms are planned in every building on the Glasgow campus. Changing Places rooms have space for assistants to accompany people to the toilet, plus specialist equipment including ceiling track hoists and height-adjustable changing benches.
All of these facilities have been designed to fit perfectly with the aesthetic of the rest of the building, reflecting Motionspot's ethos that accessibility does not need to look clinical.
"We're building our new campus from the ground up so it's a great opportunity for us to think differently about inclusive design from the start. It has been a delight to work with a business partner that shares the same values of inclusivity as Barclays. Being involved in the early stages of the renovation opened exciting opportunities to push the boundaries of what was possible"

Kathryn Townsend, Head of Customer and Client Accessibility at Barclays UK
Keep updated
International Day of Persons with Disabilities may be just one day in the calendar, but through projects like this one, businesses like Barclays are demonstrating their dedication to driving the disability inclusion agenda forward every day.
If you'd like to stay updated on the progress of this exciting project and see final images of the campus when it is completed, follow Motionspot on Twitter (opens in a new tab)and Instagram (opens in a new tab).
Get in touch.
Our Team are always happy to provide free advice and discuss your requirements. We can also provide free quotes and accessible product specifications tailored to your project budget and design intent.
Get in touch to chat through your plans with us.
Contact us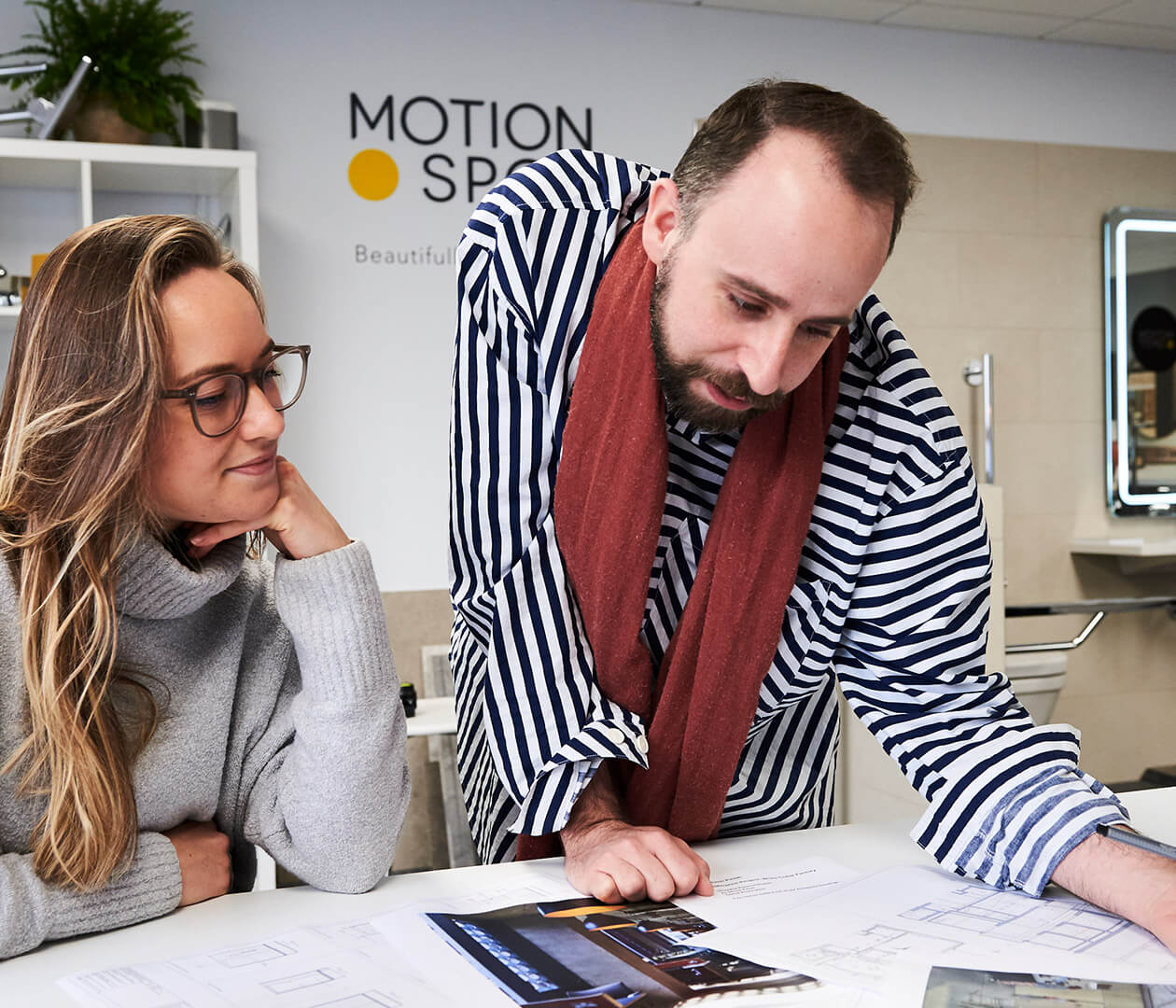 Start a conversation
Get in touch to chat through your plans or requirements and see how we can help. Please complete your contact details below.
Contact us
Stay connected
Sign up to receive the latest inclusive design insight and inspiration from our team.