The second Tuesday of November is Purple Tuesday, the UK's first accessible shopping day. The day aims to recognise the importance and needs of disabled customers and promote inclusive shopping.
With nearly one in every five people in the UK living with a disability or impairment, it is incredibly important to promote inclusive shopping and recognise the needs of customers with disabilities. After all the 'Purple Pound' has a collective spending power of £249 billion to the UK economy so the incentive is there for retailers to act now!
To support Purple Tuesday, the Motionspot team worked with our partners at Barclays to offer an accessibility design review to one of the bank's corporate customers. Nash & Gardner's Budgens store in Islington was chosen for the review and we spent a day with them to evaluate how accessible the store is.
Budgen's Islington was an inspiring client to work with as they actively want to make improvements to the store and build on the excellent customer service and personalised shopper experience they are offering their customers with a disability.
Like many high street stores, Budgen's Islington faces challenges with the store size and layout and we have provided them with a set of recommendations to help them improve the design of their store and deliver better access to all their customers.
In support of Purple Tuesday, we've put together some top tips and recommendations for other retailers to help improve the accessibility in their shops and make shopping an enjoyable and more inclusive experience for everyone.
Layout
In many retail stores, aisles are often long and high which can be particularly difficult for customers with walking aids such as sticks and Zimmer frames or wheelchair users, to navigate. Breaking these up into shorter sections of varying heights will make it much easier for these customers.
Having higher shelves around the perimeter of the shop with the lowest ones in the centre of the space will allow for a clear view around the store. Customers with a cognitive or visual impairment should also be able to identify the size and layout of the store from the entrance and be directed around the store by focussing their vision towards key displays.
Ensuring similar products are grouped together to help people find what they need quickly will minimise confusion and make for an easier shopping experience.
Clear aisles with a mixture of short, low displays and large perimeter bays
Materials and finishes
Natural materials are often preferred by autistic people and may be more recognisable for people with dementia too. Evidence suggests that using a palette of natural materials such as timber, cork, rubber and porcelain can satisfy the needs of people with autism and other shoppers who prefer more tactile, rougher surfaces.
Floors should have a consistent tone throughout so that for someone with a visual impairment it is clear that it's one level surface. A bold change in colour can be perceived as a step or a change in level and this can result in unnecessary falls.
Similarly, shiny and reflective materials should be avoided because they can cause confusion for both the visually impaired and those living with a cognitive condition such as dementia. Shiny surfaces often look like they are wet and can cause discomfort for anyone having to walk through the space.
Having a clutter-free ceiling can help visually impaired customers navigate more easily. This is because, as the least chaotic space, many focus on it to help them determine the size and shape of a room.
Natural materials like timber can be calming for customers with a cognitive impairment
Signs and wayfinding
Signs should be clear, visible and well lit. The font needs to be simple and the text should be large and of contrasting colour to the background that it's on.
A mix of icons and images can help customers understand where they are in a store or where they want to go. This is also beneficial for any customers who don't have English as a first language.
Shiny surfaces reflect light and cause glare, so using a matte finish will help a sign's readability.
Combining text and icons makes signage accessible to as many customers as possible
Lighting
Lighting is an important feature of any building or space. For people with visual or cognitive impairments, or poor vision like the elderly, it is particularly important. Consistent, even lighting should be applied throughout a store, especially across the floor to help people move around with ease.
Where possible, lighting can be used to highlight key areas of a store like walkways and signs.
Consistent lighting over walkways, and directional (focused) lighting on signage can decrease trips and falls
Technology
Contactless payment terminals are particularly good for shoppers with limited dexterity or vision as they don't have to worry about dealing with a small keypad. Accessible payment systems like BPay (opens in a new tab) also provide a good alternative to having to locate a payment card in a wallet or purse.
Free retail apps can help make the consumer journey easier and more accessible. Neatebox's 'Welcome' (opens in a new tab) allows customers to connect with store staff so they can get assistance in store if needed and retailers can receive information on their customer's access requirements in advance of someone's visit.
UbaMarket (opens in a new tab) allows customers to plan their trip in advance and understand where items can be found in a shop and Be My Eyes (opens in a new tab) connects blind and people with low vision with sighted volunteers and company representatives for visual assistance through a live video call.
The Neatebox app is an example of technology making shopping more accessible
Customer service
Great customer service can make all the difference between a good and bad shopping experience and going the extra mile for customers can help create long lasting loyalty.
For small convenience stores, offering a 'click and collect' service for local residents with a disability can really help them and make food shopping a less daunting experience.
Similarly, producing clear store maps and creating prompt cards for customers who can't communicate easily can help store staff understand their needs and leave both parties less worried about asking for help or giving it.
Free services, like Dementia Friends, can train staff to better understand the range of disabilities in the local community and teach them how to tailor their service to the needs of the customer.
Communicating the many ways retailers can assist their customers is key as shoppers might not be aware of the support already available and/or what access improvements are planned. Providing information on when the quieter times are in store and when you will be restocking shelves and displays will also help customers plan a journey time that best suits them.
Purple Tuesday is more than one day - it's a year-round campaign to create an accessible, improved shopping experience and Motionspot is proud to be a supporting partner helping to design more enjoyable and accessible experiences for disabled people.
Get in touch (opens in a new tab) to find out how we can help make your shop accessible. 
Motionspot is a RIBA award winning accessible design company aiming to transform spaces and lives through beautifully designed, accessible environments that deliver independence for anyone with a disability or in need of extra support.
Motionspot offers advice to clients on how their environments can be better designed to suit people with a range of disabilities, giving both users and operators the confidence that the spaces have been designed to suit all needs. Our design ethos combines style with functionality to create beautiful accessible spaces that are easy to navigate with products and designs that are intuitive to use.
Barclays offers free guidance for businesses, such as inclusive customer service and inclusive employment on their Corporate Accessibility Portal www.barclayscorporate.com/accessibility(opens in a new tab)
Get in touch.
Our Team are always happy to provide free advice and discuss your requirements. We can also provide free quotes and accessible product specifications tailored to your project budget and design intent.
Get in touch to chat through your plans with us.
Contact us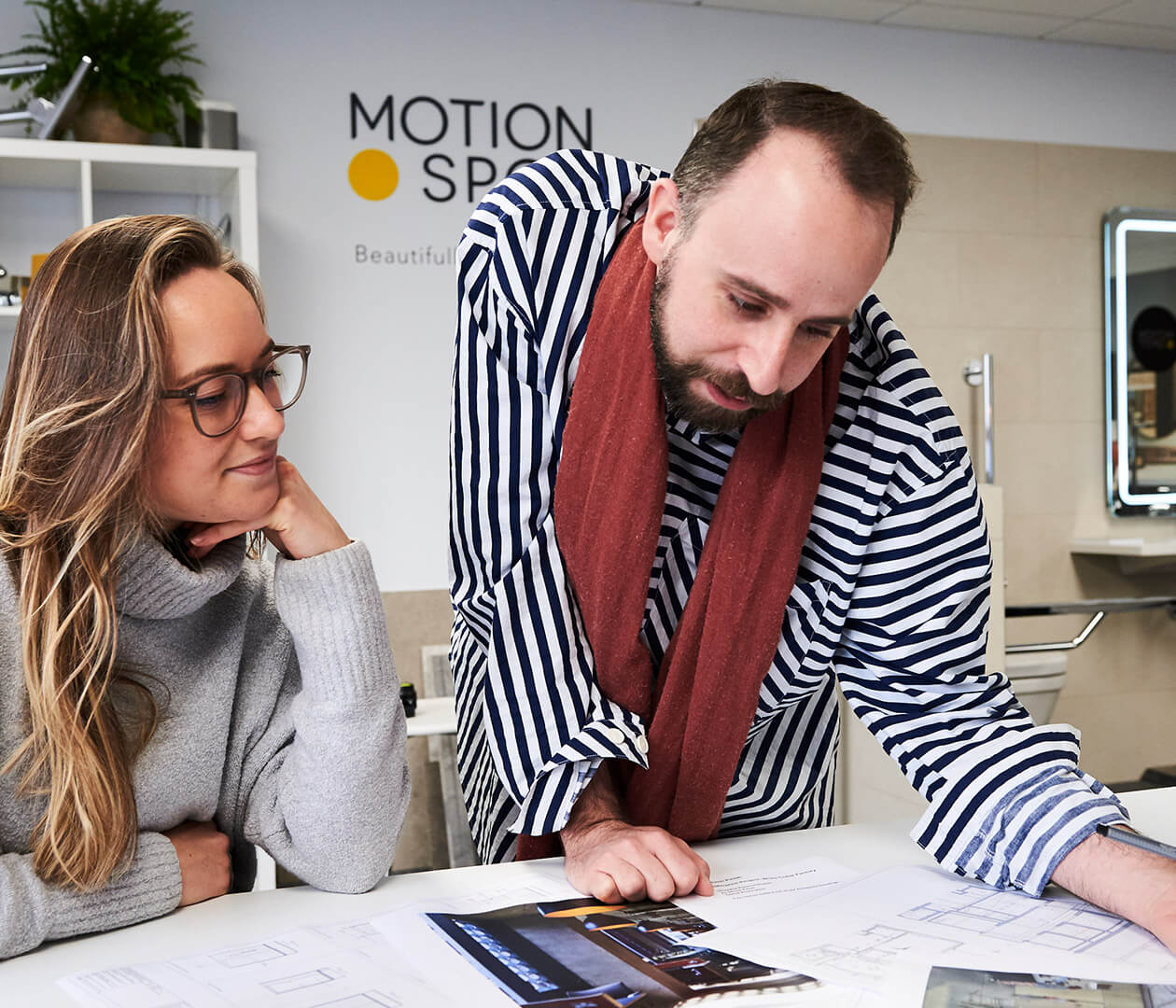 Start a conversation
Get in touch to chat through your plans or requirements and see how we can help. Please complete your contact details below.
Contact us
Stay connected
Sign up to receive the latest inclusive design insight and inspiration from our team.