Creating accessible spaces shouldn't mean compromising on style. To make sure we are up on the latest design trends and can offer our clients the most stylish options in accessible design, Ricardo, our Creative Designer, and Head of Product, Sivam, have visited two of the best design shows in the world; Casa Décor in Madrid and ISH in Germany.
The design shows clearly illustrated the trends that will be influencing the design world throughout 2019. To show you what you can expect this year, from colour to texture and style, we've explained them all below.
Nature
When Pantone chose Living Coral as the colour of the year and 'Fashioned from Nature' at the V&A, the first exhibition of its kind in the UK, explored the complex relationship between fashion and nature, it was clear that nature would be a big focus in the coming months.
Pantone - Living Coral
Sustainability is becoming more and more important for our environmentally conscious society and this is impacting on design too. These concepts have been turned into two big trends:
Biophilia (meaning love of nature) focuses on mankind's innate attraction to nature. It suggests that we all have a genetic connection to the natural world built up through hundreds of thousands of years of living in pastoral, agricultural settings. Being surrounded by nature, or elements of it, has been proven to have a positive impact on our mental health and well-being. Biophilic design incorporates elements of nature into the built environment, which not only looks beautiful but benefits our health too.
From an accessible design view point, natural materials are favoured when designing for Autism where tactile surfaces can be used for interaction as well as good sound absorbers for improved acoustics in a room.
Bathroom by Miguel Munoz
Pink has been an extremely fashionable colour in the past few years but is now considered outdated as a result of overuse. Designers are looking to take a more organic approach and preferring natural, earthy colours, which generally have an undertone of brown, over the saccharine appeal of pink.
Colours like rust, ochre, oat and sienna are applied in walls, ceramics and fabrics in conjunction with natural wood, marbles and soft concrete finishes. These can create a warm, calm atmosphere, the opposite to the usual clinical options found when designing accessible spaces.
Wall hung toilets in natural, earthy tones
Maximalism
Minimalism has been the go-to word in every area of design for the best part of a decade. 2017, however, saw the start of a backlash to this movement from some designers and now, two years later, maximalism is big! It is an aesthetic of excess and a philosophy of more is more. Whilst there are many different styles that come under the umbrella term of maximalism, there are two stand-out trends:
Jewel tones are powerful hues that catch viewers' attention and create luxurious looking spaces. If you're into bold pops of colour, then updating your space with these rich, vibrant tones could be the sophisticated style for you. These colours are defined as any that can resemble gemstones and according to Elle Décor, 'kitchen cabinets, accent walls, and furniture are all smart ways to incorporate colours like emeralds, sapphires, and aquamarines'. Pairing the colours with metals like gold, brass, nickel or antique silver adds to the high-end, luxe feel. Increasing glass or lacquer surfaces helps to multiply the reflections of light and colour, leaving you feeling like you're in Aladdin's cave.
'Breathe Inspiration' by Equipo Maisons du Monde
A Memphis revival. The distinctive 80s style of the Italian Memphis group, characterised by clashing colours, loud patterns and blocky shapes, is making a return to the design space. A fusion of Art Deco and Pop Art, this bold aesthetic can create a fun, flirty and colourful space. Modernised for a 2019 audience, the bright colours are now pastel hues and natural materials, like marble, are favoured over plastic. Lovers of this movement will be relieved to know, though, that the geometric shapes and spirit of rebellion and shock are still firmly intact.
Bar 'Punk Revolution' by Miriam Alia
Whilst bold patterns or confusing shapes are not accessible for anyone with a sensory or cognitive impairment, we can take inspiration from these trends by lifting the colour palette and materials into our designs.
Monochrome
Black and white is a classic, simple and timeless combination. Whilst it's not been a prominent trend for a few years, over the past few months it's become increasingly popular. As a style, it's quite hard to go wrong with the two colours but they allow you to be more daring, experimental and play around with different ideas; how bold will you go? Will black or white be more dominant? Prints or stripes? Will you focus on walls, floors or accessories? The trend is also a great way to bring a hint of modernity to older, more traditional interiors. Metallic accents such as bathroom fixtures, lighting or tableware can add a sleek, slick touch to the monochrome trend and grey shades in between reduce the dramatic contrast to produce a calmer space.
SPA suite by Marisa Gallo - sinks not suitable for wheelchair access but used for inspiration
When designing a space for a client with a visual impairment, one of the most important factors is to ensure that the colours make the room easy to navigate and a strong colour contrast helps achieve this. For this reason, the monochrome trend could be a great option when making a space more accessible.
Please note the images used are examples of the design trends we saw and may not be suitable for all access requirements. If you'd like to find out how we can incorporate these trends into an accessible design, please contact the team team@motionspot.co.uk
Get in touch.
Our Team are always happy to provide free advice and discuss your requirements. We can also provide free quotes and accessible product specifications tailored to your project budget and design intent.
Get in touch to chat through your plans with us.
Contact us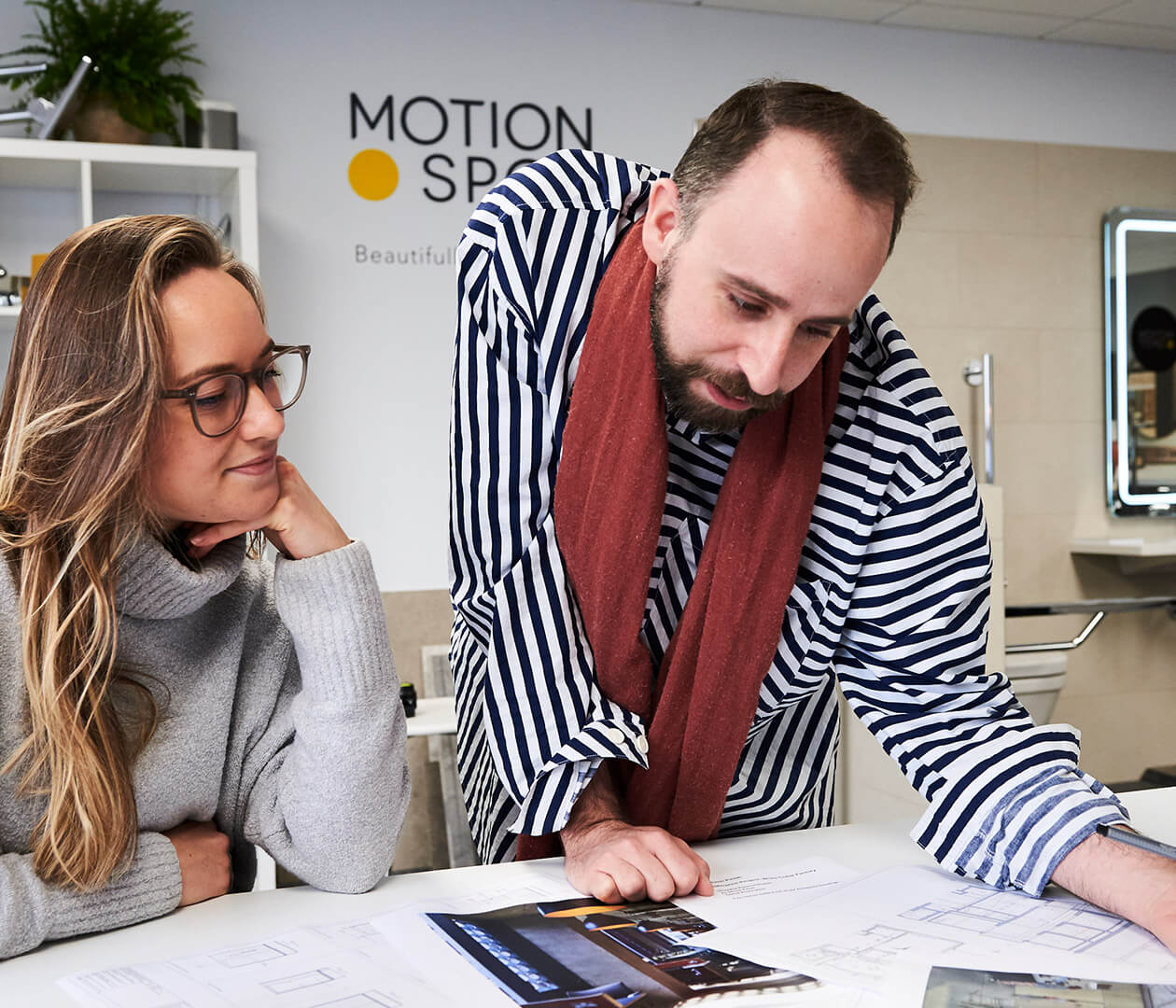 Start a conversation
Get in touch to chat through your plans or requirements and see how we can help. Please complete your contact details below.
Contact us
Stay connected
Sign up to receive the latest inclusive design insight and inspiration from our team.